Movie Review: Seth Rogen's performance is something to relish in 'An American Pickle'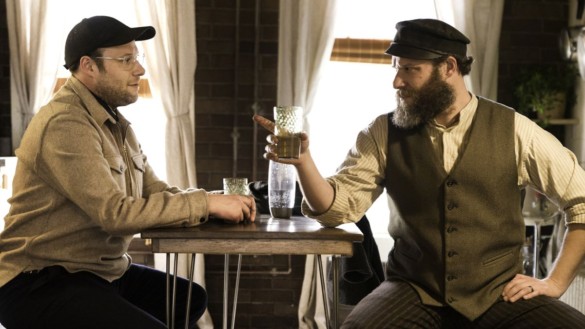 Director: Brandon Trost
Writer: Simon Rich
Stars: Seth Rogen, Sarah Snook
Synopsis: An immigrant worker at a pickle factory is accidentally preserved for 100 years and wakes up in modern-day Brooklyn.
From a mention in the Torah to the centerpiece of deli meals, the pickle is inherently Jewish food. Even in Jewish villages in eastern Europe, the brined cucumber was an integral part of finding solid food that would survive during harsh conditions. For those reasons, the most Jewish film of 2020 is titled An American Pickle. Adapted from the short story 'Sell Out' by Simon Rich, who also wrote the screenplay, the film feels like an elevator pitch in search of a film. The film features the leader of stoner Jews, Seth Rogen, in dual roles. The first is Ben Greenbaum, a freelance app developer living in Brooklyn, and the second is Ben's great-grandfather, Herschel Greenbaum, who worked in a pickle factory in 1919 and fell into a vat of pickle juice where he was brined for a hundred years. Suddenly, it's 2019, and Herschel is wandering the streets of New York.
Herschel Greenbaum came to New York with his wife, Sarah, after growing up and working in an eastern Europe shtetl. After he'd been salted for years, the movie sets up a series of plot threads but doesn't follow through on any of them. There's an element of Herschel being a fish out of water, where every new piece of technology is a confusing and scary thing to be learned. While there are moments of humor and levity here (for example, when Ben shows his great grandfather how he can easily make seltzer water at home), most of the comedy is tame and average. Tangents about Herschel starting his pickle business, Brooklyn hipsters, and cancel culture mostly feel like padding for a movie that never really finds its footing.
The film's best moments are about Jewish heritage and the lineage of Jewish culture. Out of a lot of modern Jewish artists, Seth Rogen seems like he might be one of the few who is seriously concerned with what Judaism might look like through the lens of pop culture. Like many other 30 something-year-old Jews, he seems to have seriously invested in his ancestry and religious customs. By having Rogen play both a failed 21st century Jew and his downtrodden great grandfather, he comfortably splits the difference between two historical figures of the religion. But An American Pickle isn't entirely Rogen's film, and to some degree, that's where it falters.
Simon Rich is a great short story writer, but it doesn't seem as if his strong suit comes with screenplays. He briefly worked on SNL, writes often for The New Yorker's Shouts and Murmurs section, and even produced a TV show based on a collection of his short stories. But his first feature script feels like a collection of plot strands without a unifying plot. It also seems like Rich and Rogen are interested in two different things: while Rogen attempts to turn this into an exploration of Jewishness with a cute penultimate scene in a shul, Rich seems stuck on the observational humor he excels at. In an attempt to mend the two together, they get stuck in no man's land.
Overall Grade: C+
https://www.youtube.com/watch?v=JBC0pTh6GDM