Movie Review: 'Aladdin' is a decent attempt at remaking a treasured animated classic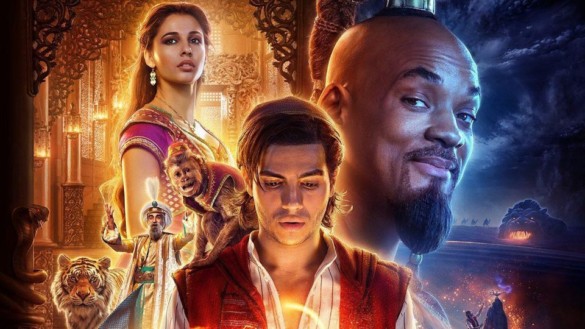 Director: Guy Ritchie
Writers: John August, Guy Ritchie
Stars: Will Smith, Mena Massoud, Naomi Scott
Synopsis: A kind-hearted street urchin and a power-hungry Grand Vizier vie for a magic lamp that has the power to make their deepest wishes come true.
To this day, I still vividly remember the day my mom got me (and my sister) the original Disney animated Aladdin (1992). I remember it came in one of those puffy white plastic VHS boxes that all Disney films did at the time, and how it quickly became one of my favorites. If you are unfamiliar with the Aladdin story, the basic plot is street kid Aladdin (Mena Massoud) meets a disguised princess Jasmine (Naomi Scott) in the marketplace. They have a connection, but nothing can come of it because Jasmine must marry a prince. Evil scheming advisor to the sultan Jafar (Marwan Kenzari) uses Aladdin to help him get into the Cave of Wonders to procure a magic lamp and the genie (Will Smith) who resides in it. Things go awry and Aladdin ends up with the lamp, the genie, and three wishes. Because the original Aladdin is a favorite of many people, I wanted to approach this review from a few angles-
How does it compare to the original?
How did they do with the music?
Does Will Smith's genie try to be a Robin Williams Genie, or does he do his own thing?
Did they do Jafar justice?
Did Disney allow Guy Ritchie to make this a "Guy Ritchie" movie?
Okay so first things first: Is live action Aladdin as good as its source material? No. I'm sure many people will love this new version- it's fine on its own- but for those of us who grew up with the original, 2019 Aladdin doesn't have the magic the animated one did. Some of the reasons for this are the changes they made. They changed up the plot to give Jasmine a bit of a "girl power" moment. (That's also where they added the new songs) Normally I'm all for that kind of thing, but in this setting, it seemed forced and unnecessary. The changes made to a couple of the songs are one of my biggest complaints. I loved the score and the enhancements they made to that music, but they slowed down the tempo or changed the timing of the songs and it really bothered me. It felt like the singer was off in some way. I'm sure if you're not used to the original songs, this wasn't an issue. It's most notable when Aladdin is singing. One of the biggest surprises was Will Smith as the Genie. He sings much better than I thought he could, though sometimes it's noticeable that he doesn't have powerful belting voice many of these songs require. I was happy he put his own spin on the character and never tried to copy Robin Williams. He has some great comedic moments in the film, but I felt like they held him back. The biggest letdown was Jafar. Jafar is one of the greatest Disney villains and I was hoping to see that greatness in this version. Unfortunately, this Jafar has no character. He was bland and came off more whiny or entitled than conniving and evil. My final complaint is about Guy Ritchie. I am a Guy Ritchie fan and was hoping to see some of his trademarks in this film. Unfortunately, other than a few camera tricks Aladdin is almost unrecognizable as a Ritchie film. It doesn't feature his witty, quick-paced banter, quirky characters, or well-choreographed fight scenes. When I heard he was directing this I was excited. I immediately envisioned a quick-talking Aladdin, outsmarting the palace guards around the marketplace in a Ritchie-esque chase scene, filled with all the camera tricks he's known for. We saw a glimpse of that, but it didn't have that Guy Ritchie style I was expecting. It's honestly what let me down the most. I don't know if that was just the Disney overseers having too much control, or if Ritchie was uncomfortable directing a kid's movie.
Now that I've aired all my grievances with this film, let's talk about the positives. Mena Massoud is a brilliant Aladdin. He's charming, good looking, and easily takes on the role of male lead. I can't wait to see what else he does. Naomi Scott is equally wonderful and has the best singing voice in the cast. Nasim Pedrad plays Dahlia, Jasmine's handmaiden, and is right up there with Will Smith for best comedic performance in the film. Billy Magnussen is also hilarious in his small role as a visiting prince. I mentioned this before, but Will Smith is a great Genie. I really enjoyed his take on the role, even though he didn't get to add more of his humor or ad-libbing to it. "Friend Like Me" was probably my favorite song from the film, I liked Will Smith's version of it. Other positives were the costumes and setting. It was a bit confused at which Middle Eastern or Indian culture it was supposed to be but, the costumes were intricate and colorful, and the scenery got an interesting upgrade from the original.
To wrap up, I am thrilled my assumptions based on the first ads and trailers for the film were proved wrong. Even though I didn't get my Guy Ritchie banter and gritty action, or a decent villain, I did get a musical spectacle that hopefully newer Aladdin fans will enjoy. Overall, a decent attempt at remaking a treasured animated classic.
Overall Grade: C+