Movie Review: 12 Years A Slave lives up to months of hype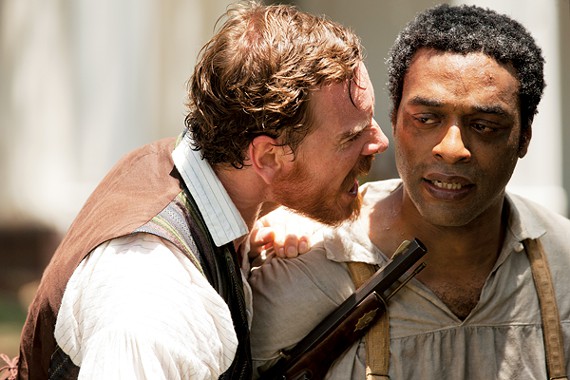 Director: Steve McQueen (Shame, Hunger)
Writer: John Ridley (screenplay), Solomon Northup (autobiography)
Starring: Chiwetel Ejiofor, Michael Fassbender, Benedict Cumberbatch, Paul Dano, Brad Pitt, Paul Giamatti, Quvenzhané Wallis
Synopsis: In the antebellum United States, Solomon Northup, a free black man from upstate New York, is abducted and sold into slavery.
DIRECTION
Steve McQueen does it again, and this time on a much larger stage. Anyone reading this knows how beloved this film has become by now. Since mid-September when 12 Years A Slave won the increasingly meaningful People's Choice Award at the Toronto International Film Festival (TIFF), we've heard nothing but how important, amazing, and brutally well-done it was. Most American moviegoers had to wait until November to see it, so the hype definitely increased expectations. The story of Solomon Northup has never gotten a lot of attention from Hollywood, perhaps because of the controversial nature of the story. So when Steve McQueen set out to tell this incredible tale of 'there and back again', he knew the importance of doing justice to Solomon's autobiography which etched his story into the annals of time. McQueen's films possess a glossy, candid, atmospheric tone to them which aided 12 Years tremendously in being able to relate to what was on screen. The timing choices McQueen makes allow for a heightened effect that shots and scenes have on the viewer. Sometimes it feels like McQueen holds on a shot for minutes, and the thoughts and ideas that these scenes provoke make all the difference in how it ultimately comes across. The sheer beauty of shots of the sky and land where our story takes place provides nice gaps between scenes in a way that allow viewers to digest events but also prepare for what may come afterward. McQueen is able to get a slew of great performances as well as tell a coherent, thrilling, and horrifying story regarding America's past. It's a movie which holds a lot of material you might wish to look away from, but the viewer should not concede to these temptations. In all, McQueen delivers in every single area of direction, and gives us one of the best films of 2013. When you talk about the future of Hollywood and the future of the film industry, Steve McQueen has to be in that discussion after what he has delivered in Hunger, Shame, and now 12 Years A Slave.
Grade: A+
SCRIPT
The story of Solomon is told in such a way that gives the viewer credit. Sometimes Ridley gives us the beginning and end of an event but lets us fill in what happened between the edges, and this plays to the strength of the way McQueen is allowed to use time for craftsmanship as opposed to the filming of dialogue or moving from shot to shot very quickly. At 134 minutes this is no short film, but it does fly by. It seemed to me that just enough story arcs are introduced and explored that it keeps the viewer engaged at different levels consistently throughout the movie. The material we are dealing with here is incredibly heavy, and it feels like everyone involved realized that. Never are there moments of cheesiness or sentimentality where there should not be. This, to me, is the difference in a great films and a good film. A comparison that came to my mind was from earlier this year in Lee Daniels' The Butler, a movie that I enjoyed but clearly got the royal Hollywood treatment and included many heavy-handed and contrived methods of engaging the audience. 12 Years opts for the honest approach and uses its performances and characters to deliver the emotional onslaught of this story. At times the dialogue drew out verbal reactions from my audience, and it certainly pressed down on me as I was locked into my seat. The level of talent involved in delivering a script like this is enormous, and Ridley will be awarded for his efforts in the coming months and years.
Grade: A+
PERFORMANCES
Chiwetel Ejiofor plays Solomon Northup, the violinist who is kidnapped and forced into slavery. Ejiofor delivers what many would call a masterful performance, and seems like a veteran actor. Holding his own in scenes with many great actors which include McQueen-favorite Michael Fassbender, Brad Pitt, and Benedict Cumberbatch, this performance is easily my favorite of the year so far. Ejiofor captured the ocean of emotions Northup goes through, and deals with scenes of every kind with striking eloquence. To say he carried the film would be a slap in the face to the efforts of so many others here who were also great, but were it not for the perfect casting of Ejiofor and the heart he puts into this character, the film would not affect the viewer anywhere near the level it does. Props to all of the supporting cast members as well, especially Lupita Nyong'o and Paul Dano who have extraordinary impactful characters and moments to deliver on. I loved seeing Quvenzhané Wallis (Beasts of the Southern Wild) involved in this film as well, playing one of Northup's daughters. Aside from Ojiofor though, the most memorable performance will definitely be Michael Fassbender's Edwin Epps, slaver of Northup in the latter half of the film. While perhaps not as entertaining as Leonardo DiCaprio's Calvin Candie, Fassbender delivers a much more hateful performance and personifies the evil of what slavery was when it came to relationships between whites and blacks. There's not a bad performance in 12 Years A Slave, and this adds to its luster.
Grade: A+
SCORE
Most of the time Hans Zimmer provides scores that guide the viewer in how to feel, but this time McQueen ordered a toned-down scoring of his film which results in a quieter, more subtle approach. There are still overarching themes and notes but what this score shows is Zimmer's ability to react to a director's intent and deliver a proper accompaniment.
Grade: A+
Final Thoughts:
This is why I love the film industry. There is no experience like going into a theater and being shaken and worked over by the cinematic experience, and 12 Years A Slave delivers that for over two hours. The story of Solomon Northup may have been largely unknown for the last 150+ years, but by the end of this Oscar season, everyone will know who he was. In my theater and many others, the Mandela trailer was shown before 12 Years A Slave, and it featured quite the companion quote from Mandela in which he states that "people can learn to hate, but that also means that they can be taught to love." This film has the power to change minds, and this film will be one for the ages. It is by far the best 2013 feature thus far from the acting and directing perspectives, and to miss this one is to miss out on what makes going to the movies special.
Special Note from Scott: 30 million people live as slaves in 2013, and tens of thousands still do in America. If you wish to learn more about modern day slavery, visit NotForSaleCampaign.org and inform yourself of what the world largely chooses to ignore.
Overall Grade: A+