Podcast: The King / Pain and Glory – Extra Film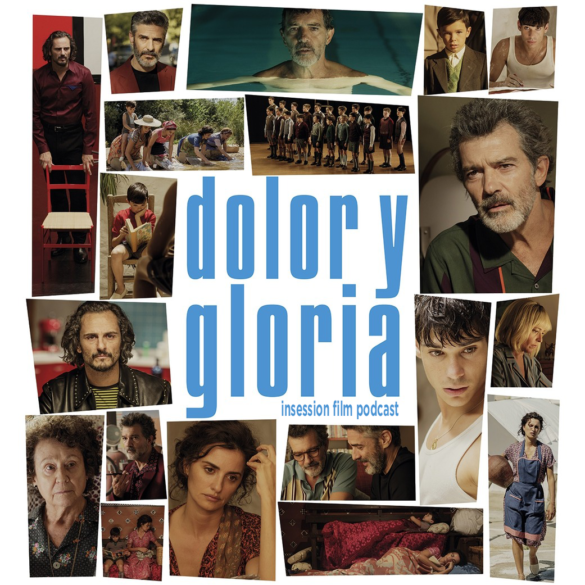 This week on the InSession Film Podcast: Extra Film segment, Ryan and Jay discuss the Netflix original, The King, and Spanish master Pedro Almodóvar's latest, Pain and Glory.
Director David Michôd started his career of with a bang when he directed Animal Kingdom, a family crime drama from 2010 that has sustained in the culture with an American television adaptation, now its in fourth season. Since his feature debut, Michôd has directed the post-apocalyptic Robert Pattinson vehicle, The Rover, and the maligned Netflix "satire", War Machine. With his career wobbling a bit, the director turned to the most famous storyteller in history for inspiration: William Shakespeare. Shakespeare's "Henry V" has been adapted time after time, but Michôd comes at it with a bit of a slant, playing with the well-known ideas and making it grittier than ever. The film stars internet darlings Timothee Chalamet and Robert Pattinson, among a slew of other recognizable faces. The film has polarized critics and viewers, alike, and that remains true with the boys on Extra Film.
After discussing The King, Ryan and Jay dig into a very different kind of film in Pedro Almodóvar's Pain and Glory. Antonio Banderas has been getting Oscar buzz for his performance as an on-screen representation of Almodóvar in this piece of auto-fiction. Pain and Glory explores themes of addiction, aging, lost love, redemption, and more. It uses sequences of animation, movies within movies, and breaks the fourth wall. No doubt, it is unlike any film you will see this year. Listen to find out where it ranks against other foreign film of the year for Jay and Ryan.
On that note, have fun with this week's Extra Film segment and let us know what you think in the comment section below. Thanks for listening!
– Movie Review: The King (4:33)
Director: David Michôd
Screenplay: David Michôd, Joel Edgerton
Stars: Timothée Chalamet, Joel Edgerton, Sean Harris, Lily-Rose Depp, Robert Pattinson, Ben Mendelsohn
– Movie Review: Pain and Glory (40:00)
Director: Pedro Almodóvar
Screenplay: Pedro Almodóvar
Stars: Antonio Banderas, Asier Etxeandia, Leonardo Sbaraglia, Penélope Cruz
– Music
Song of Hal: Conclusio in C Minor – Nicholas Britell
Salvador sumergido – Alberto Iglesias
The Return of the Eagle – Atli Örvarsson
We try to make this the best movie podcast we possibly can and we hope you enjoy them. Subscribe today on iTunes, Spotfiy or Stitcher, and please leave us a review on iTunes. You can also find us on Soundcloud, PlayerFM and TuneIn Radio as well. We really appreciate all your support of the InSession Film Podcast.
Subscribe to our Podcasts RSS
Subscribe to our Podcasts on iTunes
Listen on Spotify
Listen on Stitcher
The King / Pain and Glory – Extra Film
Mobile App
To hear this Extra Film episode and everything else we do, download our apps on the Amazon Market for Android and the Podcast Box app on IOS devices. The mobile app covers all of our main shows, bonus podcast's and everything else relating to the InSession Film Podcast. Thanks for your wonderful support and listening to our show. It means the world to us!