Podcast: Lawrence of Arabia / The English Patient – Extra Film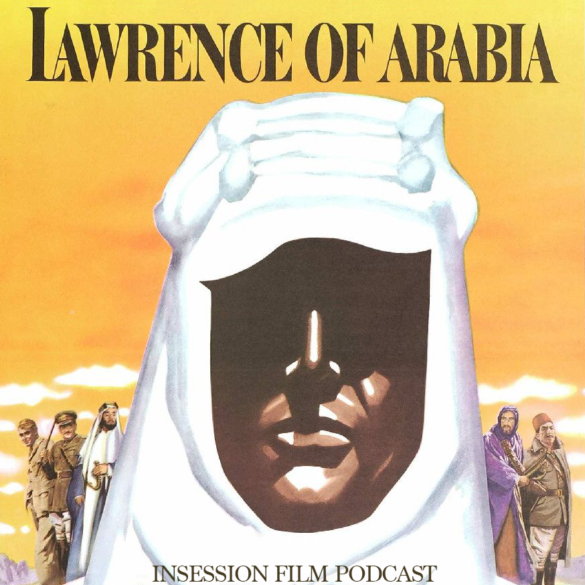 On this week's Extra Film, Ryan and Jay continue their David Lean Movie Series with Lawrence of Arabia featuring guest Brendan Cassidy, and then Ryan and Jay review the 1996 Best Picture winner, The English Patient.
After an excellent conversation on The Bridge on the River Kwai the week before, they have now come to one of the most important reviews in their tenure of Extra Film. There is no denying the beauty and wonderment that is Lawrence of Arabia, so this review from the guys is not negative at all. This discussion is mostly on how the film moved them and just how deep it is. The guys knew they couldn't do this alone, so they enlisted Brendan Cassidy from the main show to help them talk about this classic. This was also a wonderful excuse for Jay and Brendan to cross Lawrence of Arabia of their list of blind spots and for Ryan to rewatch the epic for the first time in years. It was a damn good discussion.
After that, Brendan left so Ryan and Jay could review The English Patient. While it may seem strange the guys are doing this review, Lawrence of Arabia was known fpr having big influences over The English Patient in terms of score, story, and setting. Over the years, The English Patient has grown a reputation as one of the most boring films to ever win Best Picture at the Academy Awards, while others have defended the merits of the film. This is what the discussion of Extra Film turn into when Ryan seemed to like it a lot more than Jay. the conversation was lively and left plenty of interesting arguments on both sides.
Thanks for listening!
– Movie Review: Lawrence of Arabia (5:57)
Director: David Lean
Screenplay: Robert Bolt, Michael Wilson
Stars: Alec Guinness, Anthony Quinn, Claude Rains, Omar Sharif, Peter O'Toole
– Movie Review: The English Patient (1:01:41)
Directors: Anthony Minghella
Screenplay: Anthony Minghella
Stars: Ralph Fiennes, Juliette Binoche, Willem Dafoe, Kristin Scott Thomas, Naveen Andrews
– Music
Lawrence of Arabia – Main Theme – Maurice Jarre
Convento Di Sant'Anna – Gabriel Yared
The Return of the Eagle – Atli Örvarsson
We try to make this the best movie podcast we possibly can and we hope you enjoy them. Subscribe today on iTunes, Spotify or Stitcher, and please leave us a review on iTunes. You can also find us on Soundcloud, PlayerFM and TuneIn Radio as well. We really appreciate all your support of the InSession Film Podcast.
Subscribe to our Podcasts RSS
Subscribe to our Podcasts on iTunes
Listen on Spotify
Listen on Stitcher
Lawrence of Arabia / The English Patient – Extra Film
Mobile App
To hear this Extra Film episode and everything else we do, download our apps on the Amazon Market for Android and the Podcast Box app on IOS devices. The mobile app covers all of our main shows, bonus podcast's and everything else relating to the InSession Film Podcast. Thanks for your wonderful support and for listening to our show. It means the world to us!