Podcast: Che / Sundown – Extra Film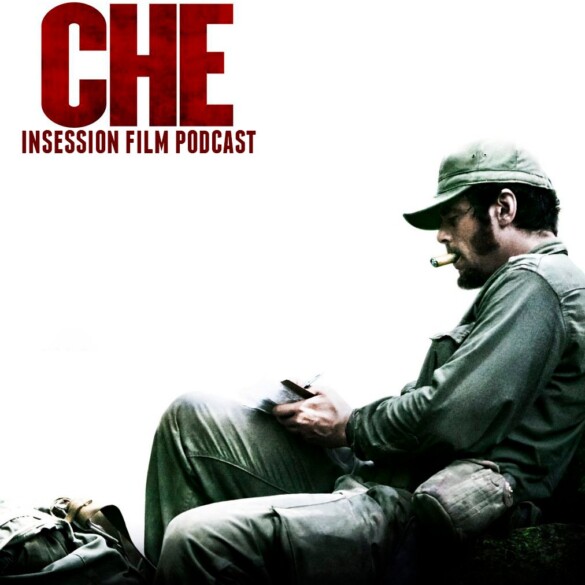 This week on Extra Film, Ryan and Jay continue their Steven Soderbergh Movie Series with Che, and then they discuss the latest indie, Sundown!
After the success of Ocean's Twelve, Soderbergh got himself caught in making a two-part epic that would see the end of his commercial run. Billed as a two-part historical biopic, he steps in at the last second for Terrence Malick to make a version of Che's life that is complex and tragic. With a dynamite performance from Benicio del Toro, this is an interesting conversation between the two hosts.
In the back half of the episode, the boys dive deep into Sundown. Director Michel Franco has an ability with his work to be controversial yet riveting, and with his latest, he gives veteran actor Tim Roth a chance to shine in a dark leading role. Boys disagree a little on this one, but come to the conclusion that you should still check the movie out on VOD>
Thanks for listening!
– Movie Review: Che (5:35)
Director: Steven Soderbergh
Screenplay: Peter Buchman, Benjamin A. van der Veen, Terrence Malick
Stars: Benicio del Toro
– Movie Review: Sundown (53:16)
Director: Michel Franco
Screenplay: Michel Franco
Stars: Tim Roth, Charlotte Gainsbourg, Iazua Larios
– Music
Ten Years Earlier – Alberto Iglesias
How to Disappear Completely – Radiohead
The Return of the Eagle – Atli Örvarsson
We try to make this the best movie podcast we possibly can and we hope you enjoy them. Subscribe today on iTunes, Spotify, or Stitcher, and please leave us a review on iTunes. You can also find us on Soundcloud, PlayerFM, and TuneIn Radio as well. We really appreciate all your support of the InSession Film Podcast.
Subscribe to our Podcasts RSS
Subscribe to our Podcasts on iTunes
Listen on Spotify
Listen on Stitcher
Che / Sundown – Extra Film
To hear this Extra Film episode and everything else we do, download our apps on the Amazon Market for Android and the Podcast Source app on IOS devices. The mobile app covers all of our main shows, bonus podcasts and everything else relating to the InSession Film Podcast. Thanks for your wonderful support and for listening to our show. It means the world to us.