List: Top 3 Road Movies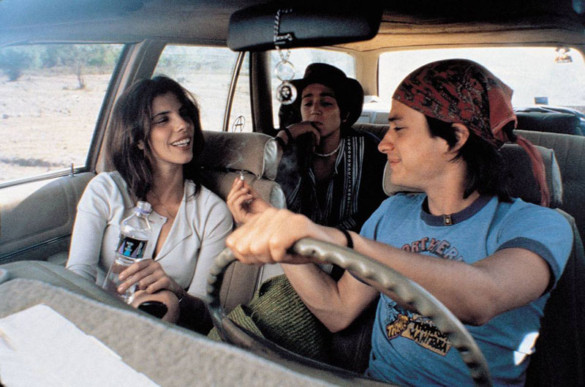 This week on Episode 334 of the InSession Film Podcast, inspired by Easy Rider, we thought it would be appropriate to talk about our favorite road movies. So, pack your bags, fill up the gas tank and get your tunes ready, we're hitting the road. This specific kind of film has been a staple for decades and some of them are among the best of all-time. Whether it be action-packed like Mad Max: Fury Road or something more artistic like Easy Rider, road movies have a lot to offer and hopefully our lists are emblematic of that. That said, what would be your Top 3?
(Note: Please keep in mind that we each had different criteria for our selections)
JD
1) Paris, Texas
2) Badlands
3) Nebraska
Brendan
1) Y Tu Mamá También
2) Into the Wild
3) The Wizard of Oz
Dave
1) Y Tu Mamá También
2) Thelma & Louise
3) Almost Famous
Honorable Mentions (Combined)
Easy Rider, Inside Llewyn Davis, Mad Max: Fury Road, The Road Warrior, Locke, Midnight Special, The Trip, The Road, Some Like It Hot, Stagecoach, North by Northwest, Logan, O Brother Where Art Thou, Zombieland, Tommyboy, Bonnie & Clyde, It Happened One Night, Sullivan's Travels, Wild Strawberries, Little Miss Sunshine, Planes, Trains & Automobiles, Dumb & Dumber, Midnight Cowboy, Alice Doesn't Live Here Anymore, Peewee's Big Adventure, Something Wild, Rain Main, Midnight Run, Fear & Loathing in Las Vegas, Road Trip, Harld & Kumar Go to White Castle, The Blues Brothers, My Own Private Idaho, True Romance, National Lampoon's Vacation, Death Proof, Broken Flowers, Philomena, Magic Mike XXL
Hopefully you guys enjoyed our lists and if you agree or disagree with us, let us know in the comment section below. As mentioned above, this topic is deep and could have variations depending on your criteria. That being said, what would be your Top 3? Leave a comment in the comment section or email us at insessionfilm@gmail.com.
For the entire podcast, click here or listen below.
For more lists done by the InSession Film crew and other guests, be sure see our Top 3 Movie Lists page.