List: Top 3 Action Scenes of 2019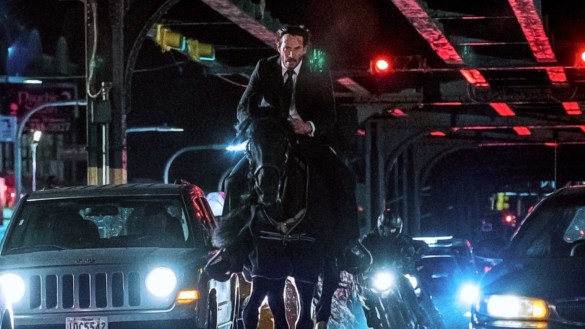 This week on Episode 358 of the InSession Film Podcast, we continued our year-end wrap up by discussing our top 3 action scenes of 2019. This year was pretty good for superhero movies and action films, with the likes of Captain Marvel, Avengers: Endgame, John Wick: Parabellum and 1917. There was even great action in films like Once Upon a Time in Hollywood and Ad Astra. Regardless of type, there was a ton of great action on the screen this year and hopefully that was represented on our lists this week. That said, here are our lists:
(Note: Please keep in mind that we each had different criteria for our selections)
JD
1) Dog Sequence – John Wick: Parabellum
2) House Escape Sequence – Parasite
3) Rey vs Kylo on Death Star – Star Wars: The Rise of Skywalker
Brendan
1) Opening Fall – Ad Astra
2) Moon Landing – Apollo 11
3) House Escape Sequence – Parasite
Ryan
1) Escape from New York – John Wick: Parabellum
2) Red vs Adelaide – Us
3) Attack on Manson's – Once Upon a Time in Hollywood
Honorable Mentions (Combined)
Final Showdown – Godzilla: King of the Monsters
Will Smith vs Will Smith Motorcycle Chase – Gemini Man
Alligator Attack – Crawl
Avengers Assemble – Avengers: Endgame
Cliff vs Bruce Lee – Once Upon a Time in Hollywood
Shootout – Dragged Across Concrete
Millennium Falcon Jumping Light Speed – Star Wars: The Rise of Skywalker
Wrestling Scenes – The Peanut Butter Falcon
The Making of the Climax of Dolemite – Dolemite is my Name
Jojo and the Hand Grenade – Jojo Rabbit
Burning Down the Relationship – Midsommar
Frank and Hoffas Final Encounter – The Irishman
24 Hour Daytona – Ford v Ferrari
Le Man – Ford v Ferrari
Space Pirates – Ad Astra
Space Monkeys – Ad Astra
Ending Battle – How to Train Your Dragon: The Hidden World
Ending Battle – Glass
Tracking Shot – Long Day's Journey Into Night
Uncut Gems
Hopefully you guys enjoyed our lists and if you agree or disagree with us, let us know in the comment section below. As mentioned above, it's been a great year for action scenes, and maybe there's a couple that we missed on our lists here. That being said, what would be your Top 3? Leave a comment in the comment section or email us at insessionfilm@gmail.com.
For the entire podcast, click here or listen below.
For more lists done by the InSession Film crew and other guests, be sure see our Top 3 Movie Lists page.