List: Top 3 Action Scenes of 2018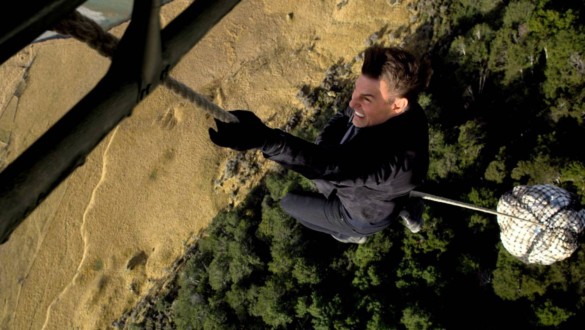 This week on Episode 305 of the InSession Film Podcast, we continued our year-end wrap up by discussing our top 3 action scenes of 2018. This year was phenomenal for superhero movies and mainstream entertainment, with film like Black Panther, Avengers: Infinity War, Spider-Man: Into the Spider-Verse, Aquaman, Deadpool 2, Incredibles 2, Mission: Impossible – Fallout, along side several others – all had something to offer at the cinema this year. There was a ton of action on the screen, which isn't unusual, but there was certainly more in terms of quality. Hopefully that was represented on our lists this week and in our honorable mentions. That said, here are our lists:
(Note: Please keep in mind that we each had different criteria for our selections)
JD
1) Helicopter Scene – Mission: Impossible – Fallout
2) Apollo 11 Takeoff / Landing – First Man
3) Final Fight Against Juggernaut / Rusty – Deadpool 2
Brendan
1) Jack Jack vs Racoon – Incredibles 2
2) Halo Jump – Mission: Impossible – Fallout
3) Train Scene – Paddington 2
Honorable Mentions (Combined)
Wakanda Fight (Thor Moment) – Infinity War
Fight vs Thanos – Infinity War
First Fight Between Killmonger / T'Challa – Black Panther
Casino Fight – Black Panther
Car Chase – Black Panther
Car Chase – Ant-Man and the Wasp
The Shining – Ready Player One
First Race – Ready Player One
Elastigirl – Incredibles 2
Stealing Computer – Into the Spider-Verse
Final Fight with King Pin – Into the Spider-Verse
Unconscious Peter Parker – Into the Spider-Verse
Both Fights Between Adonis / Victor – Creed II
House Invasion – Assassination Nation
Shootout in The Girl Who Got Rattled – The Battle of Buster Scruggs
Joe Saves Nina – You Were Never Really Here
First Death / Ballet Routine – Suspiria
Gun fights – The Sisters Brothers
Revenge – Mandy
Heist – Widows
Heist – Ocean's 8
Bathroom Fight – Mission: Impossible – Fallout
Motorcycle Chase – Mission: Impossible – Fallout
X-Force – Deadpool 2
Cyberton Opening – Bumblebee
Saving Charlie Against Decepticons – Bumblebee
Chasing Egg – Game Night
Hopefully you guys enjoyed our lists and if you agree or disagree with us, let us know in the comment section below. As mentioned above, it's been a great year for action scenes, and maybe there's a couple that we missed on our lists here. That being said, what would be your Top 3? Leave a comment in the comment section or email us at insessionfilm@gmail.com.
For the entire podcast, click here or listen below.
For more lists done by the InSession Film crew and other guests, be sure see our Top 3 Movie Lists page.