List: Catherine Springer's Top 10 Movies of 2021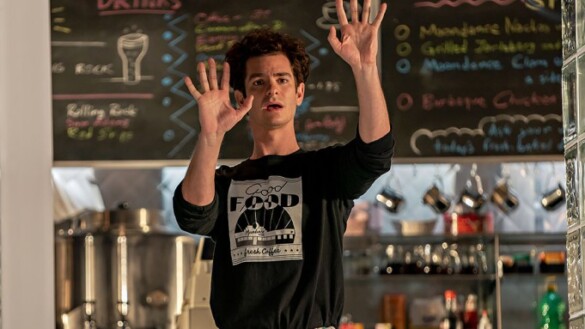 I'll be honest, I was dreading the COVID movies that were headed our way in 2021, the small-cast-one-location films that were shot during lockdown. I'd already had my fill of the shot-on-Zoom pandemic movies by January. And, knowing all the really big movies that were made before the pandemic had been pushed off to 2022 or beyond, it didn't feel like there was much to look forward to in 2021.
Boy, was I wrong.
Not only were there many films that were enjoyable and worthwhile this year (even some of those small cast ones), it's hard to remember another year where my top 10 list was filled with such rewatchable titles as the ones I list here. Roma, for example, was #3 on my list in 2018, and I really have no desire to actually ever watch it again. But these ten movies below are all not only rewatchable (and I have already watched most of them a second or even a third time), but I feel will endure far beyond this year. Because, to endure in 2021 means to endure against every obstacle imaginable. And to still find a voice and an audience in this climate means you've got something special. So, with that, here are my top 10 films of 2021—AKA, the survivors.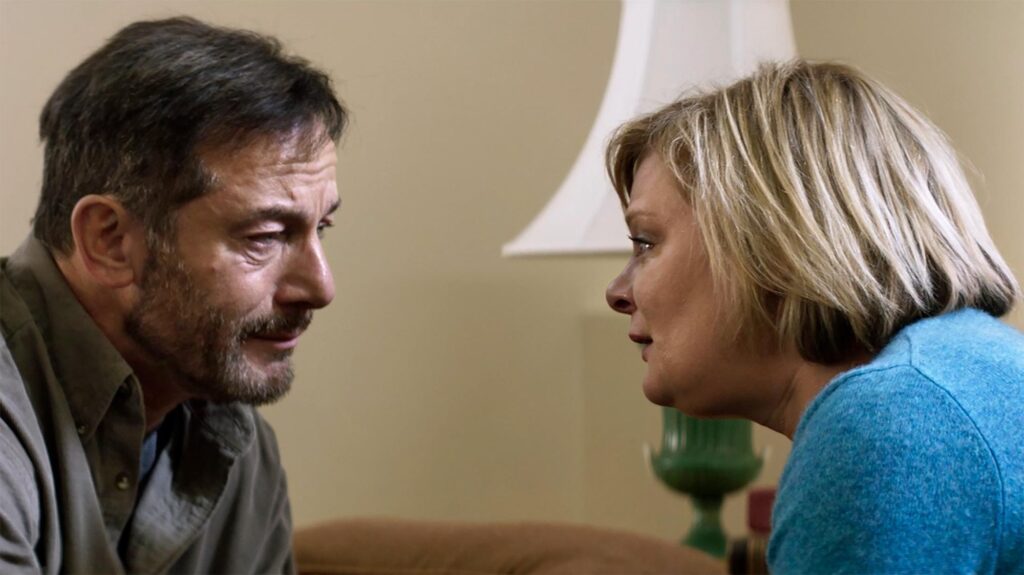 10. Mass
I was 29 when Columbine happened, so I guess that makes mine the last generation to know what it was like to go to school in ignorant bliss, never once even imagining someone coming to school with a gun. The horrors of Columbine– and the way too many school shootings that have followed—forced this country into a fruitless debate about guns, mental health, and how to keep our children safe. But what Fran Kranz's beautiful screenplay explores are the deeper scars that this plague has inflicted upon our country: we have become a culture of grief. This film, delivered into our consciousness and injected into our souls by four haunting, memorable, and staggeringly raw performances, taps into every vein of grief, anger, regret, hopelessness and sorrow as we travel on a journey with these four parents and come out on the other side with a glimmer of understanding, and maybe, just maybe, a little healing. It is an absolute master class, the most intimate film of the year, the most raw film of the year, and certainly one of the most vital.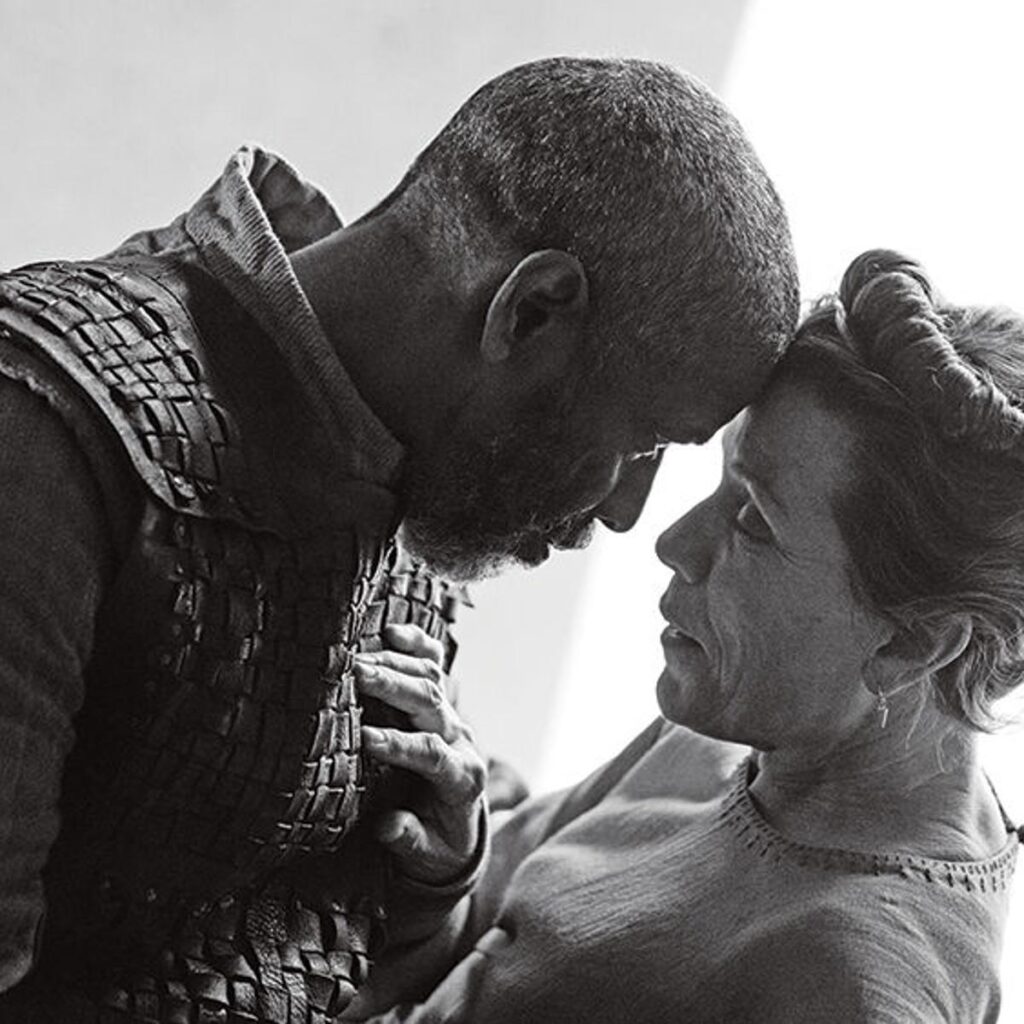 9. The Tragedy of MacBeth
I absolutely knew, going in, that this was not the film for me. Shakespeare has always been lost on me, I am the worst audience for it, especially for a film that professes to be as true to the Bard's vision as this one was rumored to be. But there's no way I wasn't going to give it a shot, considering one half of my all-time favorite filmmaking duo was directing. I should never have doubted a Coen brother—I never have before—because Joel Coen has made a film that even this most hopeless Shakespeare neophyte not only admires, but truly loves. Even though they may have been speaking Greek with as much I was able to follow of the dialogue and story, it still was one of the most exhilarating experiences I've ever had in a movie theater. The production design by Stefan Dechant, combined with the cinematography of Bruno Delbonnel, the music of Carter Burwell, the direction of Joel Coen, and the masterful performances turned in by everyone, especially Frances McDormand and Denzel Washington, makes The Tragedy of Macbeth by far the most perfectly made film of the year. I may have been lost, but every single shot is so breathtaking, I didn't even notice—or care.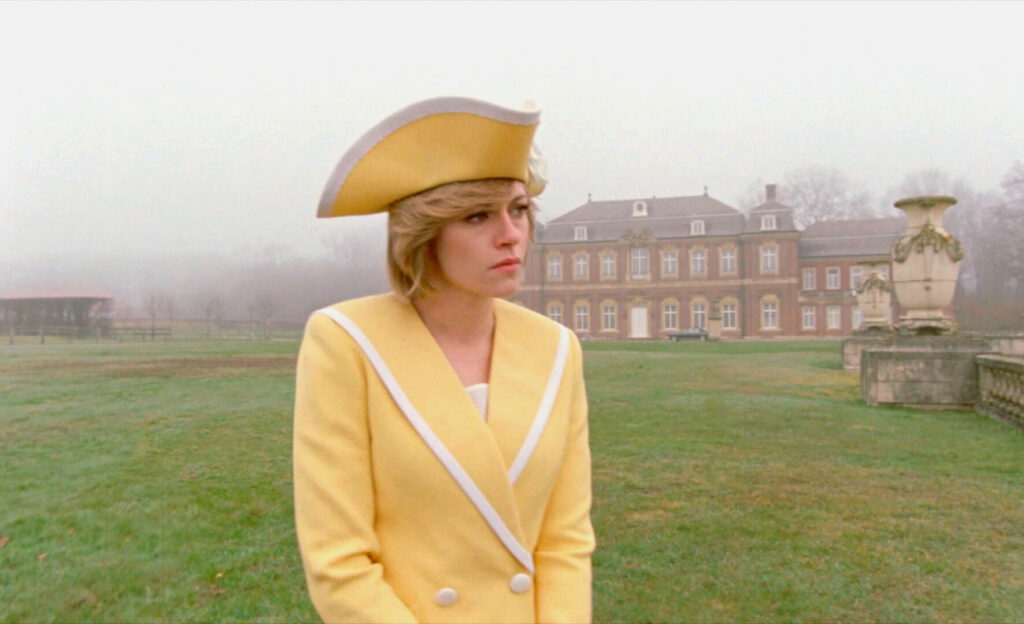 8. Spencer
Pablo Larraín's masterpiece of mood is so much more than the staggering performance by Kristen Stewart. Yes, she does an incredible job portraying one of the twentieth century's most iconic and tragic figures in Princess Diana, but the film that Larraín builds around her is just as impressive. It's a slow build, a low-key horror film that slowly closes the walls in, ratcheting up the tension, bringing the audience into Diana's internal nightmare, brilliantly capturing the essence of the gilded cage and the tortured animal that feels trapped inside it. Claire Mathon's sumptuously haunting cinematography, combined with Jonny Greenwood's paranoia-laced score, lower us slowly into Diana's own personal hell, and Jacqueline Durran's gorgeous costumes provide the perfect juxtaposition to the ugly truth behind the fairy tale. But it is only in the final minutes, when all the tension, heartache, insanity and ugliness are released, in the most gloriously cathartic scene of the year, when Spencer earns its place on this list and in my heart. It's hard to remember an ending to a film that was better earned, or better received. It features more than the best needle drop of the year, it reminds the viewer of everything Diana was about, and why we cared so much.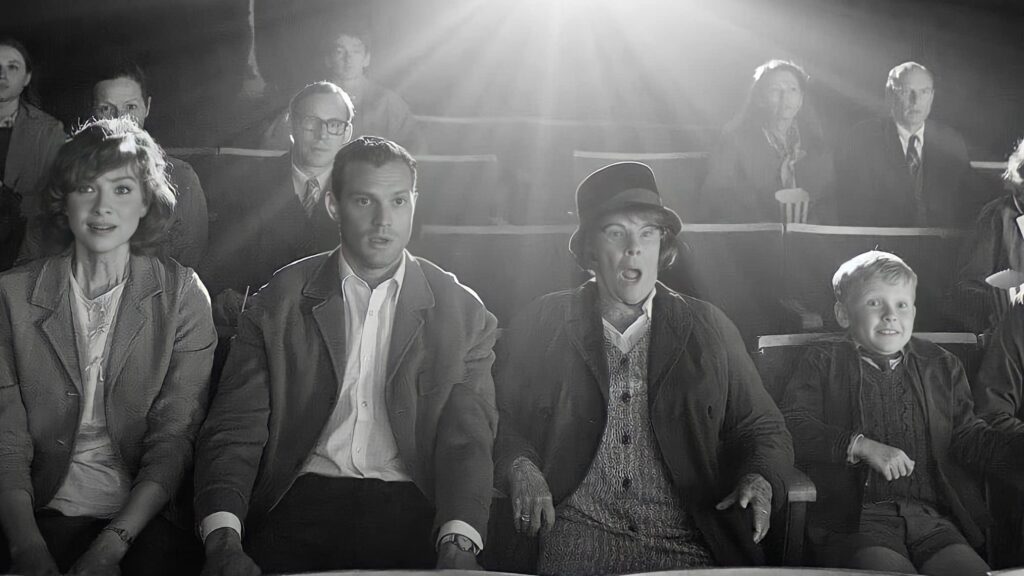 7. Belfast
There's no way to not be won over by this film. It feels like a throwback, born from the innocence of nostalgia, sweet and heartwarming, yet tinged with just enough gravitas of historical perspective. This is writer/director Kenneth Branagh's love letter to his own childhood, which explains the somewhat saccharine filter through which the story is told, but it hits on so many familiar beats, it plays to our every emotion. There's nobody I've recommended this film to that hasn't loved it, it speaks to all generations and speaks to what lies inside each one of us in how we look back at our own lives, how we see our parents, and how we remember those moments that mattered when we were young.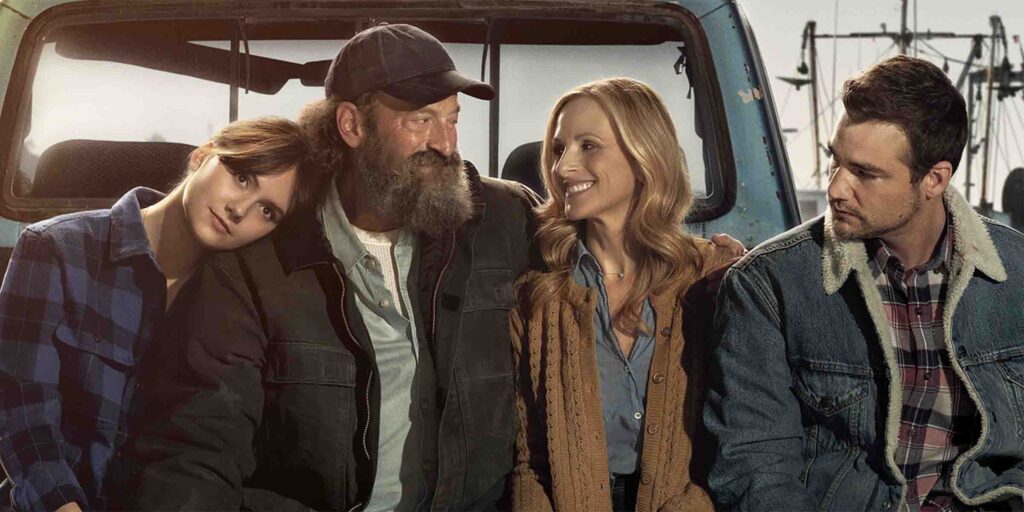 6. CODA
How on earth writer/director Sian Heder turned a film that reads like a Lifetime Movie of the Week into a uniquely and powerfully told film about family and identity is beyond me.  It feels like every family melodrama ever made, but Heder lifts her story out of the ordinary by creating four characters who stand on their own, each one defying stereotypes and fully fleshed out as believable, flawed and relatable human beings.  At the center of the film is the towering and passionately humanistic performance by Troy Kotsur, a performance that is as raw and as moving as any other this year. There is no better feel-good film of the year than CODA, and happens to also be the best tear-jerker of the decade so far.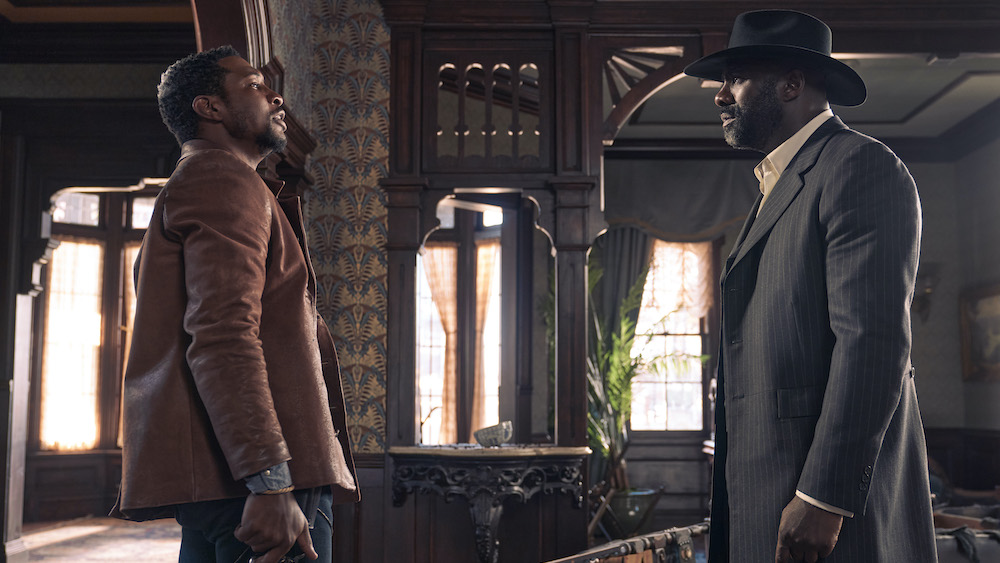 5. The Harder They Fall
The Harder They Fall is the Western we never knew we needed. Writer/director Jeymes Samuel's debut feature is an eminently rewatchable, funny, entertaining, and scathingly violent old-fashioned Western with a very modern style. Samuel borrows unabashedly from many others, including Tarantino and Leone, but the total package is uniquely stitched together with a bravado that is all at once awe-inspiring and terribly risky. But he pulls it off, giving us a slick, confident, and full of swagger story chock full of characters that are not only great fun to spend time with, but are all kinds of badass. Every character is based on a real person, and The Harder They Fall revels in its own history, paying homage to the oft forgotten black pioneers and cowboys who played a large part in settling the West—along with the criminals who helped define it. While it's not a social commentary (race is never a spoken issue), Samuel does poke fun more than once at the white/black status quo. There is a Spike Lee-style irreverence that imbues it with an underlying purpose, but it never once diminishes the quality of the storytelling, acting or phenomenal production design, all of which are exceptional. And there is no better cast in any other film this year.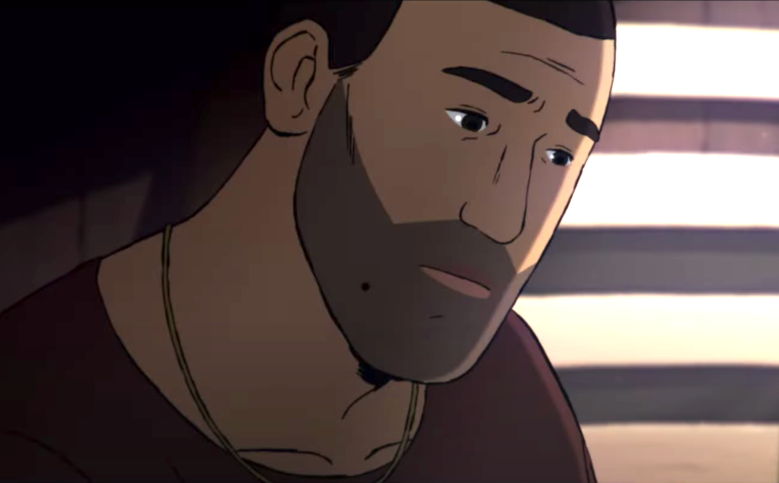 4. Flee
I first saw writer/director Jonas Poher Rasmussen's transcendent animated documentary nearly a full year ago, in January 2021, during Sundance. I haven't been able to stop thinking about the filmmaking and the story and how Rasmussen pulled it off since. Could this be the first film in history to be nominated for Best Picture, Best Documentary, Best Animated Feature AND Best International Film? If there's any film that can pull it off, it's Flee, a film that manages to tell of the horrors of being a refugee with compassion and humanity. Amin's story is one that is hard to experience–and don't think the animation sanitizes the terror or the cruelty of his tale–but there is a fundamental distance the animation allows us that does make it a little easier. The beauty of the story is Amin is never reduced to being  just a refugee, he is a fully-formed person, and that is never lost. The fact that he struggles with being gay almost as much as he does with being a refugee is both a gut punch and a reality check, but effective in constructing Amin's world far beyond the single dimension of child escapee. Rasmussen tells an individual story against a global backdrop, personalizing a crisis that is far too common in today's politically ravaged world, letting one man's story be told with delicacy, compassion, and humanity; a visual feast and a moving narrative that has not been easy to forget.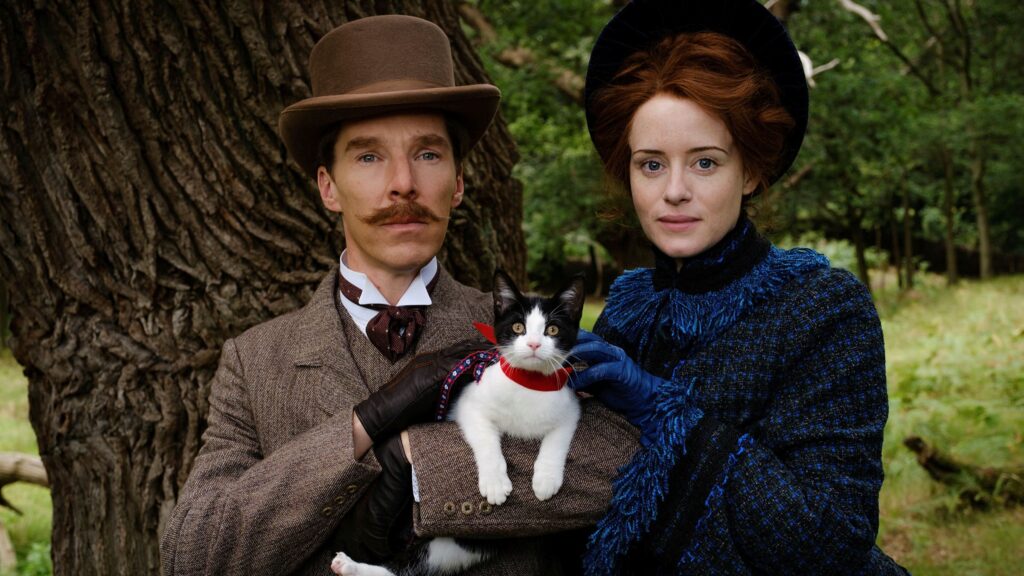 3. The Electrical Life of Louis Wain
You can have Benedict Cumberbatch in The Power of the Dog, I'll take him any day of the week in this film instead, by far his best and one of the best—and most overlooked—performances of the year. Gorgeous, whimsical, delightful and weird, this otherwise traditional historical biopic is notas it seems, a lush English period piece (with every production element delivered at Oscar-level quality) that plays like a modern black comedy. Of course, me being a cat person went a long way to help my falling in love with this film, but it is its lack of pomposity, its kindness, and its center core of romance and innocence that makes it so endearing. It's rare to have a film radiate optimism the way this one does, and maybe it struck me deeper in 2021 than it would have any other year, but, no matter why, it hit me exactly the right way and I fell head over heels. And the Nick Cave cameo really didn't hurt, either.
2. tick, tick…BOOM!
I'd be lying if I didn't say this one hit me like a freight train. As a writer, I am tortured every time I sit down in front of a blank screen, so this film hit every note for me, a film about a writer struggling to get the words out. I had no history with Jonathan Larson before I saw this movie. I wasn't a fan of RENT, heck, I'm not even a fan of Hamilton (gasp!), but what Lin-Manuel Miranda does in his directorial debut is nothing short of delivering the most magical musical of the year, and one of the very best films. And that's not even mentioning what Andrew Garfield does as Larson, in what is easily the best performance of his career, which is really saying something. Most effective of all is, while there is a sincere sorrow and melancholy which runs throughout the film, it still thrives on a deep joy and passion, focusing not on the sudden way Larson left us, but the dynamic and force-of-nature way he lived with us. Miranda has infused his love of life into every nook and cranny of this film, as well as his love for his fellow artists, and it shows. Don't believe that this is just a movie for theatre geeks, don't be discouraged if you don't know Chita Rivera from Geraldo Rivera— tick, tick…BOOM! is a thorough delight for everyone; an accessible, relatable, charming, and magnificently delivered ode to the creative process, and to music, art, and love itself. That may seem like a lot, but this film is a lot, and all of it is completely wonderful.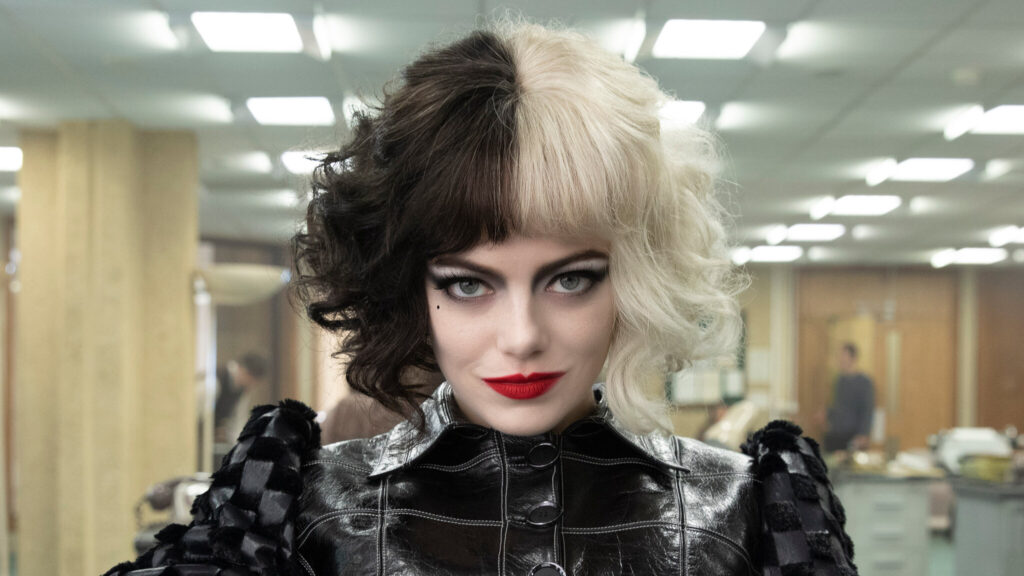 1. Cruella
Cruella not only reaffirmed my love of movies, but reignited my childhood love for Disney in the most un-Disney way imaginable. Cinematic perfection was attained by production values that exceeded anyone's wildest expectation. But even though the gorgeous designs, hair, costume, makeup, and production are the headline makers (and hopefully Academy catnip), Cruella is more than just visually stunning. Director Craig Gillespie, along with writers Dana Fox and Tony McNamara, crafted an origin story that legitimately brings a character to life, giving her a journey and an experience that fills in all the colors and textures of who she becomes later in life. Cruella De Vil may seem like a cartoon villain, but here we see her as a fully realized character, with passions and heartbreak, dreams and trauma. Gillespie builds a world around Estella/Cruella, and her journey and the formation of who she eventually becomes is compassionate and relatable, yet tinged with madness and chaos, revealed brilliantly in both the performances and the story. And you couldn't ask for better than Emma Stone and Emma Thompson, who chew up everything and everyone in their path, and have a blast doing it.. And the music! Gillespie's pitch perfect soundtrack, made up of classic rock songs that feel so perfectly integrated to the story and characters, is the foundation upon which everything else is built. There is a real sense of anarchy at play here, a world of chaos set within a very structured story, and Gillespie deserves all the credit for the stylistic vision he brings to life. How can you not love a movie that's about two female fashion designers who try to destroy each other, set to music from the '60s and '70s, with a glam/punk rock vibe? It is a glamorous, rebellious, energetic, bold, and insanely fun cinematic experience that has something for everyone, especially anyone who missed going to the theater in the last year. Cruella is everything I love about movies, and it arrived just in time.