Kristen List: Top 6 Boxing Movies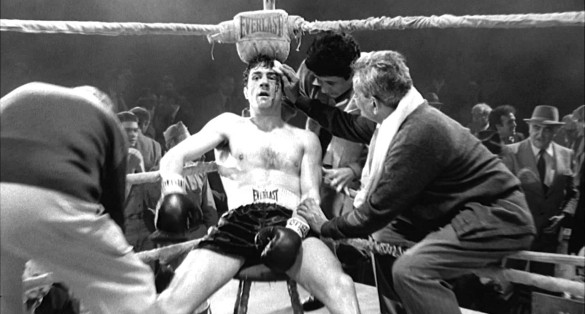 When Hollywood announced that Rocky was making a return for another sequel, this time under the title Creed, movie nerds everywhere revisited their DVD collection. So many Rocky movies, so little time.
Creed follows the story of the former World Heavyweight Champion, Rocky Balboa, who  serves as a trainer and mentor to Adonis Johnson, the son of his late friend and former rival Apollo Creed. Rocky realizes he's too old for the game, and the world watches as he teaches Adonis the art of boxing, and sports montages.
InSession Film recently discussed Creed, and the magic of the franchise. I decided to take the discussion a step further, and create a list of amazing movies featuring one of America's favorite extreme sports: boxing. Take a look at my top six, and comment below with your own list and thoughts. (Rocky movies excluded in honor of fairness.)
6) The Fighter
Directed by the ever awesome David O. Russell, who really likes to cast Christian Bale and Amy Adams, the movie takes a look at the early years of boxer "Irish" Micky Ward and his brother, who helped train him before going pro in the mid 1980s.
The imagery, the emotion, even the action-packed and tense ring scenes, make this movie a top 10 contender.
https://www.youtube.com/watch?v=71l-kIhJ5j8
5) Southpaw
Boxer Billy Hope turns to trainer Tick Wills to help him get his life back on track after losing his wife in a tragic accident and his daughter to child protection services.
One of the newest movies on the list, and directed by the same genius who directed The Equalizer and Training Day, Southpaw was released earlier this year. Jake Gyllenhaal always gives an emotional performance worthy of any award, but this time he outdid himself. The movie accurately portrays what a fighter must go through in order to do what he dreams to do. A no-brainer addition to the list.
4) The Hurricane
The story of Rubin "Hurricane" Carter, a boxer wrongly imprisoned for murder, and the people who aided in his fight to prove his innocence.
Two words are all you need to be convinced at this movie's greatness: Denzel Washington. The actor is a legend, and he does an impeccable job at portraying one. Hailed as one of his best performances, the movie highlights the racism and moral tribulations that boxers had to face earlier in the 20th century.
3) Million Dollar Baby
Directed by Clint Eastwood, the movie follows a determined woman working with a hardened boxing trainer to become a professional.
While not the first movie he directed, Clint completed a first round knock-out with this film. Eastwood plays his typical role as of late: a hardened, hard to reach, hard to understand, tough exterior with soft chewy inside, type of old man. Hilary Swank plays a woman facing what used to be a sexist outlook on a man's sport. Freeman plays the middle man. It won numerous awards, and it's not hard to understand why.
2) Cinderella Man
The story of James Braddock, a supposedly washed-up boxer who came back to become a champion and an inspiration in the 1930s.
The movie serves as a true underdog testament, beautifully made by Ron Howard. During one of the hardest times for America in the country's history, Braddock served as inspiration for those who went hungry, tired, and underworked. To this day, the movie is hailed as one of the best stories of boxing, with a cast of top-notch artists.
1) Raging Bull
An emotionally self-destructive boxer's journey through life, as the violence and temper that leads him to the top in the ring, destroys his life outside it.
Admittedly, I'm a self-proclaimed Martin Scorsese fanatic, and so everything he creates will near the top of any list I make. This film, however, is deserving. Shot in strictly black and white, starring a cast of Scorsese regulars, and featuring the Italian mob-esque vibe Scorsese is known for, the movie bares the hard truth: not every boxer is an inspiring story waiting for a Lifetime movie, some are simply over-aggressive rageaholics. Still, the inside view is spectacular.
Kristen Ashly serves as the in-house movie nerd and master list creator for InSession Film. You can follow Kristen on Twitter @KristenAshly.