Interview: "Fighting Belle" director Sean Riley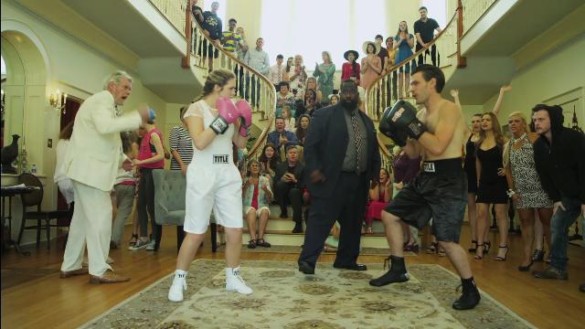 " We are such stuff as dreams are made on…"
Or so goes the line, paraphrased, from William Shakespeare's The Tempest. For many of us Shakespeare is something we ditched after high school English classes; or so we thought. From the books we read, movies we watch, to expressions we use regularly, we take the old bard and his influence with us. Not only the old bard, but as well those things we learned in school from our teachers.
My most memorable class in high school was English class. Other classes are memorable too, but most subjects teach you the rules. English has its rules too, but what it most teaches you is how to put your thoughts into words; how to be yourself.
Sean Riley is a teacher of English class. Born in Baton Rouge, a graduate of USM living in Mississippi, from childhood he has had a love of movies. Working on student films in college and short subjects later in life, Sean has kept himself involved in film. The one thing he had not done, though, was take that leap into making a full length feature film…
…Until now.
Fighting Belle is a movie made in Mississippi. With filming in Ocean Springs, Pass Christian and Gulfport its heart is truly ensconced in the Mississippi Gulf Coast. With cast and crew from the South, its Southern flavor and charm are not imported or 'put on' as it would be in a Hollywood production but are a natural part of the movie.
Fighting Belle is the story of Delilah, a beautiful Southern Belle with a loving heart who has her life plans in order, including her wedding day. But that one biggest day in her life hits a bump in the road as she's left at the alter. Her bubble has been burst, but she has a plan to get even by challenging her ex-groom to a rematch of sorts, but with boxing gloves this time.
"A southern fried romantic comedy with a distinctly different approach to finding love succeeds in delivering a one-two punch with a wonderful performance by Jessica Harthcock and excellent direction by Sean Riley."
The Movie Critic Next Door said:
"… an entertaining movie with solid acting, snappy dialogue, and a fresh new take on the concept of getting even. Jessica Harthcock makes Delilah's transformation funny and yet believable, and all the characters get their own chances to shine. It's a strange combination of warm southern charm and ice-cold revenge that somehow works beautifully."
Sean Riley is still teaching; in the classroom and out of the classroom. The biggest lesson he is teaching to students of all ages is dreams are only dreams if you don't reach for your goals in life and make them a reality. Fighting Belle is a romantic comedy about people realizing their dreams. From writing to directing to producing, Fighting Belle is the stuff dreams made.
Fletch: Before this stage in your life of making your first feature film you had a successful career as a teacher. What subject did you teach and, because your students probably want to know, how did you do in that subject in school?
Sean Riley: English–seventh through 12th grade–primarily high school. I seem to remember being an average student. Sadly, outside of the occasional creative writing assignment and interesting piece of literature, I wouldn't say that I was necessarily inspired by any of my English teachers.
Fletch: When did you first get involved in filmmaking?
Sean Riley: I've been obsessed with movies for as far back as I can remember I think it was when I was doing some recreational reading in middle school when it dawned on me how visual a book could be in my own mind. Soon after I learned what a director did. Something clicked in my mind that this might just be the career path for which I was born. My bedroom became a film study. I watched everything I could get my hands on–from Chinatown to Steven Seagal movies. I ordered screenplays from the back of Premiere magazine, saved up and bought a Brother electric typewriter, and hammered out the worst screenplays imaginable. In high school I goofed with friends making video sketches and eventually studied film formally at the University of Southern Mississippi.
Fletch: Who would you say inspired you to want to make films?
Sean Riley: Michael Mann, Alan Parker, Walter Hill, the Coen Brothers, Adrian Lyne, Mickey Rourke, to name a few.
Fletch: People make career changes all the time, especially in their 20s, but pushing 40 not so much. Why grab the reins now?
Sean Riley: Thanks for making me feel old! Really, though, I don't consider filmmaking to be a career change so much as the culmination of my life choices and obsession. I tried to bottle my filmmaking aspirations for a good part of my life, but it wouldn't be denied. It's such a large part of who I am as a person that it ultimately seemed to finally just erupt. Fortunately, I was able to start a family and establish a career in education along the way, which has made me a more complete person and provided me with extraordinary life experience. I can't imagine what I would have had to say as a filmmaker in my 20s.
Fletch: Being this is your feature film breakout as a director, a lot of independent filmmakers would have started in easier territory, such as horror. A romantic comedy, to me, would seem like a more challenging first path to take as a filmmaker. Had you considered other genres?
Sean Riley: I think every first-time filmmaker has considered the horror genre. But like the stock market, I think there's a lesson in trying to time the film market. So much comes down to having a great screenplay. Filmmaking is so laborious and expensive. Why would you want to marshal the troops without a solid foundation? A first-class screenplay allows you to start with a leg up on the competition because it seems like there are so few out there that make it to feature film status. I didn't have money, name actors, or veteran crew, but I did have a wonderful and unique screenplay by Aimee Parrott and Antonio Gangemi, so I decided to roll the dice with that one sales point. So many people and articles argued vehemently about making a romantic-comedy, but you know what? When it came time to talk with distributors after Fighting Belle was complete, guess which long-popular genre had started to cool and which long-maligned genre was suddenly in demand.
Fletch: When you were looking for a script to shoot were you specifically looking for one with a Southern accent, so to speak?
Sean Riley: Well, I was looking for a script that I felt I could shoot economically. That's for sure. I wasn't looking for something "Southern," per se. Just something I felt I could shoot locally with the resources on hand. It just so happened that this script, written by a couple of New Englanders living on the West Coast, was having trouble finding someone to take it on. Fortunately, being a Mississippian now, I was at ground zero to pull it off.
Fletch: Mississippi is not the first place people think of when they think of the film industry, shocking as that may be. How did you connect with others to make your film?
Sean Riley: Mississippi is a really well-kept secret. We're within driving distance of New Orleans and Atlanta, two major hot beds of motion picture production to pull from. Fortunately, there's a small but talented base of filmmakers throughout the state and especially in the Coastal area. I worked with my cinematographer, Chaz Singleton, and my Assistant Cameraman, Chad Raines, on a short film called "The Perfect Tense" that had made a few festivals the year prior. Having worked with them, I felt I knew what I could accomplish at a more ambitious level. From there, I began researching state and regional talent agencies and websites to handpick my cast.
Fletch: Fighting Belle has quite a bit of Southern flavor embedded in the humor. Was this in the script originally or did you and/or the cast inject your own touches of Southern style into it?
Sean Riley: Certainly the lion's share was already embedded in the original script. I added a few touches here and there. The characters in the script were very large caricatures. I tried to cast those who embodied the spirit of those characters, with a few exceptions.
Fletch: Two of your locations you use extensively in Fighting Belle are a Southern mansion and a gym. There were also locations such as the boutique. When approaching local businesses in the area for location scouting were they pretty open to the idea or did you get some strange looks along the way?
Sean Riley: I was no-called, sent on my way, and strong armed by my share of property owners. Fortunately, there were a few brave, generous souls who welcomed us with open arms. Those are the locations you see in the film. The Julep Room bar location was a last-minute switch because it's just an amazing location and I had to have it. I worked and worked to secure an old-timey drug store with a soda fountain for that scene but ultimately was turned down. I think we wound up with a better location instead.
Fletch: Jessica Harthcock was simply fantastic in her performance in the lead role. In a conversation I had with you previously I mentioned that I was embarrassed as a reviewer that I did not pick up on this right away, simply because she was so natural that she seemed effortless in her performance. I think somebody once said that you can tell a good actor by the effort they put into their work, and a great actor when you can't see that effort. When casting for the lead, was there a moment or something that stood out about Jessica that said she was the one for the role? How was it working with Jessica?
Sean Riley: I spent a really long time trying to find the perfect Delilah. The entire movie rested on that one casting choice since the character appears in almost every scene and carries the entire movie. Delilah is such a huge character that not many actors could pull it off. I was out of options and noticed her on my Facebook friend list. I didn't know her personally but knew we had a distant Mississippi filmmaking connection. I had nothing left to lose and sent her a message in desperation around midnight one weekday. She answered immediately, and I had an audition waiting in my email box the next day. I was floored when I saw the audition. Jessica had nailed the part better than even more established actors at the time I had auditioned. I immediately showed my wife, Candy, and we agreed that she was the one.
On set, Jessica was a consummate pro. She absolutely nailed her scenes, which saved a lot of valuable shooting time and money. I quickly learned that she was someone I could trust and depend on as a director and producer. Always positive on set and willing to try anything crazy I threw at her–and there was no shortage of craziness that I threw at her. Directors would be fools to not consider her.
Fletch: Fighting Belle is also a boxing movie, has wedding scenes involving large groups of people, a scene shot into a mirror, and some really good scene structure and composition, none of which I imagine are on anybody's 'easy list' of things filmmakers do. What was most challenging to you?
Sean Riley: Surprisingly, I would say the first boutique scene and the charity event scene. Somehow we got turned all around with screen direction while in the boutique. The sun was going down outside, and the blocking just wasn't working. We probably spent 2-3 hours on just that one scene. Fortunately, we shot the other two boutique scenes directly after, and they pretty much went off without a hitch.
The charity even scene was difficult because it was intended to be such a bigger set piece, complete with waltzing and the whole nine yards. When it came time to shoot the scene, 90% of my extras, those who had just finished filming the opening wedding scene, were nowhere to be found. One of my many guardian angels on the shoot, extra-turned-stills photographer-turned PA, Dee Dempsey, told me that an extra had told the others that shooting was done for the day. I was about to give up but assembled the few remaining saints that had stuck around. I quickly tore down the scene, mentally, to its essential ingredients, blocked off a small area of the ballroom, and salvaged a sure disaster.
Fletch: You've done short films, now your first feature film. I understand that you are now working on a series of podcasts and have some other film projects on the horizon?
Sean Riley: I want to take a little break from filmmaking and let a new script idea incubate. I've been inventorying new interests and have recently cultivated an interest in podcasting. I'm developing a podcast called Second Acts Podcast, which explores how early success has shaped and defined the current lives of entertainers. My first interview is with Joel M. Reed, the cult director of Blood Sucking Freaks, whom I met surreptitiously through Fighting Belle. I hope to invite many more unique guests on the podcast. Be sure to "Like" our Facebook page at https://www.facebook.com/secondactspodcast/ in anticipation for the inaugural episode. And, of course, if you haven't already, I'd love for you to check out Fighting Belle on Amazon Video and drop me a line with your thoughts.
I want to thank Sean Riley for taking the time to answer questions, and of course providing us with an entertaining movie like Fighting Belle. I'm sure all of us hope to see even more films and projects coming from him and the wonderful and talented cast and crew of Fighting Belle.
Check out the Official Fighting Belle Facebook Page: https://www.facebook.com/FightingBelle/
You can see the movie now on Amazon Video.