The Complexities of Understanding Your Past – Interview with 'Comala' Director Gian Cassini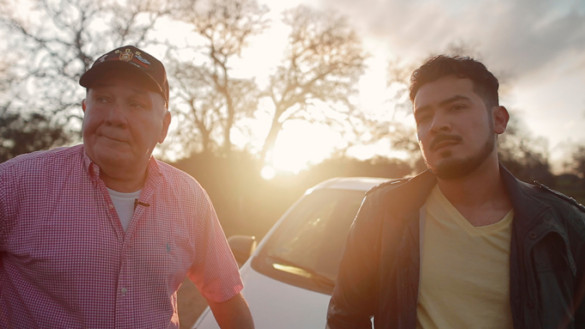 In the Mexican documentary Comala, filmmaker Gian Cassini does a deep dive into his own past to investigate the life and death of a Tijuana hitman nicknamed 'El Jimmy,' a man who also happened to be his father. 
The film, constructed through a collection of his memories and interviews with his family members, creates a powerful exploration of the machismo culture and violence normalization in México. Cassini uses the film as a therapeutic exercise to better understand his legacy and surroundings, and try to correct behaviors that permeate Mexican society.
As part of my TIFF 2021 coverage, I had the chance to talk with Gian Cassini about the complex making of Comala and the art of nonfiction filmmaking.
Ricardo Gallegos: You had only directed fiction before starting this documentary project. How was the transition? Was nonfiction storytelling something you wanted to do?
Gian Cassini: Initially I thought to make fiction with the idea of my father's death, but after having a direct approach with the members of my family I thought that the most honest and powerful thing was going to talk about them and me in a direct manner. 
However, when I started I had no training in documentary. My notion of the documentary was the one that the average citizen has: that documentaries are about science and animals, or that they are interviews dubbed into Spanish.  However, when I started to work in laboratories, to document myself, to meet other documentary filmmakers, and learn about their work, motivations, and the narrative forms available, I realized that there is a whole world and a whole series of possibilities in how you can structure a documentary, how you can structure a story or a concept. That made me fall in love. Now I am in love with the documentary and I feel like I want to stay here, but I can't say for sure if I will right now. I am very excited to find my voice as a filmmaker within the documentary area and also give that space to a series of people and causes, which is a little more difficult to do in fiction; the documentary is very generous in terms of budget which greatly facilitates its production.
RG: I feel that, erroneously, the documentary becomes pigeonholed in this idea of the search for the absolute truth. In Comala, you search for the truth, but there is an important subjectivity from you and your family. How did this affect the documentary? What does a documentary mean for you now? How should the documentary be perceived by audiences?
GC: First, I would say that the documentary is not a genre. It is another area of cinematography, which houses all genres. A documentary can be a comedy, action, drama, or any genre. That's something I discovered.
After working with family members and hearing anecdotes from different points of view, I learned that I cannot reach absolute truth. I realize how powerful and comfortable it is when you simply take a stance to claim: 'I believe this because of this.' However, I would hear a story from a family member, and then listen to that same anecdote or story from another perspective, and It would change everything. I didn't know what to believe anymore. I realized that I knew absolutely nothing and couldn't come up with a guess. So the only thing I could do was to sit down, listen and give pertinent space to each of the characters so that the viewer, based on their own experience, could find their own interpretation. That is something I learned during the production process.
RG: What was your scriptwriting process? You have all these pieces, family members, and ideas. How did you structure it all?
GC: That is the most complicated part of the whole process because being my first documentary I had no idea how I could structure it and I didn't know all the possibilities available to me. I had a very general idea: I knew I was going to be the guiding character to reach each of these voices, that somehow it could fall into the road movie genre. These ideas were important guides for me. I also knew that there was going to be a parallel structure between my dad's chronological life and the geographical journey that I undertake within the film, but structuring that information, the testimonies, the observations of each one, was something time-consuming, complex, and frustrating.
The first two years I would sit down to apply for funds and they would ask me for the script. I was writing based on the material I had, but it was ridiculous. I knew they wouldn't award me anything because I didn't know where I was going. That was frustrating as a filmmaker and producer because I didn't know how long this was going to last. I couldn't see the end. I learned as the years went by. In 2016, when we presented Comala at Doculab in Guadalajara, they asked for a one-hour cut of the film. At that time, it was evident that there was no finale. They asked me where It was and I sincerely replied, "I have no idea." That was 2016, it took me about two more years to get an idea of how the movie was going to end.
I recently came to the realization that it was two people who were operating this film: 'Family Member Gian' and 'Filmmaker Gian.' There was duplicity, a complement between one and the other. At some point, one of them had more control over the other and when structuring the film, the guidance fell in the lap of 'Family Member Gian.' At the time I couldn't understand these things and didn't know how relevant certain information or events were.
RG: During the planning and production of this documentary, what concern did you have about your own safety? Was there a concern? I mean this in terms of maybe running into dangerous names or troublesome information.
GC: That was a concern my family had. At first, when they learned that I was serious in wanting to make this film, many of them objected because they were concerned for my safety. But, from the very start, I had something clear: I didn't want to make a police movie. I knew then that I didn't need to dig deep into data. There was some general information that was needed to create Comala though, and I approached it from a conscience of safety, not for me, but for the sake of my family.
On one of the initial trips I made to Tijuana, I was looking for archive material about my father's case and I went to the attorney general's office to see if I could find the file. When I went, they asked me: "Why? Why would you expose yourself?" I hadn't told them that I was El Jimmy's son. I just wanted to see a file, but that simple fact already exposes you. So, whenever I encountered those signs of danger, I just would go the other way.
Instead of safety, my fears were about how the movie was going to turn out. I didn't want the movie to be seen as a narcissistic piece. It was very difficult for me, even when pitching, to recognize that the protagonist of this film was me. Even now, as I'm talking to you, I feel very strange because it lends itself to that narcissistic reading. Through the structuring, I tried to avoid that path. 
Something that motivated me to bring the film to its conclusion was to give space to the voices of each of the members of my family, who, cinematographically speaking, seemed like fascinating and charismatic characters to me. I wanted to see a movie with them and about them. And I achieved just that.
Another aspect that I feared was precisely how to introduce my family members. I didn't want to feel like I was exposing them to viewers' judgment. They were already generous in allowing me to approach and record them. I didn't want, for example, to know that my grandmother's neighbor would come over to tell her that she was a bad mother. Things like that. That was something I tried to be very careful about. I paid a lot of attention. In the end, I feel like I achieved it.
RG: The encounter with your grandfather helps encapsulate the toxic masculinity themes that are explored throughout Comala. What did you expect before meeting your grandfather and as a filmmaker (not as a grandson), what did you think after it? How did this encounter change the documentary?
GC: 'Filmmaker Gian' was fascinated. I could've just ditched Comala and made a whole movie about him. That's how great his story is.
I couldn't unlink 'Filmmaker Gian' from 'Family Member Gian' in this particular movie. Approaching my grandfather from the 'Family Member Gian' made things a lot easier in terms of structure because he really was a new family member that came into my life and whom I was just getting to know. The discovery that you see in Comala was a completely direct translation of the experience because that was exactly how the development of my appreciation for him was. Even in editing, it was easy to structure his scenes, which wasn't the case for any other encounters.
RG: Have you shown the film to your family? How did they react or how do you hope they will react?
GC: It has only been seen by my mother and my grandfather. I think my mom needs to see it again because it really wasn't the cathartic and emotional projection that I expected. She just patted me on the back and told me: 'it's good, mijito.' I thought, 'Okay. Is this an indication that the film is destined to fail?' My own mother was not moved by my film, but then I realized that she was still processing it. Later, she told me that she was still thinking about it. She is going to present the film at the 2021 Guadalajara Film Festival with me. It will be very interesting to see her process there.
The projection with my grandfather was quite powerful because, in addition to me, he, and his wife, his children from his other family were there. It was a powerful experience because there were many elements that they did not know at all about their own father, so seeing the film from this perspective was emotionally powerful. They were upset not with the film or with me, but with all these patterns that the film portrays and exposes. There was a lot of emotion. I'm excited that they wanted to see it again.
Comala had its World Premiere at the 2021 Toronto International Film Festival as part of the TIFF Docs program. Next, it will screen at the 2021 Guadalajara Film Festival and 2021 Morelia Film Festival in México.
Cover image courtesy of TIFF.