Featured: TIFF 2018 Daily Dispatch – Day 7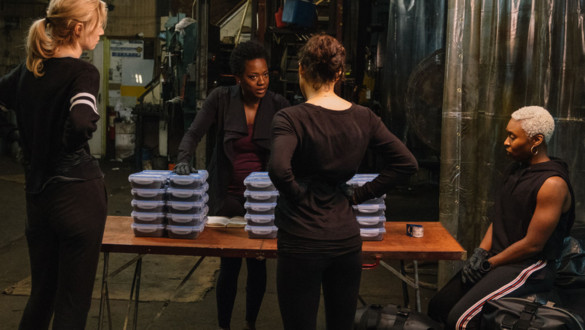 Widows
Director: Steve McQueen
Writers: Steve McQueen & Gillian Flynn
Stars: Viola Davis, Elizabeth Debicki, Michelle Rodriguez, Colin Farrell, Brian Tyree Henry, Carrie Coon, Liam Neeson, Robert Duvall
Synopsis: Set in contemporary Chicago, amidst a time of turmoil, four women with nothing in common except a debt left behind by their dead husbands' criminal activities, take fate into their own hands, and conspire to forge a future on their own terms.
Right off the top, it's inevitable that Widows will be compared to Ocean's 8. Due to the subject matter and the sex of the core cast members, audiences will compare one to the other. This is a mistake: not only are they separate films by completely distinct filmmakers, the way that each film handles its "heist" is also unique. Where Ocean's 8 took a page from its male-dominated predecessors to focus on a large group who use gadgets for an elaborate theft, Widows is much closer to a traditional gritty crime film, with far more drama and life and death stakes.
A closer comparison is The Town, Ben Affleck's 2010 crime drama about a thief looking for one last score who falls in love with a bank teller. Widows, the latest film by Steve McQueen (from a script co-written by queen of crime fiction Gillian Flynn), ditches the romantic subplot for a B-plot about city Councillors Jamal Manning (Atlanta's Brian Tyree Henry) and Jack Mulligan (Colin Farrell) whose electoral feud intersects with a heist being planned by the widows of a team of thieves.
The film opens with a heist intercut with moments that establish each of the men involved (and their respective partners). Before the title card appears, the men all dead in a spectacular shootout/explosion with the police. In short order Veronica (Viola Davis), the wife of team leader Harry Rawlings (Liam Neeson), is being threatened by Jamal's pitbull enforcer brother, Jatemme (Daniel Kaluuya, miles away from his Get Out character). The political candidate wants the $2 million that Harry stole back, regardless of the fact that the money burned up, or that Veronica was uninvolved in Harry's criminal endeavors. With a one month deadline, Veronica recruits the other widows, Alice (Elizabeth Debicki, the film's breakout) and Linda (Michelle Rodriguez), to execute Harry's final planned heist on Mulligan's campaign headquarters.
Unlike Ocean's 8, these women have no idea what they're doing and the script doesn't play their ineptitude for laughs. There are a few montages and Debicki brings some welcome humour to the proceedings, but on the whole Widows is a dark, gripping drama about women who were abused by the men in their lives and then left to fend for themselves. The fact that Harry and Veronica were recovering from a trauma in their marriage, or that Alice's boyfriend beat her or that Linda's stole from her, is all part of McQueen and Flynn's masterpiece screenplay, which is interested in the ramifications of crime, violence and abuse on women. It's heady stuff, but it gives the film weight and depth. The emotional investment in these characters' success is that much greater because if they fail, it means prison or death.
Two actresses in particular are uniformly excellent. The first is Debicki, the film's biggest surprise and the actress most likely to see a bump in popular awareness. Despite coming off as shallow, Alice proves both resilient and resourceful. The other is – naturally – Davis. As the defacto lead role of a deep bench cast, the actress is predictably superb. Her Veronica is a complete mess throughout the film, ricocheting from tragedy to tragedy and then trying to appear put together and totalitarian in front of the others, at times to her and their own detriment. It's a nuanced performance, and though it likely won't be enough to earn her award accolades, the film would fall completely apart without an actress with her screen presence and charisma. McQueen clearly agrees: he frequently shoots Davis' face in close-up or even extreme-close up to zero in on her lips, her eyes and her tears.
The fact that the rest of the cast are all given something significant or meaty to do is another testament to the screenplay (an adapted Oscar nom isn't out of the realm of the possible). Every few minutes, another star or character actor appears and nearly all of them are used in the smartest, most memorable fashion – from Coon's flustered newborn mother to Duvall's racist former politician to Jackie Weaver as Alice's opportunistic mom. Throw in McQueen's expert direction, which deftly balances the intimacy of various sex scenes to thrilling action sequences and everything in between, and Widows is another expertly crafted crowd-pleasing future blockbuster.
Grade: A