Criterion Crunch Time: 'All That Heaven Allows'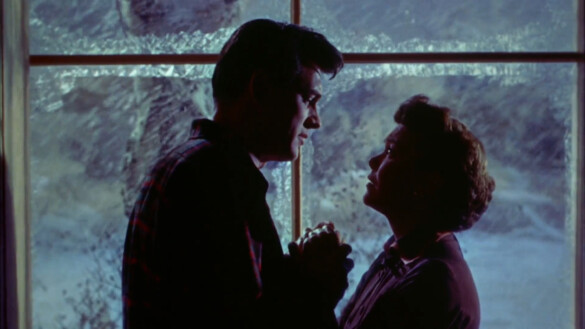 Ok, let's talk about a dirty word in cinema (and generally, art circles).  Melodrama. Be honest, what do you think of when you hear that word? Over the top, silly, ingenuine, not realistic? Do you want to roll your eyes? If that is your reaction, that's totally fine and common, but you're really missing out on some great, stylized work. And in a world where people are supposedly craving films that look different, that have a point of view, that don't simply blend into the blockbuster background, the melodrama (of any era) might be a wonderful place to find just that. And, if you want an education in melodrama, there is absolutely no better place to start than the work of Douglas Sirk. And the Criterion Channel is giving you one last chance this month to view one of his seminal works, All That Heaven Allows.
All That Heaven Allows is a relatively simple story, characterization-wise, as most melodramas are, but it has a hook that most, if not all, viewers can latch on to. Cary Scott (Jane Wyman) is a well off widow who lives in New England. Despite being consistently (and uncomfortably) wooed by any number of suitors, she becomes interested in Ron Kirby (Rock Hudson), who she is not societally matched with for a number of reasons. He is younger, of a lower station, and basically uninterested in material wealth. But he is a good man, down to earth, and, besides his work, only focused on Cary. This makes a nice change, as her other suitors are connected to that material world, and aggressively try to convince her that they are a match without truly being interested in who she is as a person.
Sirk uses not only the beauty of his two leads but also the beauty of nature to show a better world and opportunity for them both. Any time the film moves back to the world of polite society, the visuals become darker, even hidden. When Cary and Ron are together, everything stops for them. In their first interlude, Ron pulls down a branch between their combined view and gently explains its root, sharing his passion with her and she, for her part, is enraptured. But this is not a one-way interaction. They are both interested in one another and quickly fall in love. This quick tumble into infatuation still feels genuine, even for the more cynical viewers. When Cary accepts Ron's proposal, it feels soon, but also worthy of a swoon.
But, true to life, reality crashes the party. Cary has a life separate from Ron, which not only includes societal pressures but two adult children. Sadly enough, it still feels revolutionary to have an older woman paired with a younger man in a romantic relationship. Unsurprisingly, Cary is met with disapproval on all sides, including from her children, who are also harassed about this new relationship. Soon after, Cary sacrifices her own happiness for her grown children. Despite rooting for Cary and Ron, it is an understandable reaction. But this is where All That Heaven Allows goes from good to great.
In a lesser movie, there are a few options. Cary could simply say forget these kids and reach for that brass ring. Or, moments later, she could realize that Ron is right for her and do the same thing. But the script from Peg Fenwick goes the extra mile. In what feels like an actual betrayal, her adult kids convince her that they should probably sell their house as one will be working overseas and the other is getting married. The realization of the worthlessness of Cary's sacrifice flashes across Wyman's face and yet, this long passed opportunity for romance is not necessarily a foregone conclusion. Will he still love her after his own betrayal?
In the most melodramatic moment of the film, Ron, trying to get her attention when she has second thoughts (again), has the snowy ground fall out from under him, which leads to his unconsciousness. Of course, when Cary realizes this she goes to him and they finally consummate this relationship. To this viewer, the most important part isn't even the fact that there is a "happy ending." It is that neither of them are now willing to let the world, even including her own children, dictate how they should live their lives.
A more varied streaming service, like the Criterion Channel, allows our envelopes to be pushed. Even if it's based in a genre that isn't always your cup of tea, film education and entertainment allow us, as viewers, to experience new stories, new styles, and different visual aesthetics that open us to beauty, sadness, love, and detail that we may have missed.