Monthly Preview: Summer movie season wraps up with August releases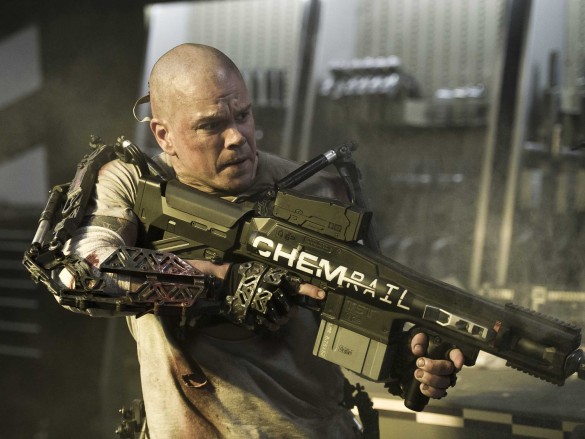 The summer movie season is quickly coming to an end as the August movie schedule is upon us.
So what's there to see this month? You have a buddy-cop movie starring Denzel Washington and Mark Wahlberg, Neill Blomkamp's follow-up to District 9, a sequel involving a hero who kicks ass, a couple of biopics and a third movie from the trio of Edgar Wright, Simon Pegg and Nick Frost.
So here it is: A list of some of the top films that are being released this month.
AUGUST 2
2 Guns
Director: Baltasar Kormakur
Stars: Denzel Washington, Mark Wahlberg, Bill Paxton
Synopsis: A DEA agent and a naval intelligence officer find themselves on the run after a botched attempt to infiltrate a drug cartel. While fleeing, they learn the secret of their shaky alliance: Neither knew that the other was an undercover agent.
Our Take: An R-rated buddy-cop movie featuring Denzel Washington and Mark Wahlberg? Sounds good to us. Here's hoping it's better than The Other Guys.
Smurfs 2
Director: Raja Gosnell
Stars: Hank Azaria, Neil Patrick Harris, Jayma Mays, Katy Perry
Synopsis: The Smurfs team up with their human friends to rescue Smurfette, who has been kidnapped by Gargamel since she knows a secret spell that can turn the evil sorcerer's newest creation – creatures called the Naughties – into real Smurfs.
Our Take: There was no need to make a Smurfs, let alone a sequel.
The Spectacular Now
Director: James Ponsoldt
Stars: Shailene Woodley, Miles Teller, Jennifer Jason Leigh, Kyle Chandler
Synopsis: A hard-partying high school senior's philosophy on life changes when he meets the not-so-typical "nice girl."
Our Take: This one has gotten a lot of good buzz, and after watching the trailer, we can see why. The story and the acting appear to be top-notch, making this one one to watch.
AUGUST 9
Elysium
Director: Neill Blomkamp
Stars: Matt Damon, Jodie Foster, Sharlto Copely
Synopsis: A factory worker takes on a mission to hijack his way onto a man-made space habitat.
Our Take: Neill Blomkamp's first movie, District 9, is a modern-day, sci-fi classic. Now with more star power and a bigger budget, can Blomkamp make it two classics in a row? We think so.
Percy Jackson: Sea of Monsters
Director: Thor Freudenthal
Stars: Logan Lerman, Alexandra Daddario, Nathan Fillion, Brandon T. Jackson
Synopsis: In order to restore their dying safe haven, the son of Poseidon and his friends embark on a quest to the Sea of Monsters to find the mythical Golden Fleece while trying to stop an ancient evil from rising.
Our Take: We never saw 2010's Percy Jackson & the Olympians: The Lightning Thief but the premise involving Greek mythology always did look pretty interesting. And it does star The Perks of Being a Wallflower's Logan Lerman, so maybe we'll check this out.
Planes
Director: Klay Hall
Stars: Val Kilmer, Dane Cook, Teri Hatcher, Julia Louis-Dreyfus
Synopsis: Dusty is a cropdusting plane who dreams of competing in a famous aerial race. The problem? He is hopelessly afraid of heights. With the support of his mentor Skipper and a host of new friends, Dusty sets off to make his dreams come true.
Our Take: A spin-off of Pixar's Cars series, this looks more like a Direct-to-DVD movie. But one of us is pretty excited for this (that would be JD).
We're the Millers
Director: Rawson Marshall Thurber
Stars: Jennifer Aniston, Jason Sudeikis, Emma Roberts, Ed Helms
Synopsis: A veteran pot dealer creates a fake family as part of his plan to move a huge shipment of weed into the U.S. from Mexico.
Our Take: This one had us sold when we heard Jennifer Anniston is playing a stripper. But the story (at least on paper) sounds like it could make for a very funny movie. But comedies are so hit-or-miss that it's always hard to tell.
AUGUST 16
Kick-Ass 2
Director: Jeff Wadlow
Stars: Chloe Grace Moretz, Aaron Taylor-Johnson, Christopher Mintz-Plasse, Jim Carrey
Synopsis: The costumed high-school hero Kick-Ass joins with a group of normal citizens who have been inspired to fight crime in costume. Meanwhile, the Red Mist plots an act of revenge that will affect everyone Kick-Ass knows.
Our Take: The crew is back and everything looks to be amped up in this sequel to one of the best comic-book movies of all-time. This is a must-see, especially when you consider how awesome Jim Carrey's performance looks.
Paranoia
Director: Robert Luketic
Stars: Harrison Ford, Gary Oldman, Liam Hemsworth, Amber Heard
Synopsis: An entry-level employee at a powerful corporation finds himself occupying a corner office, but at a dangerous price: he must spy on his boss's old mentor to secure for him a multi-billion dollar advantage.
Our Take: Harrison Ford and Gary Oldman going toe-to-toe is all we need to know to get us excited about this one.
Lee Daniels' The Butler
Director: Lee Daniels
Stars: Forest Whitaker, John Cusack, Oprah Winfrey, Robin Williams
Synopsis: An African-American eyewitnesses notable events of the 20th century during his tenure as a White House butler.
Our Take: Lee Daniels certainly has another Oscar nominee on his hands after 2009's Precious. The story here looks extremely moving and the cast is phenomenal. This has the potential of being one of the best movies of the year.
Jobs
Director: Joshua Michael Stern
Stars: Ashton Kutcher, J.K. Simmons, Josh Gad
Synopsis: The story of Steve Jobs' ascension from college dropout into one of the most revered creative entrepreneurs of the 20th century.
Our Take: The trailer for this one has a feel very reminiscent of 2010's The Social Network. Will this be as good as that movie? Doubt it. But it does look interesting and Ashton Kutcher certainly does have the look of Steve Jobs down (acting-wise is another matter though).
AUGUST 23
The Mortal Instruments: City of Bones
Director: Harald Zwart
Stars: Lily Collins, Jamie Campbell Bower, Robert Sheehan
Synopsis: When her mom is attacked and taken from their home in New York City by a demon, a seemingly ordinary teenage girl, Clary Fray, finds out truths about her past and bloodline on her quest to get her back, that changes her entire life.
Our Take: Neither of us have read the books (and we never will), but this kind of looks like a mix between Twilight and Supernatural. The tweens will probably eat it up, but this will be a pass for us.
The World's End
Director: Edgar Wright
Stars: Simon Pegg, Nick Frost, Martin Freeman, Rosamund Pike
Synopsis: Five friends who reunite in an attempt to top their epic pub crawl from 20 years earlier unwittingly become humankind's only hope for survival.
Our Take: After 2004's Shaun of the Dead and 2007's Hot Fuzz, the trio of director Edgar Wright and stars Simon Pegg and Nick Frost are back for another crazy adventure, this time involving lots of booze and an alien invasion. If this is anywhere near as good as there first two outings, we're going to be in for another classic.
AUGUST 30
Closed Circuit
Director: John Crowley
Stars: Eric Bana, Rebecca Hall, Jim Broadbent, Ciaran Hinds
Synopsis: Martin and Claudia are lawyers — and ex-lovers — who find themselves put at risk after they join the defense team for an international terrorist's trial.
Our Take: There's lots of talent surrounding this one, particularly screenwriter Steve Knight, who wrote 2007's thriller Eastern Promises. This one could surprise some people, even us.