Chasing the Gold: The State of the 2022 Oscar Race After CCA and BAFTA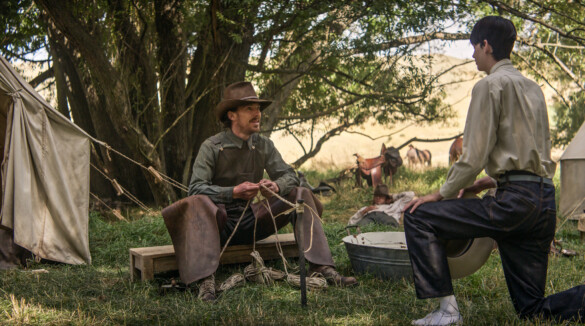 March 13th ended up being a busy day for Oscar pundits as both the BAFTAs and the Critics Choice Awards happened. Being the final two major live telecasts before the Academy Awards on March 27th, there was a lot to unpack with these two sets of winners. There is no need to delve deep into certain categories that have strong frontrunners at this point, such as Director and Lead Actor, as there is little to say there that has not been said based on other precursors. Instead, this analysis will focus on the closer races and what wins at BAFTA and CCA may have created an impact regarding the Oscars.
The Screenplays
Going into this hectic day, there seemed to be set favorite sin both screenplay categories this year with Belfast for Original and The Power of the Dog in Adapted. That is exactly what happened at CCA, which feels weird given the backlash against the Belfast screenplay by critics on social media. However, BAFTA went down a different route for both categories and awarded Licorice Pizza the Original Screenplay prize and CODA the Adapted Screenplay prize. This has now turned both awards into very interesting races as there is a case for all of these films to win their respective awards.
Looking at Original Screenplay first, it has felt like a race between Licorice Pizza and Belfast since the start of the season. For a long time, Belfast was the Best Picture frontrunner and looked like it could easily take home at least three Oscars. However, the film has slowly started to lose momentum and the poor performance at the BAFTAs does not help its case. The Academy may also view this as a time to reward Paul Thomas Anderson, who has earned eight Oscar nominations at this point without a single win. While there might be controversy around certain aspects of the screenplay with Licorice Pizza, there seems to be enough goodwill and now the BAFTA win to push him over the finish line this time around.
Jumping over to Adapted Screenplay, it only seems like a race that has shaped over the past week or two. For a majority of the season, it seemed like Campion would win for The Power of the Dog and the CCA win proves that. However, with Campion feeling like such a lock to win Best Director, there is a case that Academy voters would perhaps want to spread the wealth and BAFTA has now given an opportunity for CODA to take. While I personally do not believe the hype of CODA going on to win Best Picture purely because it has overperformed this season, anyone that does believe it better be predicting it to win Adapted Screenplay over The Power of the Dog. With The Power of the Dog being ineligible for the WGA, that may just be the push CODA needs to secure one last win and push the momentum forward.
Best Editing
Neither CCA or BAFTA proved to be any help when it came to Best Editing, easily the messiest category this award season. Dune is the only film to have been nominated in all Editing line-ups this year, but failing to secure a win at BAFTA against No Time to Die when it scored five other wins perhaps shows some weakness with how the editing of Dune is viewed. Additionally, the Editing award at CCA went to West Side Story, once again a selection that is not nominated at the Oscars.
The only films nominated at the Oscars to have scored a win at any show for Editing are King Richard and tick, tick.. BOOM!, which both won at the ACE Eddies. Both of the films present moments of editing that the Academy may lean in favor of, whether it is the tennis montage sequences in King Richard or the musical numbers in tick, tick… BOOM!. If you want to make a case for Dune winning with the Sound stat correlation and securing the most nominations, that is a way of going about it. If you want to link Editing with Best Picture and predict The Power of the Dog, that is also a valid point. There is a tight race here between four of the contenders and it is just a shame that the winner will be revealed on Twitter before the telecast even begins.
Best Cinematography
The last category I want to talk about here is Best Cinematography, which will potentially become clearer once the results from ASC are revealed. Until then, the BAFTAs and CCAs were split between Greig Fraser for Dune and Ari Wegner for The Power of the Dog. Personally, I would have loved to have seen Netflix dedicate a bigger campaign to getting Ari Wegner an Oscar for her work. It would be a historic moment having a female cinematographer finally on stage accepting an award, and yet it feels like Netflix has been focusing a campaign on Jonny Greenwood's score instead, which is having a hard time against Hans Zimmer's score for Dune.
Instead, Dune has utilized this time to build up a strong campaign with all the technical nominations it has. Not only does it look secure in Score, Sound, and Visual Effects; but winning both the BAFTA and CCA for Production Design and the BAFTA win for Cinematography makes the potential haul for Dune at five wins, six if it pulls through in Editing. With film fans also applauding Greig Fraser's recent work in The Batman, that has only given him extra publicity in a race where any last minute push could be enough to take the race.