Chasing the Gold FYC: Maria Bakalova, Best Actress – Borat Subsequent Moviefilm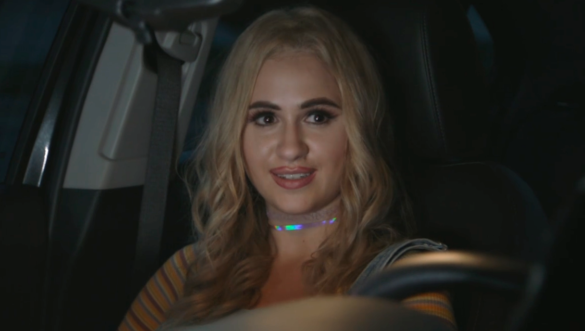 2020 has been a helluva year for many reasons that I don't even need to state here in this piece but at the end of this brown cloud of a year was a sequel to a huge breakout success of the year 2006, and that was Borat Subsequent Moviefilm or simply put, Borat 2, the surprise sequel that really no one expected nor knew what to expect from its sublimely talented creator Sacha Baron Cohen. Many questions were asked, mainly "How?", "When?", and "Why?" But when it was released on October 23rd of this year all those questions seemed to melt away with one solid response in all caps- YES! The best part of the film wasn't even Baron Cohen or the hijinks that were created for the film, but for it's break out leading lady star, Maria Bakalova. 
Her turn in Borat 2 was not only the standout of the film but it has turned the recently unknown actress into an "overnight" sensation as she recently signed with CAA and now is on the campaign trail for the golden statue that is the Academy Award, an award she richly deserves although something is really wrong with this. The studio that is Amazon has recently created a FOR YOUR CONSIDERATION page for the film and is campaigning her in the wrong category of Supporting and not Lead where she belongs, so I am here today to try and save her in any way I can for voters out there like myself who voted for some of these awards during Oscar season. 
Category fraud has been rampant in awards season since it's very inception, supporting roles in lead categories, lead roles in supporting, this is nothing new. Being nominated for an Academy Award is a huge deal, despite the category and yes it's a huge honor, however as a performer myself I wouldn't ever want to be recognized for a role that wasn't in the right category. Some examples over the years- Tatum O'Neal won for Paper Moon in Supporting Actress, she's in the entire film, lead. Timothy Hutton won for Ordinary People in Supporting Actor, he's in the entire movie, lead. Anthony Hopkins won for The Silence of the Lambs in Leading Actor, he's in 24 minutes of the film, supporting. Viola Davis won for Fences in Supporting Actress, she's in the entire movie, Lead. (You get the point) 
So it's not a new concept. Now you may ask "what constitutes a leading role from a supporting role?" Great question. Two major factors play into this here- SCREEN TIME & RELEVANCE TO THE STORY. Lemme take two from the examples above and then I'm gonna move onto the main course here that is Maria in Borat 2. 
Viola Davis in Fences, let's start with the fact that she already won a Leading Actress Tony for the same role on Broadway. Regarding screen time she has 53:22 of screen time in Fences, almost a solid hour of her on-screen, sure it's a little less than half but here's where it's decided on really- her importance to the story. If you take her character out of Fences there is no story, she as Rose is telling one half of the story to Troy's half. Take out Rose's story and Fences becomes Gate. If she was actually the supporting actress of the film you could take Rose out and the story could continue, it can't. There are many times throughout the film where the story is told through not only Rose's POV, but she carries storylines. (Also, even Denzel said he didn't understand why she was campaigning for Supporting but come on, it was obvious…)
Anthony Hopkins in The Silence of the Lambs, he's in 24:52 seconds of the film, let's start with that, those types of numbers for screen time equal pure supporting numbers. Regarding his importance to the story, I mean unlike the other novels and films about Dr. Hannibal Lecter, The Silence of the Lambs is about Clarice Starling, her story of working up the ranks in the FBI and catching Buffalo Bill. Lecter merely is a spice in the main dish that is the movie as a whole. I would argue that you could take out Lecter even and the movie would end the same, and THAT is what makes him supporting. He moves the story along but the story isn't about him, nor is it told from his POV. 
Now let's get to why Maria Bakalova is the LEAD of Borat 2.
Let's start with how important she is to the film. She plays Tutar Sagdiyev the daughter of Borat, and in this film, while the story starts off being told through the lens of Baron Cohen it is specifically pointed out that Borat needs his daughter to be the main source of the hijinks and to be the sole reason to be on the good graces of Michael Pence and then Rudy Giuliani. There are many moments in the film where Baron Cohen obviously is telling the story and has his own pranks to ensue on people but there are solid chunks of the movie where Bakalova's character is running the show, not only in her POV but is the literal focus. If you were to take her out of the film you wouldn't have a full film, Borat 2 would be a short film with a jumbled plot that makes zero sense. That alone qualifies her as a lead, there is absolutely no way to tell the story of Borat 2 without Bakalova in it. So why is she being campaigned for Supporting? Why is a leading lady star in Diane Ladd's category of Best Supporting? ( if you don't get that joke, it's not for you) Easy, because Oscar pundits and studios are so used to slopping around actors to fit into their dream lineups and allowing rampant category fraud when it comes to a "newbie" that they'll give literally anything a pass. Literally. Anything. 
It needs to stop, and it needs to stop now, because not only are you not allowing actual supporting or leading roles the opportunities to be recognized in the correct categories thus slapping them in the face to make room for "something better" but you aren't giving the Academy that opportunity to open up the categories to performances that are out of the box that you all battle cry for diversity and roles that aren't usually in the wheelhouse of Academy styled movies, and if you balked at that reason, YOU ARE THE PROBLEM. You can't have your cake and eat it too when you keep blocking these actors from getting their time in the sun and being honored for their craft when you allow blatant category fraud because your favorite can "at least be recognized". Shut up. 
Don't give the excuse either "the Academy can choose which category" cause it rarely happens. Outside of Kate Winslet and Jennifer Connelly can you name FIVE other times it's happened? Four? Three? The Academy does what it's told from FYC and pundits when it comes to nominating 99% of the time. Point. Blank. 
Borat was a huge Golden Globes hit of 2006 and could repeat itself again with the sequel, with Maria being campaigned in Supporting it's like they are purposefully making it harder for her to get recognition as she can be put into the Leading Globe category of Comedy/Musical since the Globes only has one Supporting Actress category, but unlike the Academy, the Globes actually tends to put actors in their correct categories of Lead and Supporting. Getting the film recognized by the Academy is going to prove a bit harder since the Academy has a stick up their ass when it comes to comedies that aren't made from easter egg palates of Wes Anderson. So strategically that's why Maria is being placed into Supporting, it's about the campaign and not the merit. 
Maria Bakalova is a comedic force in Borat 2, she's on point, she's perfect on her timing and delivery and she owns the movie to the point of she is the one you remember the most after watching the film. There's a reason why she exploded like she did after the movie came out. 
She is lead, she deserves to be in lead, and you don't have an argument that makes her supporting because if you did that means you could have Borat 2 without her character when you clearly can not.
So I leave you with how I began with you.
FOR YOUR CONSIDERATION: MARIA BAKALOVA- Borat Subsequent Moviefilm- BEST ACTRESS 2021