Chasing The Gold: How was THAT Nominated for Best Picture? (2014)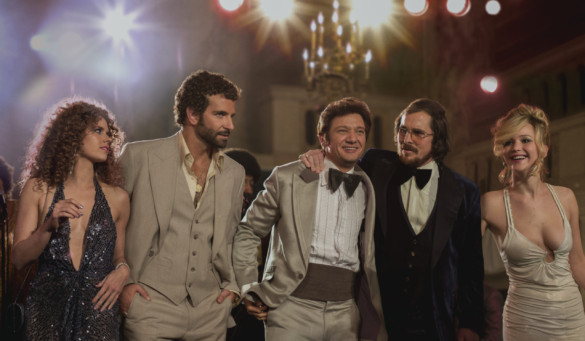 The Academy Awards of 2014 was another year with several films that I truly believe have become classics. 12 Years a Slave, as was predicted, took home the award for Best Picture, as well as several other awards, including Best Supporting Actress for the lovely and tragic performance by Lupita Nyong'o. While that film was not my favorite film of the year, it is certainly a powerful and well told story. It lost Best Director to Alfonso Cuaron, whose film Gravity took audiences to the most realistic vision of outer space yet put on film. My beloved Martin Scorsese gave us regular folks outside of Wall Street, a look at the depravity, greed, and debauchery lived not by mobsters, but by young men running our country's wealth in The Wolf of Wall Street. This was a challenging year for me to write about. This was a year in which three films earned permanent places on the "Amy Thomasson Top 100" (The Wolf of Wall Street, Blue Jasmine, and American Hustle). Yet, when faced with a list of wonderful films that tell rich stories that are directed to perfection, I find myself having to take my second favorite film of that year, and, as much as I LOVE this movie, and there is not one second I don't find entertaining, I realize that it is a flawed film, and therefore, must be my answer to "How was this nominated?" That film is the 1970's con artist film, American Hustle.
Allow me to begin with things I love about this movie. First of all, the cast is full of actors I adore. You don't get better than Christian Bale, Bradley Cooper, or the divine goddess, Amy Adams. Not only do these wonderful actors play interesting, funny, and well-rounded characters, they just exude joy throughout the film, as if they are having the time of their lives. This movie makes me laugh, is extremely entertaining, and the story, costumes, and music are wonderful. American Hustle receives a great deal of hate, and I don't understand it. I watch it on a regular basis, and it never fails to deliver for me. Maybe it's the theme of people wanting to escape who they are, wanting to be better, more intelligent, and more sophisticated that rings true to me.
One thing I am ready to admit, however, is when reviewing the list of films that were nominated, this film is the weakest. The most glaringly obvious issue is the casting of Jennifer Lawrence. I know some people strongly dislike her. I think she is very talented and excellent in the movies that actually suit her. She was wonderful in Winter's Bone and The Hunger Games because in those films she was believable as the age she was portraying. I don't know why David O. Russell repeatedly casts her as characters she is far too young to play. She was 22 in Silver Linings Playbook and she played a woman old enough to be married, widowed, and have had a breakdown. She was 24 years old in American Hustle, in which she plays Rosalyn, a woman who has a 5 year old son, and has been married for at least a few years. Rosalyn drinks all day long, smokes, and tans, yet still looks like a child. Honestly, she looks like a young adolescent playing dress up in her mother's clothes. In all of the time I have spent watching and discussing this movie, I realized that Marisa Tomei would have been perfect in this role, and it could have taken the movie to another level.

Another reason why it is the least deserving of a Best Picture nomination is that it lacks the emotional punch that the other films all seemed to hit. American Hustle is a glossy, wildly entertaining story of a long con game, which, while fun to watch, doesn't give the audience much depth. There are moments of real emotion, such as when Bale's character goes to Carmine Polito (played by a not talked about nearly enough Jeremy Renner) and admits the con to him. You see the heartbreak and betrayal, due to bofh actors being wonderful. However, unlike smaller and less glitzy movies, like Philomena, there is very little depth of emotion. You enjoy watching Adam's and Bale's characters turn the table on Bradley Cooper, but it's certainly not cathartic. You don't feel for Lawrence's character, because she is just so completely out of place in the film to begin with, so it's hard to see her as an actual human character. While I understand and can obviously love films that don't reach the emotional heights of Dallas Buyer's Club, or 12 Years a Slave, I think a film nominated for Best Picture should reach those heights.
The film that should have received a Best Picture nomination was nominated for Best Foreign Film that year, the Danish film The Hunt. Where American Hustle lacked a strong emotional impact, The Hunt devastated me. Mads Mikkelsen plays Lucas, a man going through an incredibly stressful divorce, and has started teaching at a kindergarten at a new school. He barely sees his teenage son, Marcus, and has an ex-wife that refuses to speak to him to work out the details of their custody agreement. He spends much of his time with his very close friends, one of whom has an adorable little girl named Klara, and an older son, who is portrayed as a bit of a troublemaker. Klara clearly has a crush on Lucas, who is not only her father's best friend, but one of the teachers at her school. When Lucas tells her it's not appropriate for her to kiss him, and returns a small heart she made for him, telling her to give it to someone else, Klara is heartbroken. She is too young to understand why Lucas is distancing himself. She feels angry with him, and remembering a pornographic picture her older brother showed her and commented on, she mentions to the woman who runs the school that she is upset with Lucas (about the heartbreak) and describes his anatomy (literally saying what her brother had said about the pornographic picture). This, of course, leads to accusations, rumors, and Lucas becoming an outcast.
What makes this film so incredibly powerful is that you can understand where every single character is coming from. Yes, of course we feel for Lucas (honestly, Mikkelsen should have also gotten a nomination for Best Actor), but we also see the woman that is the head of the school, his friends, and his son, and how they deal with the situation. We even feel for Klara, who is not a monster in the same vein as Mary Tilford in The Children's Hour. She truly does not seem to understand what is going on. She very quickly, when questioned, says that nothing happened with Lucas. The problem is, despite the fact she denies anything happening when first questioned about it, the man questioning her tells her that something did happen, and won't let her go play until she's a "good girl" and "tells the truth." When Klara tells her mother that nothing happened, her mother holds her and says "Yes, something did happen, you just don't want to think about it." It's frustrating and upsetting to see all of these adults, who really and truly love this little girl, are not listening to what she is saying. But, as frustrating as it is to watch, I understand where the adults are coming from. I am a mother and a teacher. I have had training in reporting sexual abuse. The woman that runs the school has a responsibility, and if I heard a five year old girl say that she knows what a male teacher's genitals look like, I would be incredibly disturbed myself. Even though we know Lucas is innocent, the woman was doing her job to have him investigated. All I kept thinking throughout the film is that Lucas should have reported Klara's behavior, the kiss she gives him, the heart she gives him, immediately, and maybe everything wouldn't have gone so awry. When Klara's father, Theo realizes that his daughter is telling the truth and that he has falsely accused his friend, his grief is obvious. He does what we feel is the correct thing, and tries to make amends with his dear friend. He clearly is despairing that while trying to protect his daughter, he has ruined an innocent man's life, a man who has been his friend since childhood.
This film is flawlessly acted and directed. While we,the audience, obviously sympathize with Lucas, we do see the pain and confusion felt by all of those who know him. In Lasse Fogelstrom's performance as Lucas's teenage son, Marcus, we see the hurt, anger, and confusion this young adult feels as he remains fiercely loyal to his father. There is a scene in which he visits Klara's family to talk to them about the situation that is particularly moving. Annika Wedderkopp plays young Klara, a beautiful young girl, with a great natural ability. She is not trying to be cute or precocious. She clearly loves Lucas, and obviously understands that something bad is going on, despite not fully understanding the context. She knows she has hurt him, yet shows up at his home to walk with his dog, Fanny, that she loves to play with. The cinematography and use of music is also quite haunting. The film takes place during the Christmas holiday season, so there are gorgeous shots of snow falling in the Danish town, and Christmas music playing in the background, which creates a striking image and mood. This movie truly hit me on many emotional levels.
I stand by my love for the film American Hustle. It is slickly directed, well acted, and, as I stated before, wildly entertaining. However, with its massive casting flaw, and very little emotional depth, I will agree with many that feel that it is not worthy of a Best Picture nomination. The Hunt definitely should have taken that spot. It's a technically well made, beautiful film that is also deeply moving. It also deserved numerous other nominations, such as the aforementioned Mikkelsen and a Best Screenplay nomination, as well. Please, do yourself a favor and go see this wonderful film.