An Underseen Daniel Craig Trio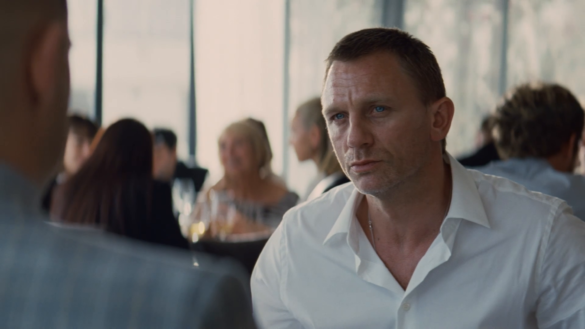 Former 007 James Bond actor Daniel Craig has an eclectic body of work beyond the tuxedo and martinis shaken, not stirred. Here's a trio of Craig appearances that deserve more love.
Flashbacks of a Fool
Daniel Craig is walking tall above his costars on the poster for this 2008 coming of age tale written and directed by Baillie Walsh (Mirror, Mirror) and that mismarketing hampers viewer expectations as Craig's washed up actor Joe Scot returns to England and reminisces about carefree girl who got away Felicity Jones (Rogue One) and his fatal affair with neighbor Jodhi May (The Other Boleyn Girl) during one quintessential summer. We rightfully spend most of the time here with Harry Eden (Bleak House) as the teenage Joe amid heady, seventies youth, British beaches, glam, and David Bowie. Despite nudity, sex, drugs, and rock and roll, however, the dual storytelling doesn't completely maximize the youthful or reflective potential. This defining tragedy could have been a picture unto itself – as could the framing story with Craig's emotional, realistic adult making amends. His little dialogue and reduced screen time doesn't have room for a serious, soul searching performance to fully blossom. Fortunately, the supporting ensemble, including Olivia Williams (The Crown), Helen McCrory (Peaky Blinders), Claire Forlani (Meet Joe Black), and Keeley Hawes (MI-5) matches his nostalgic charm. If you go into this viewing knowing what the story gets right, it's easy to appreciate the English quaint and harrowing lessons.
The Jacket
Doctor Kris Kristofferson (Blade) puts veteran Adrien Brody (The Pianist) in a straight jacket and locks him in a morgue drawer where he seemingly time travels from 1992 to 2007 in this captivating 2005 puzzle. Our Jack Starks helps a little girl in the past then falls in love with her as the adult Keira Knightly (Bend it Like Beckham), but gunshots, head wounds, and murder trials mean nothing is certain. He's accused of killing a cop and Knightly's innocence lost junkie is said not to exist, so Starks returns to the jacket and the drawer so he can leap in time again and piece together what has happened. Tight, claustrophobic shots parallel the "in the womb" aversion therapy and life threatening demand for answers. Jennifer Jason Leigh (Fast Times at Ridgemont High) is perfect as the creepy yet concerned colleague to Kristofferson's soft spoken torturer, and Daniel Craig is wonderfully unrecognizable as fellow patient Crazy Rudy. For some, the movie may be asking too much of today's often spoon fed audience. However, this horror meets science fiction mindbender wrapped in a twisted love story with suspense focuses on the emotional truths, culminating in a satisfying, rewatchable what if that stays with you long after the viewing ends.
The Mother
Not willing to waste away at home like so many other widows, Anne Reid's (Peak Practice) refreshing May puts a cramp in her adult children's lifestyle by having a sexual relationship with married carpenter Daniel Craig in this juicy 2003 drama. She's finally free of being the old-fashioned, subservient nursemaid, and even as May becomes selfish, we sympathize with her needs, regrets, and guilt. Anne Reid's BAFTA nominated performance won't let us look away in commanding, fun, vital, and sexually frank scenes. However, her yuppie family treats May as burdensome and elderly. They want to pretend everything is snafu status quo and live beyond their means, and though thoroughly British, the revealing family dynamics paint a grim, accurate picture. We're often more like them than we care to admit– whiny, unlikable wannabes who blame their interfering parents while the bitter generational mistakes continue. Penniless adulterer Craig is caught in the middle with multiple ladies and unattractive addictions. He's volatile and never finishes his projects, but he's the only person who shows any kind of understanding or affection, matching Reid's charming, award-worthy honesty. The destructive performances make this an intriguing look at the unfortunate way we treat older relatives and how maturing sexuality and empowerment can disturb us.