Movie Review: Fast & Furious 6 is action packed with layered story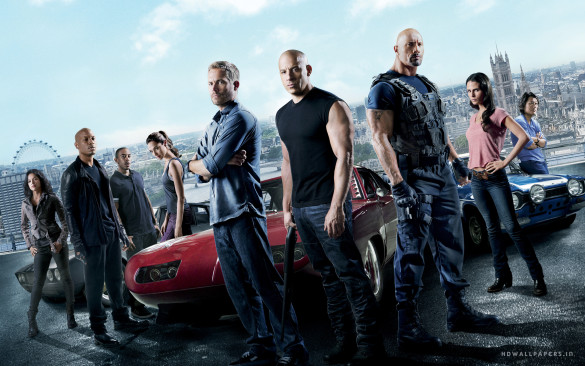 Director: Justin Lin
Writers: Chris Morgan (screenplay), Gary Scott Thompson (characters)
Stars: Vin Diesel, Paul Walker, Dwayne Johnson, Ludacris, Tyreses Gibson, Michelle Rodriguez, Sung Kang
Synopsis:  Hobbs has Dom and Brian reassemble their crew in order to take down a mastermind who commands an organization of mercenary drivers across 12 countries. Payment? Full pardons for them all.
DIRECTION
Justin Lin's direction for Fast & Furious 6 is spot on again, for the most part. It's action packed once again which leaves a lot room for Lin to play with his camera movements and gives his characters a chance to show us how badass they really are. The opening scene sets the aesthetic fantastically when Paul Walker and Vin Diesel's characters race through this narrow, winding road which is what we expect from the franchise. However, nothing sets the tone of the film like the opening title sequence. It's a glorious montage with clips from all of the previous films, in order, to give you a short snippet of where they come from and where they are going to go. On top that is the amazing theme song to the film that I'll talk about more below in the "Score" section. The beginning 20 minutes are incredible. As the film progresses and you find more action, the camera has these long tracking, sweeping motions that I love and it's everything you'd expect from Lin in this franchise. There's also a good dose of hand-to-hand combat in this movie, must like in Fast Five and it's executed extremely well. Lin gets great performances out of his actors, which I'll also go into here shortly, and his musical choices are perfect. The biggest problem I have with this film, much like I did with Fast Five and some of the other films too, is that for a series that's (mostly) based in reality, there are some action sequences that are way too over-the-top and unrealistic and I can't get on board with it. This isn't Iron Man, yet we have people flying through the air and doing things you'd only see Tony Stark (or that Universe) be able to pull off. Outside of that craziness, this is a solid film and Lin is amazing again. And I can't go into it, but the teaser for the next film in the ending title sequence is unbelievably good!
Grade: B+
SCRIPT
This is easily my favorite script and story so far in the franchise. However, to be fair, I do like #5's script a lot too and this script is pretty strong as it's a by-product of that movie. The relational elements are amazing and extremely well written. Dominic Toretto and Elena are relaxing with Brian O'Connor and Mia, who now have a son, after their heist in the 5th film when they are surprised to learn that Toretto's girlfriend, Letty, is actually live. It's an amazing twist (set up by the trailers, no spoilers there) that adds so much emotion and layers that brings these characters to life. The chemistry between Vin Diesel and Michelle Rodriguez is great and is the foundation for their motivation. Paul Walker's relationship with the both of them is also critical and adds something I think we'll see more in later films. In what is supposed to be an "action" movie, Fast & Furious 6 and Fast Five are amazing to me because of these characters and the story, not the action. They are well written, extremely interesting and a lot of fun to see on screen. However let's not forget the rest of the gang. Ludacris, Tyrese Gibson, Sung Kang, Dewayne Johson and Jordan Brewster's characters are also well written. The dialogue between them is brilliant and hysterical, but most importantly, it keeps you engaged and you can't help but have a lot of fun with these characters. But what about Luke Evans' as a bad guy? He's an interesting character with some stereotypical lines of dialogue and is fitting for the film. I think Evans' performance makes the character much better on screen than he is on paper. Some of the plot points are predictable and not too surprising but you can't expect anything less out a film like this. I'd say my favorite part though is how they weave in elements from the other films into this one. The continuation is a lot of fun and they do it so well here, especially elements from Fast Five and The Fast and the Furious: Tokyo Drift. Without spoiling anything, if you've seen either of those films, you'll know what I'm talking about. Overall, I could watch these characters interact with each other and just drive cars around with no action and I'd love it. Add some fun action into it and I'm all on board for this story.
Grade: A-
PERFORMANCES
The performances are incredible once again. Everyone is on their A game and for some of these actors, this is the franchise they were born for. This is by far the best thing Diesel's ever been a part of, in my opinion, and he's in his element when he's on screen with this franchise. The dynamics between him and Walker are as fun to me as any other duo out there. Ludacris, Gibson, Kang and Johnson are also terrific and belong here. The underlying theme of this film is family and doing anything it takes to love and be there for them, and that's exactly how the actors interact with each other. Six films will give you enough time to get to know one another though. As for Evans, there's one shot of his character driving a tank down a highway crushing cars with people inside them and he just has this dirty smirk on his face leaving you feeling gross for his character. Yeah, I'd say that sums it up for him. Overall, the performances are great and it's a lot of fun.
Grade: A-
SCORE
Before I get into the soundtrack, the score by Lucas Vidal is terrific. There's a lot of intense strings and tones which add so much to the action pieces. I love what he does to add intensity to the film, especially where it needs it and the score is good enough to give it a listen to outside of the film. As for the soundtrack, it's amazing and probably the best of the whole franchise. The song, "We Own It" by 2 Chainz and Wiz Khalifa is the theme song to the film and it's used perfectly. I love the song and it adds the right emotion and music aesthetic that fits the Fast & Furious franchise really well.
Grade: A
Overall Grade: B+