Movie Review: 'Green Book' is a safe, entertaining mess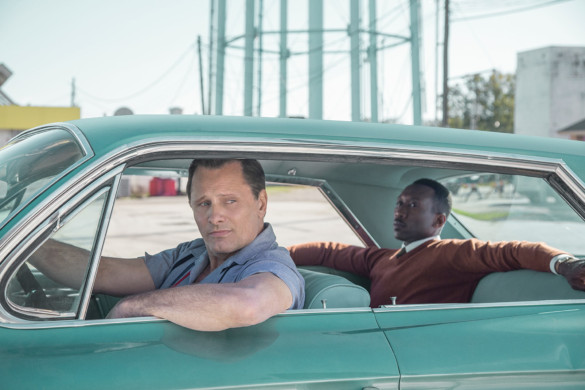 Director: Peter Farrelly
Writers: Nick Vallelonga, Brian Hayes Currie
Stars: Viggo Mortensen, Mahershala Ali, Linda Cardellini
Synopsis: A working-class Italian-American bouncer becomes the driver of an African-American classical pianist on a tour of venues through the 1960s American South.
The word crowd-pleaser is used almost every single Oscar season to describe films that work more with audiences than critics and thus could become a contender on word of mouth, box office, and audiences falling in love with a movie "moving story. Films like Darkest Hour, Hidden Figures, The Help are examples of films from this modern era along with films like Forrest Gump and Driving Ms. Daisy being examples of films that were mainly crowd-pleasers that went on to win Best Picture. And since its win of the Audience Award at the Toronto International Film Festival, Peter Farrelly's Green Book has become that crowd-pleaser in the awards seasons for being a light, entertaining film that takes its audience back not only to a different time on screen but a different time in film history when films like Green Book were made. Now some may find crowd-pleasers or lighter films to be enjoyable and fun and I do too but they also have to serve a purpose. And while there is a hand full of moments in Green Book that I enjoyed, there are a lot of things with this film that made me question in 2018 how it made the final script, let alone the final cut.
The film, set in the 1960's, follows Tony Vallelonga (Viggo Mortensen), an Italian-American who lives with his family in New York City as a bouncer for various nightclubs in the city. When the nightclub he is working at closes for repairs, he inquiries about taking a job being a driver for a world renowned classical pianist Doctor Don Shirley (Mahershala Ali) while he is embarking on a concert tour through the Deep South. Tony is given the job but the only reason Shirley hires Tony is because of the word of mouth that he hears about him around town. But Shirley doesn't trust him because Tony is, much like most of his friends and family in their life, is a prejudice man and does have a problem with African Americans. So, as you can expect, they are opposites at the beginning of the film, with each can't standing each other and thus leads me to wonder why Doc Shirley didn't hire someone else to drive him. And as the films plays on, and the deeper they go into the South, the more they become closer as human beings and by the end become friends.
Green Books problems do not lie on the performances of Mortensen and Ali, who give charming and engaging performances within a weak script. Mortensen's Tony is not a likeable guy and doesn't say likeable things throughout the film but there are moments throughout the film where he does show moments of true care for Ali's Shirley and we can see somewhat of a change within his character, though it comes and go because doesn't understand how to actually build up a friendship. And while his accent is a thick over the top, stereotypical Italian accent and takes some adjusting to get used to it, it starts to grow on you just like he grows on Shirley. But while Viggo is good, it is Ali that gives the best performance of the film as Shirley, whose shell is cracked open by Tony and he lets this unlikeable character into his life. Shirley has problems with loneliness, perfectionism and drinking that are vaguely explained throughout the film, but what we can gather is that he is someone that doesn't know where he belongs, and Ali is able to take all of those emotions and things that aren't given to him by Farrelly and the other writers and makes this character sympathetic and lovable at the same time. The only other performance that is in this film that makes true impact is Linda Cardellini, who plays Tony's wife Dolores but we only ever see her at the beginning for a short amount of time and then in flashbacks of the letters that Shirley helps Tony right throughout the film to send back home, which are charming scenes.
But beyond the performances, the rest of the film is a bit of a mess. The direction of Peter Farrelly is safe and sophomoric at times, with scenes looking nice at times to Hallmark movie of the week at other times. The editing and tone of the film is all over the place, and the film can't seem to figure out whether it wants to be a film about race in America or about these two men and their friendship. What we are given is a half-ass attempt of both and neither are fully examined thoroughly enough, leaving the actors to have to carry a lot of the burden of filling in wholes and bringing charm to characters that are thinly written and directed. The script by Farrelly, Nick Vallelonga (Tony's son) and Brian Hayes Currie feels like a script that could have used a significant rewrite, and tried to give more of balanced look at these two men, giving Doc Shirley the same amount of respect in tell his like they did with telling Tony's story. Doc Shirley is the more interesting character but we are given very little into his story at times that its hard to tell just how famous or how much of a genius he is given that this film is devoted to Tony's perspective of their memorable trip.
The score and editing are not memorable at all, with some scenes just feeling out of place, and a soundtrack that feels too on the nose at times. Like said before, Mortensen and Ali carry this film heavily but that is not surprising considering that they are veteran actors that I like a lot and have carried films much better than this before. But two solid performances can't save a film that is messy, unfocused, one sided and doesn't really know what it wants to say about anything.
Overall Grade: C-
Hear our podcast review on Extra Film: