Movie Review: 'Can You Ever Forgive Me?' features an outstanding Melissa McCarthy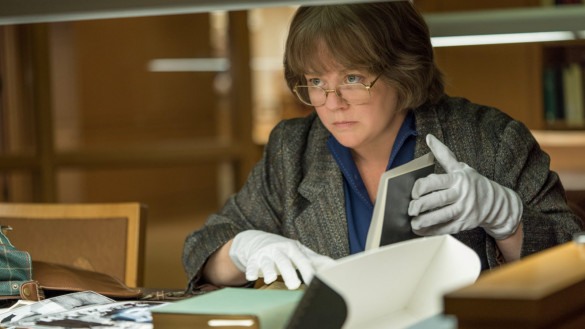 Director: Marielle Heller
Writers: Nicole Holofcener, Jeff Whitty
Stars: Melissa McCarthy, Richard E. Grant, Dolly Wells
Synopsis: When Lee Israel falls out of step with current tastes, she turns her art form to deception. An adaptation of the memoir Can You Ever Forgive Me?, the true story of best-selling celebrity biographer Lee Israel.
Can You Ever Forgive Me? is a movie I knew very little about before going into, other than it starred Melissa McCarthy in a serious role and that it was based on a true story, so it was a pretty easy sell. And, for the most part, this movie doesn't disappoint. Despite being a period piece set within my lifetime, which is a relatively new experience and one that gives me mixed feels, I found this movie to be the perfect blend of enjoyable, relatable, interesting, and, at times, darkly humorous.
If I had to pick a weak spot for this movie, I would have to point to the script. I should be clear up front that just because it's one of the weaker points of the movie overall does not mean that the script, in general, is bad. I thought the characters, particularly Melissa McCarthy's Lee Israel, were very well developed and showed a well-crafted balance between extremes flaws and extreme relatability and likability and the characters had clear arcs and growth without being preachy. I also appreciate that Israel's sexual orientation was apparent but was not a defining characteristic or a major plot point throughout the film. All that said, it did feel as if a few of the plot points were somewhat rushed and, at times, predictable and the script seemed to expect the majority of audiences to know more about literary history than is perhaps realistic. I also felt like the emotional journey of the characters involved could have been explored in much greater depth. Still, I would rate the script overall as a solid B, easily.
As for the positives, I'm always a sucker for comedians playing serious roles – even if the movie isn't the greatest, the performance pretty much always is. And this movie is a great example of a comedian signing on to a pretty good script and elevating that script into something phenomenal. McCarthy's performance is incredibly genuine and she truly gets lost in the part – there were several times throughout the movie that I forgot I was watching McCarthy. Appearance-wise, she was an interesting choice to portray Israel, but she disappears so thoroughly in the role and is easily the biggest reason why the character becomes so likeable despite her significant flaws. Richard E. Grant also gives an outstanding performance as Jack Hock, and the cast is full of fantastic actors giving knockout performances as secondary characters, as well. Personally, I think McCarthy is a shoe-in for the Oscars race and I'm rooting for her over some of the other more obvious frontrunners, though 2018 is proving to be a tight race in this regard.
Can You Ever Forgive Me? isn't a perfect movie, by far, and it's likely it will get lost in the Oscars race shuffle and quickly forgotten, but I hope that's not the case. The acting is phenomenal, but it's also an interesting, fresh, and, at times, grim take on the feel-good biopic genre and I thoroughly enjoyed it. Maybe it's just that creative bone in my body that often feels broken relating to the script or maybe it's just McCarthy doing her McCarthy thing and making this character so much more interesting and likeable than the script presents her, or maybe it's just a gem of a movie that everyone should see. I guess you need to make that call for yourself, but regardless of the reason, I think there's something here for most people to enjoy.
Overall Grade: B+