Move Review: King Arthur: Legend of the Sword is legendarily bad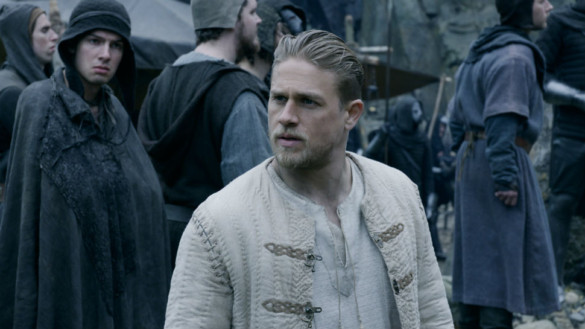 Director: Guy Ritchie
Writers: Joby Harold (screenplay), Guy Ritchie (screenplay)
Stars: Charlie Hunnam, Astrid Bergès-Frisbey, Jude Law, Eric Bana
Synopsis: Robbed of his birthright, Arthur comes up the hard way in the back alleys of the city. But once he pulls the sword from the stone, he is forced to acknowledge his true legacy – whether he likes it or not.
I have a little bit of advice for Hollywood if you want to tell an updated story on classics we grew up with; do not include the word "Legend" in it at all. The Legend of Hercules and The Legend of Tarzan were not met with cinematic praise and King Arthur: Legend of the Sword is another to add to that list. Perhaps having "Legend" in the title is irrelevant, but having Charlie Hunnam play King Arthur doesn't help that matter either.
I did not think it was possible to open a film with a brutal battle where the most cringe-worthy thing about it is the handling of the opening credits. The stylistic flair of director Guy Ritchie and the way he edits this sequence is just the beginning of horrible decisions that plague the film.
After we see the murder of Arthur's family by Vortigern (Jude Law), we are treated to the quickest human growth cycle that will have the fruit fly jealous. Arthur (Charlie Hunnam) isn't aware of his royal lineage until he draws the sword Excalibur from the stone. The best thing about making this movie in 2017 among the superhero excess is that Excalibur can get into the fun. Excalibur grants Arthur superhero abilities and the action sequences that follow rival some of the best we've seen in modern filmmaking.
Guy Ritchie has a unique style where he likes to have scenes where characters are telling a story and we see that story happen as its being told; but here it just does not work – primarily because Hunnam cannot sell his character. In fact, the acting overall is partially weak. Ritchie is a director that is hit or miss, but due to the uneven dialogue and pacing in King Arthur: Legend of the Sword, it is probably safe to assume there was some sort of studio interface since Warner Bros. loves to do that.
There is something that movies do that annoy me and that is when a certain character withholds a skill that doesn't logically make sense. For example, in Transformers: Age of Extinction, we find out that Optimus can magically fly and if he would have just done that two hours earlier, none of us would have wasted nearly three hours of our lives. Perhaps that is nitpicky, but if not executed properly, it sticks out like a sore thumb and of course this happens in King Arthur. There is a certain character that does something in the final act, and when it happens, you will sit there shaking your head in shame.
Fun and entertaining are used often to describe certain films, and some audiences may give those movies a pass, but not me. Settling for its fun and entertainment value will hinder quality storytelling and creative scripts. King Arthur: Legend of The Sword is neither fun nor entertaining, and calling it such is offensive to films that are actually fun. And we deserve better.
Overall Grade: D