Featured: Anticipating 'The Glass Castle'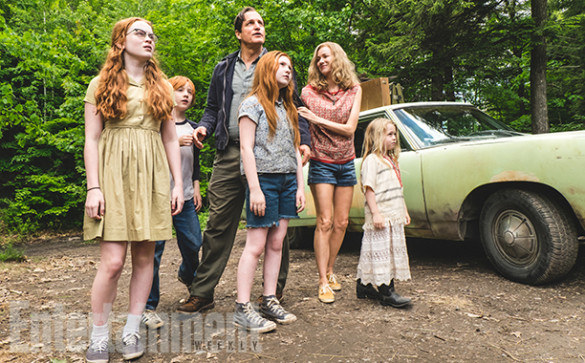 Last week on the Episode 233, we talked about Kathryn Bigelow's Detroit, a film that we had been looking forward to for a long time. Bigelow's Zero Dark Thirty was one of the films that provoked us to launch InSession Film in 2013, and it was great to finally have her back so we could discuss her on the show. Similarly, in our first year of operation we saw the release of Short Term 12, one of the best films to come out that year. It was also the film that launched Brie Larson into stardom. Unfortunately though, we never found the opportunity to review that film on the show, a regret that we are going to remedy this week on Extra Film (stay tuned). So imagine our excitement when we found out that Short Term 12 writer-director Destin Daniel Cretton would be teaming up with Larson again for The Glass Castle, hitting theaters this week.
If you're not familiar with The Glass Castle, it's about a dysfunctional family of nomads who conjure up imagination as a way of escaping their poverty. On the surface, the film looks a bit schmaltzy (based on the trailer anyway) as we see how this dynamic of dream vs reality interweave itself throughout this family as the kids get older. It appears that Jeannette (Larson) will be the central focus as the film explores how she escaped that family life to create one of her own. I will say though, while the material here could lend itself to mundane melodrama, I can't help but be optimistic given the prowess of Short Term 12. Cretton has already proved himself once – with Brie Larson at the center – so there's no reason for me to not trust him. I am curious how he is going to manage the potential pitfalls of the story here, in particular the familiar tropes and cliche's that the trailers amplify quite heavily.
Despite all of that, The Glass Castle still has a lot of potential, especially because of this cast and crew. Outside of Cretton and Larson, the film also features Woody Harrelson, Naomi Watts, Max Greenfield, Sarah Snook, among others. I don't know about you, but those are names I can easily get on board with and they are great talents that can also transcend the aforementioned melodrama.
Subjectively speaking, I'm also a sucker for a good father-daughter/son story. So…there's a good chance that I respond to this film emotionally even if the film isn't that great objectively. I can't help myself, it's inherently a part of me. If that's the case, it should make for an interesting discussion on Episode 234.
What about you? Are you excited for The Glass Castle?
Here's what else is coming to theaters this weekend:
Annabelle: Creation
Nut Job 2: Nutty By Nature
Naked (Netflix)
Ingrid Goes West (limited)
The Trip to Spain (limited)