Training Day Revisited on 4K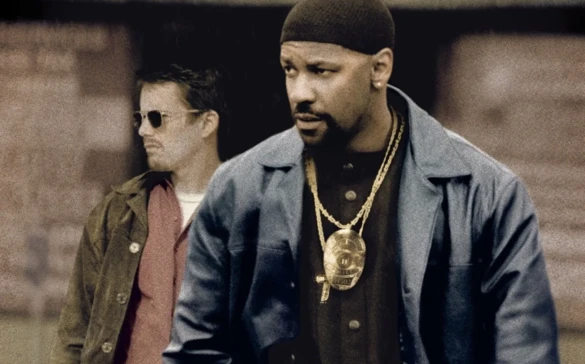 Antoine Fuqua's 2001 film Training Day takes place over the course of a single day, and for the first time, that fateful day in which Jake Hoyt (Ethan Hawke) and Alonzo Harris (Denzel Washington) meet, is available on 4K right at home. From the dazzling opening sunrise robotically waking up Hoyt at 5 in the morning, it's a film that handles characterization moreso through action than anything else. The body language of Hoyt is of a man clearly anxious to impress on his first day alongside the veteran narcotics officer Harris, who plays by his own rules (meaning many other rules get broken). Even before the two meet, the phone call they share dictates the clear power dynamic that will be at play throughout the rest of the film. At a lean 122 minutes, this film is a taut thriller that plays hard and fast, serving as the perfect vehicle for one of the all-time great Oscar-winning lead performances from Denzel Washington.
As Hoyt sits down across from Harris at a diner early in the morning, his superior all but disregards his very existence. "Looking for entertainment", as he likes to put it, one might think that Harris acts the way he does merely to keep his company on their toes. But on the contrary, the more startling revelation is that Harris appears to act this way less out of boredom and more out of habit. He's a man that does not see a blurred line between the law and street justice, but rather, one that is forcefully bent to his very will. It's a performance that could either be played very run-of-the-mill, or fall into downright parody. "A bad boy cop who doesn't play by the rules" is a cliched role that's as old as the noir genre itself. Yet, in the hands of Washington, he commands the performance in an unparalleled manner. It's such a great performance that some could argue undercuts the very essence of the movie. It's dazzling in every which way, making each tense moment feel amplified to the utmost degree due to the genuine sense of not knowing what really might be going on behind those piercing, menacing eyes of his.
Make no mistake, Fuqua's Training Day is one of the finer films to take place over the course of a single day. As the moral boundaries of a man are tested, Fuqua and writer David Ayer shine a light on just how effective, or not, both policemen can be following their respective codes. It's an introspective layer that lends itself very well to the massively entertaining film. Alongside the film are a handful of fun and interesting special features. Including an alternate ending, additional scenes, and a commentary from Fuqua; There's also some music videos from Nelly and Pharoahe Monche. With films like these, celebrating 100 years of Warner Bros. is surely going to be a fun, thrilling, and perhaps most importantly, wildly entertaining experience.