Movie Review: Spring Breakers is a wild time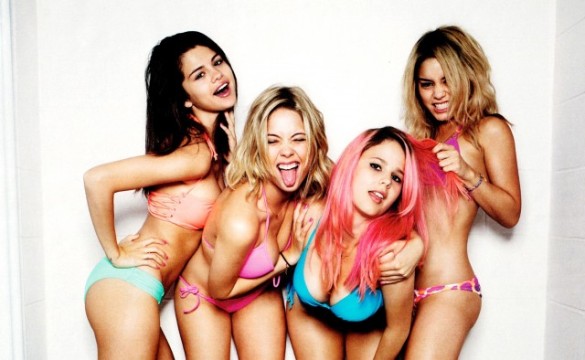 Director: Harmony Korine
Writers: Harmony Korine
Stars: James Franco, Vanessa Hudgens, Ashley Benson, Selena Gomez, Rachel Korine
Synopsis: Four college girls who land in jail after robbing a restaurant in order to fund their spring break vacation find themselves bailed out by a drug and arms dealer who wants them to do some dirty work.
DIRECTION
Harmony Korine does wonders with the camera, using every angle, effect and transition imaginable in Spring Breakers. He uses colors excellently, letting the bright hues pop on screen. There's lots of montages, lots of repetition and it's all done well. And the highlight of the film, a robbery sequence, is shot in a very unique and almost third-person way. But while the look of the film is quite excellent, he does oversexualize and exploit the girls – moving the camera over their bodies as if he's some kind of animal prowling them. This is how the film opens, with a 10-minute montage of just girls taking off their tops and doing stupid stuff, and it continues throughout the entire film (including a couple of fairly explicit sex scenes). Yes, it's a film about spring break but it should've been toned down some.
Grade: B+
SCRIPT
The script by Korine was pretty solid overall and is something we really haven't seen a whole lot – four unassuming girls getting caught up in some pretty criminal activities. It was good; the only problem is it takes 30-40 minutes to really get to it. The first third of the film is just the girls talking about spring break, then going on spring break – with a couple of montages. Then, once James Franco's character comes into play, things start to get really interesting, really dark and really fun. It's here where Korine really focuses on Franco and the two really bad girls (Vanessa Hudgens and Ashley Benson). There was another possible direction he could've went and that was with Selena Gomez's character Faith, the good girl of the group who goes down to Florida to get away and find herself. This storyline could've really been expanded and maybe could've added a different element to the film.
Grade: B
PERFORMANCES
The performances are solid all-around with Hudgens (shedding that sweet Disney image), Gomez, Benson and Rachel Korine doing a fine job as the four spring breakers. But while the four girls do good work, Franco steals the show as Alien, a rapper who is also a thief and a drug dealer. Franco plays him to perfection, adding human emotion and depth to what really could've been a cheesy, over-the-top character. His "Look at my sh–!" monologue is reason enough to watch this film.
Grade: A-
SCORE
The score by Cliff Martinez fits perfectly with Spring Breakers. He scored Drive and this is in that same realm: Dreamy, trippy, soothing, hypnotic. And Skrillex lends his talents as well, incorporating some of his songs and beats into the film and it works wonderfully.
Grade: A
Overall Grade: B+