Podcast: Top 3 Marvel Movie Moments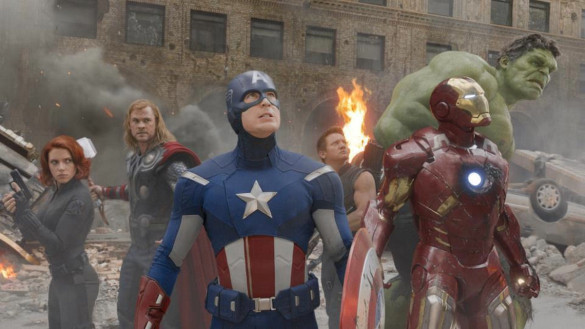 This week on the InSession Film Podcast, we discussed Marvel's latest into their pantheon, Captain America: The Winter Soldier, which is arguably Marvel's best film yet. So going off of that, this week for our Top 3, we let ourselves go and we had a many a geekgasm's discussing our Top 3 Marvel Movie Moments. We didn't limit ourselves to just the Marvel Movie Universe as other Marvel characters, such as the X-Men and Spider-Man have moments that are worth considering and having on your list. Many of these films could have a Top 3 of their own, so this was not an easy decision but we came up with some fantastic moments that will leave any fan wanting more. And to us, this is what films are all about, especially summer blockbusters. If you're not having fun with these films, then please check your pulse to make sure you're alive.
That being said, what Marvel Moments would make your list? Here are the one's that made ours:
JD
1) Nick Fury end credits appearance – Iron Man
2) Spider-Man vs Doc Ock – Spider-Man 2
3) Bruce Banner reveals his secret – The Avengeres
Blake
1) Agent Coulson's death – The Avengers
2) "I am Iron Man – Iron Man
3) Wolverine reveals claws the first time – X-Men
DJ
1) Hero circle shot – The Avengers
2) Jericho speech – Iron Man
3) Nick Fury end credits appearance – Iron Man
Honorable Mentions (Combined)
Xavier and Magneto – X-Men: First Class, Tony Stark cameo – The Incredible Hulk, Spider-Man swinging through NY – Spider-Man, Hulk finished Loki – The Avengers, "Hulk. Smash." – The Avengers, Opening White House scene with Nightcrawler – X2, When Thor first comes to Earth – Thor, Wolverine stabs guards – X2, Blade kicking butt – Blade II
Hopefully you guys enjoyed our lists and if you agree or disagree with us, let us know in the comment section below. Like we mentioned, there are A TON of moments you could choose from, which is what makes Marvel so great. So, what would be your Top 3? Leave a comment in the comment section or email us at insessionfilm@gmail.com.
For the entire podcast, click here.
For more lists done by the InSession Film crew and other guests, be sure see our Top 3 Movie Lists page.