Movie Review: 'Till' Features an Oscar Worthy Lead from Deadwyler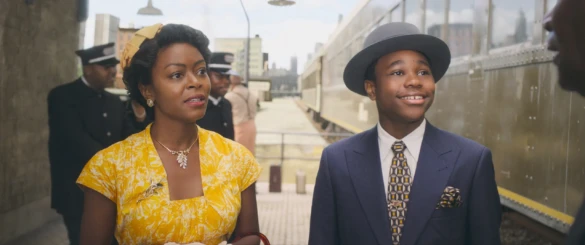 Director: Chinonye Chukwu
Writers: Michael Reilly, Keith Beauchamp, and Chinonye Chukwu
Stars: Danielle Deadwyler, Jalyn Hall, Frankie Faison 
Synopsis: In 1955, after Emmett Till is murdered in a brutal lynching, his mother vows to expose the racism behind the attack while working to have those involved brought to justice.
Chinonye Chukwu's Till is not an easy film to watch. The film's release was initially met with controversy and criticism for exploiting Black trauma focused on the lynching of Emmett Till (alyn Hall), with some even calling for a boycott on the film. Professor Jenn M. Jackson urged Hollywood to stop using "Black pain, death, and trauma" as plot devices, while HuffPost's senior front page editor Philip Lewis said that he would pass on the film after the trailer released. 
However, actress Danielle Deadwyler, who plays Mamie Till-Mobley, Emmett's mom, responded to those critiques and asked the critics if they want to "turn a blind eye to history in the way that certain people and systems and institutions want to turn a blind eye to our imprint on this country? If you do not want to forget and if you do not want organizations, institutions, and racist folks to mute or erase our presence or influence, then it is imperative that you continue to have the conversation."
One understands why so many are opposed to Chukwu's retelling of Emmett Till's lynching, which prompted her mother to become a catalyst for the civil rights movement in the United States. She wanted the world to see what two racist individuals did to Emmett, holding an open casket funeral of his body, and demanding justice for the men who killed his son. The two killers were acquitted in the trial and were paid $4,000 to Look magazine to confess to the crimes they committed, without ever being charged. 
Chukwu doesn't explicitly show the murders, nor any violence against Black people. The film is strictly told from Mamie's perspective, with the visual language also focusing on her throughout. And even with scenes of extreme violence removed from the film, it still isn't easy to watch, and may be triggering for some. But the film still remains a necessary watch, and one who will watch Till won't be able to look away, simply because of Deadwyler's performance as Mamie Till-Mobley. 
When Mamie learns of Emmett's death, Bobby Bukowski's cinematography does something so utterly powerful that I can't quite put into words. There's a slight "vertigo-effect" dolly zoom that slowly unravels itself as Mamie processes what she has just heard. It's far more powerful, and painful, for the viewers to learn of his death through Mamie's eyes than directly seeing it. But it wouldn't have worked if Deadwyler wasn't the star of the picture. Knowing what will occur, the scenes in the beginning in which she warns Emmett of how white people in Mississippi perceive people of color are playful, because Emmett is a fourteen-year-old who acts like a fourteen year-old. He's annoyed by his mother consistently reminding him to behave, because he just wants to have fun with his cousins in the south. 
No one could've foreseen the events that occurred after Till talked to Carolyn Bryant (Haley Bennet) at a department store, which led to his murder. It makes the scene where Emmett's casket returns home even more tragic, because we saw how Mamie loved his son with all of her heart, and wanted to do what's best for him. Seeing Mamie look at what they did to her son is devastating, and yet it never feels exploitative. There's great dramatic poignancy to how Chukwu and Deadwyler handle Mamie's first reaction to Emmett's body, with the camera always focusing on Deadwyler's expressions before slowly moving to the body. Bukowski's cinematography is meticulous in the way that it uses small movements that hold greater emotional weight when paired with the impeccable acting on display than an explicit re-telling of Till's murder. You feel the weight greater than your shoulders when Mamie sees Emmett's casket descend from the train, as she breaks down in agony. It's one of the most devastating scenes of the year, and one that precludes a latter half filled with emotionally charged sequences. 
But nothing comes close to the amount of emotional power than the scene in which Mamie testifies in front of an all-white jury (and crowd) on Emmett's murder. The camera only focuses on her powerful testimony, and Deadwyler commands the screen in such a manner that you may as well hand her the Oscar immediately. That's how powerful it was. I feel like I don't even need to see any other movie this year to gauge who would win the Best Actress Oscar. It's Deadwyler's best performance yet, and one that will hopefully propel her to the stardom she deserves. 
There's no other reason needed to watch Till than for Deadwyler's impeccable performance. Everyone else is also excellent, including young Jalyn Hall who brilliantly captures the way Mamie remembered Emmett, but Deadwyler is on another level from beginning to end. I understand why some may not want to watch the film, but Chukwu's portrayal of Mamie Till-Mobley is an encompassing and gut-wrenching one that must be seen at least once. It's the year's best drama, and one of this year's best movies. 
Grade: A+