Movie Review: 'Three Billboards Outside Ebbing, Missouri'; a testament of justice and morality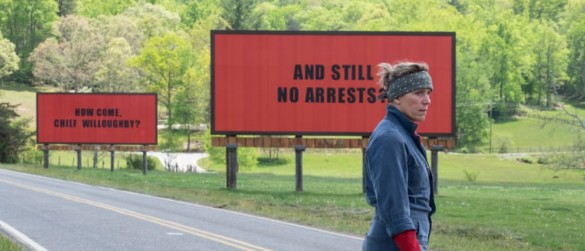 Director: Martin McDonagh
Writers: Martin McDonagh
Stars: Frances McDormand, Woody Harrelson, Sam Rockwell, Lucas Hedges, John Hawkes
Synopsis: In this darkly comic drama, a mother personally challenges the local authorities to solve her daughter's murder, when they fail to catch the culprit.
Martin McDonagh continues to prove his versatility in the sub genre of dark comedy by producing some of the most unhinged dialogue of the year in Three Billboards Outside Ebbing, Missouri. However, it couldn't possibly be a McDonagh film without the severely bleak undertones he presents within the films final act. Quite frankly, I don't know how he's been able to pull it all off. All three of the films he's written and directed have such pessimistic progression which almost every time results in such a horrid, dismal climax. It leaves me and what I'd hope audiences alike perplexed as to where he gets all of the comedic elements from with such dark subject matter. With that said however, Three Billboards is easily McDonagh's most superior film yet, and is a HUGE contender for this years award season.
There's a certain level of humanity that's brought upon each feature film McDonagh has been able to craft. He introduces such absurdist components to his characters and storyline but has this ability to ground everything towards the finale—building such engaging films as he does so. Alternatively, I find it unpleasant that before Three Billboards both of his two projects leave you with some sort of an unresolved denouement between the protagonists and audience that's enervated from the ambiguity of the climax. If you've seen In Bruges or Seven Psychopaths then you know what I'm talking about. Think of it as eating a full course meal but you're still continuing to be hungry after the situation. It's that feeling of desiring more than what's on the surface. And although I was really hoping that wouldn't be the case here, it takes the same missteps. A handful of movies this year have been suffering from this same problem. Three Billboards does a fantastic job of establishing its protagonists and antagonists while periodically incorporating its erratic tone, but it's in demand of a more suitable resolution. By suitable, I don't mean satisfying. I mean something that would persevere with audiences more than ever because of the related topics they're attempting to tackle.
The film definitely has one of the most superb casts of the year. It's not just from the pure talent each actor retains (that McDonagh uses to his advantage) but the experience the titular cast features is what authenticates the film and the experience. Frances McDormand puts on display her most earnest performance yet. Showing the regrets she possesses about her daughter's death but having the audacity to challenge society. She's absolutely electrifying. She'll be in the top-tier of an Oscar race for Best Actress with Sally Hawkins. Sam Rockwell continues his streak of playing an amok/dim-witted character. Indeed another hilarious performance from him as the volatile and moronic Dixon. He's the character with the most prevailing depth and easily has the heaviest arc out of everyone on screen. Woody Harrelson, who despite having limited screen time is worth noting. Depicting a sort of rugged, small-town cop/civilian is what he should pride himself on more. He's a lot more dominant with these types of roles rather than characters of high figure or power.
The pillars this film rests upon are made up of the already addressed unparalleled screenplay and performances, but another category just as lethal as the other two is the approach taken to how law enforcement handles crimes and incidents. Such as the one given to us in the movie. It's connection to reality right now for a film like this is as vital as it's ever going to be. It certainly raises questions of events that are transpiring in modern life today but it doesn't try to politicize anything by over-saturating that element. It stays applicable to the narrative throughout the exposition and eventually to the last act. McDonagh is in a sense challenging the viewer with everything he's doing and the way it's being executed is bloody brilliant.
Even with its lack of a more appropriate conclusion, most of, if not all of Three Billboards is thoroughly enjoyable. The cast is stacked and the script is loaded with McDonagh's haughty British wit. There's not much else to be said here besides to look out for it to take home some gold come January and February.
Overall Grade: A-
Hear our podcast review on an upcoming episode.