Movie Review: Hailee Steinfeld shines in The Edge of Seventeen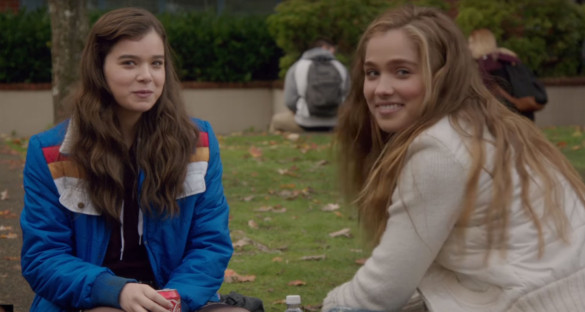 Director: Kelly Fremon Craig
Writers: Kelly Fremon Craig
Stars: Haley Steinfeld, Woody Harrelson, Blake Jenner, Haley Lu Richardson
Synopsis: High-school life gets even more unbearable for Nadine when her best friend, Krista, starts dating her older brother.
Kelly Fremon Craig is a name you may not know, but she's one you may want to write down. Her directorial debut The Edge of Seventeen is one of the most entertaining and gripping films of 2016. The film overall may seem familiar on the surface but Craig's charming vision and hilarious execution transcends the tropes of this teen comedy.
Nadine (Hailee Steinfeld) is seventeen and struggling with all the things you would imagine a teenager would. She doesn't get along with her mom or brother, she has one friend and is obsessed with the one boy she probably can't get. Additionally, her dad recently passed away as well, only compounding her emotional turmoil. She confides her feelings with Mr. Burner (Woody Harrelson), one of her teachers at school, and he doesn't always have the words she wants to hear. Once her best friend Krista (Haley Lu Richardson) starts dating her brother Darian (Blake Jenner), things really start to unravel in ways she didn't see coming.
Craig's direction is great for a first time director, but it's Hailee Steinfeld that truly makes this film. The way she attacks this role is vicious. Her humor and sarcasm has a gripping bite that is genuinely hysterical. She impeccably balances that with visceral drama that grounds Nadine as well. As a result, there are many times we laugh with Nadine, but there are other times we question her motives, but not without sympathizing with her dilemma. Steinfeld wonderfully makes all of that work here and shines while doing it.
Her chemistry with pretty much everyone in this film is also important. Specifically, her dynamic with Blake Jenner is pivotal in the third act and it's the crux of the movie's dramatic and thematic weight. But more than that, her chemistry with Woody Harrelson is exhilarating. Their banter is some of the best comedy of 2016, if you ask me. Mr. Bruner's sarcastic, dry responses to Nadine's unraveling is priceless.
The Edge of Seventeen, while narratively familiar, is diligent in its exploration of teen naivety and emotional duress at such a vulnerable age. Craig offers several thematic notions without getting too bogged down in trying to answer one over another. In the end, Nadine finds herself grappling with her inability to sympathize with other people. This leaves her isolated as she learns to cope with the recent events of her life. Craig confronts these ideas and Nadine's processing with a conviction that leaves you satisfied, even if you know where it's going to end up.
If you're a fan of The Spectacular Now, The Perks of Being a Wallflower or several other recent great teen dramedy's, you're going to love this film. Each (main) character possesses protagonist and antagonist qualities that robustly gives a solid nuance to this film. The storytelling is crisp and provacative. The performances are all captivating. Outside of some tonal inconsistencies with the Erwin (Hayden Szeto) character, there's not much to dislike about The Edge of Seventeen. Go see this film, you won't regret it.
Overall Grade: A
Hear our podcast review on a previous Extra Film: