Movie Review: 'The Aeronauts' is visually dazzling but narratively uneven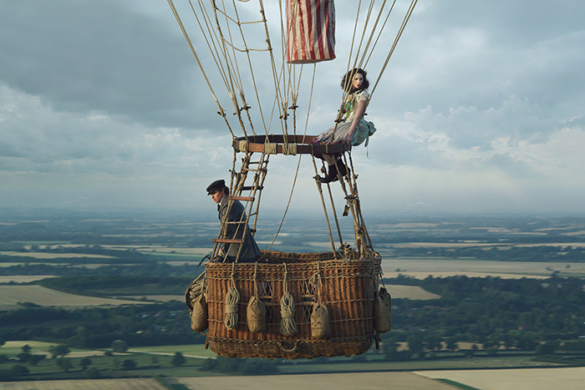 Director: Tom Harper
Writer: Tom Harper, Jack Thorne
Stars: Felicity Jones, Eddie Redmayne, Himesh Patel
Synopsis: Pilot Amelia Rennes (Felicity Jones) and scientist James Glaisher (Eddie Redmayne) find themselves in an epic fight for survival while attempting to make discoveries in a gas balloon.
Ever since their breakthrough with Manchester by the Sea, the best film of 2016, Amazon Studios has been struggling and attempting to find their footing as a hot indie studio. They failed with making their big Sundance acquisitions of 2019 splash, as Brittany Runs a Marathon made seven million at the box office, and The Report barely got a theatrical release. While Honey Boy is flailing in an attempt to eek out critics' awards, Amazon Studios' last bet for awards consideration is The Aeronauts, and if you're wondering why I'm talking about the studio's attempt at winning Oscars instead of the the movie itself, well, The Aeronauts feels and acts like a desperate ploy for awards consideration, not really a movie The Aeronauts is a generically stuffy, overall meh drama from Tom Harper (even though it might as well be Tom Hooper), one of the most promising directors of the year. This is his second film this year after Wild Rose, and it's easily the lesser of the two. It's a costume drama/period piece/Oscar play with two previous Academy award nominees about air balloons. Hey, at least it's 90 million dollar budget is on Jeff Bezos' coin.
We're saddled with two of the most "eh?" actors of the 21st century, Eddie Redmayne and Felicity Jones. The two have played against each other before in 2014's Best Actor winner, The Theory of Everything, but with this new film, Jones is the standout this time. She's playing the sadly fictional pilot Amelia Wren, a daredevil who is stuck with Redmayne's uptight scientist James Glashier (a real historical figure). The two attempt to take an air balloon higher than ever before to prove Glashier's theories about weather. As they spent time in the balloon together, laborious background and exposition occurs via flashbacks. Suddenly, the weather changes. Hijinks ensue.
What's great about The Aeronauts is Harper's direction and visuals. There's a beautiful, almost painted look to George Steel's cinematography, and the period detail is solid, if unnecessarily prominent. For a movie that takes place mostly in the air, it's stunning to look at. While this is a great visual film, there's not much of a narrative to speak of here. Redmayne (casually annoying) and Jones are forced to create real people off of vague characterizations, and both attempt their hardest. The biggest issue is how the flashbacks slow down the excitement to be found here. Every time Harper cuts to a scene of old white men yelling about how Glashier can't prove his theories, the building anxiety is stopped and has to be restarted with Jones' character having to climb onto the ropes to fix something. If this film were a seventy minute, close quarters thriller set in an air balloon, maybe it would be something exciting. As is, it's more of a halfhearted attempt at winning awards.
Overall Grade: C+