Movie Review: Through surprises, 'The Last Jedi' brews hope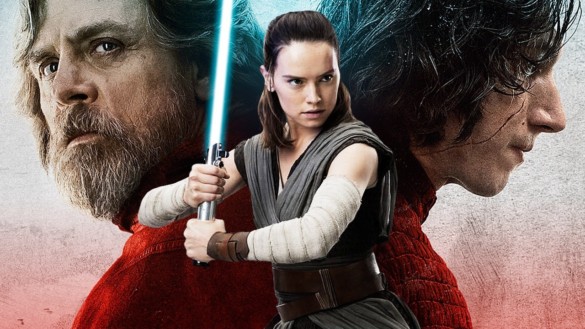 Director: Rian Johnson
Writers: Rian Johnson, George Lucas (based on characters created by)
Stars: Daisy Ridley, John Boyega, Mark Hamill, Carrie Fisher
Synopsis: Having taken her first steps into the Jedi world, Rey joins Luke Skywalker on an adventure with Leia, Finn and Poe that unlocks mysteries of the Force and secrets of the past.
How about this take: The Force Awakens is one elaborate "Schrödinger's cat" experiment. As "a bridge and a kind of reminder," per the film's director J.J. Abrams, the first rodeo in the galaxy far, far away after a decade-long slumber sees two contrasting forces working in tandem – future and past, new blood and old guard, delicious uncertainties and foolproof guarantees. Rey (Daisy Ridley) is both facing Luke (Mark Hamill) and her own reflection at the end; it is both the studio's new hope and A New Hope that rouse the Force. By that logic, a viewer can be pleased and displeased with Episode VII.
But The Last Jedi isn't another lesson in science-fact. In every aspect conceivable, the film no longer operates between two realms, and the result is the most gratifying big-screen Star Wars experience thus far.
While we're at it, shut down the "another The Empire Strikes Back" line of thought, too. Abrams, in the same interview, suggested the new trilogy's remainders will be full-fledged pioneers, the ones to see what the saga's to-be-charted space of setting and storytelling has to offer. Now that is a seductive plug line, one that is gladly not exclusively so as the decision to let Midas touch-ready director Rian Johnson be in total control of the writing process (he receives sole credit) can attest. Personally, the magic begins right after the opening crawl, with a member of cinema's most-obscure demographic – Asian (Vietnamese, to be specific) – spectacularly prevents the First Order, under the command of familiars General Hux (Domhnall Gleeson) and holographic-philic Supreme Leader Snoke (Andy Serkis), from expunging the Rebels in the middle of a mass evacuation. Surrounding this sliver of refreshment are others, too, including measured givings of a traditional-but-effective brand of wit – fired first with gusto by waggish pilot Poe Dameron (Oscar Isaac) – a palpable sense of desperation and – as the formers' byproduct – an unwavering kind of giddiness that is borderline stratospheric.
One-hundred-and-fifty-two minutes, The Last Jedi's runtime is, but all are flashes once you completely let Johnson be your guide. Other than the expected lift to great heights to flaunt the bread-and-butter interstellar duels, Johnson takes us down – literally, at one point – to Star Wars' most universal and oft-referenced core: the spirit. While far from being an anomaly narrative-wise, this aspect has always left a vague, and ultimately blank, impression. That ends here in wholesome fashion when Rey's search for the means to take down rage-drunk Kylo Ren (Adam Driver) in Luke uncover startling revelations (as if a disillusioned Jedi Master isn't shocking enough!), when the resolute Finn (John Boyega) grows increasingly so as he teams up with the spunky Rebel mechanic, Rose (Kelly Marie Tran), and when the directorships of both lavender-laced wonder of a newcomer, Vice Admiral Holdo (Laura Dern), and ever-impassioned General Leia (Carrie Fisher) reach the pivotal hour. In perfecting the element Lucas conceived and Rogue One fleetingly depicted, Johnson may have end the franchise's search for a bona-fide creative force. Emphasis on "may" – let's not take Star Wars down Harry Potter's one-director-allowed route.
Eye-opening, too, is the film's sets and look, having been respectively built and photographed by newcomers to the Star Wars universe. Under Tim Burton's go-to production designer, Rick Heinrichs, there is more than just splendor-upon-splendor in the locale; the variety prevents whatever dominant mood susceptible to diminishing returns. The island of Ahch-To, house of the first Jedi temple and perfect-for-self-exile conditions, needn't the eyes of Maz Kanata (Lupita Nyong'o) to be seen as solemnly mystical, but just as prevalent here are endearing joys – one in the form of indolent, upright-sitting maybe-sea cows and whimsical flying porgs that interestingly screech in every medium shot. The coastal city of Canto Bight, despite its glamorous Monte Carlo-lights and credit-draining games, is where abuse runs rampant, a fact Rose revealed to Finn while they're locating a tech-savvy HVT (Benicio del Toro, with a stutter). And regardless if it's time for a stroll or a run, Johnson's regular d.o.p. Steve Yedlin keeps the flair high throughout, an attribute that goes into breathtaking overdrive in Act 3's three-way battle for three separate causes – survival, hope and purpose. Cathartic is the prime directive here, and so committed to that cause are the cast and crew that you'll be hard-pressed to not let out a clap, a "whoa," a cheer, or a "yes" as everything unfolds. Maybe a "I want one," too, when the crystal foxes of Crait, a planet whose thematically apt crimson-colored soil lies under a layer of blinding-white salt, scurry to not become war casualties.
If there is a flaw, it would be Bob Ducsay's editing that, especially in the beginning, stops key moments just milliseconds short from their emotional zenith. But if this is a flaw, it amounts to stardust. Much like what The Cotton State did last night to the fabric of decency, The Last Jedi is a, if not the, much-needed adrenaline shot to the state of tentpoles. In that spirit, forthcoming Star Wars and what they have to share (Abrams with XI and Johnson's returning for a new trilogy) deserve to be greeted with open arms, Murphy's Law be damned, for finally the tale can go where it hasn't gone before.
Overall Grade: A
Hear our podcast review on Episode 252, coming soon.