Movie Review: 'Sound Of Metal' Delivers One of the Most Authentic Performances of 2020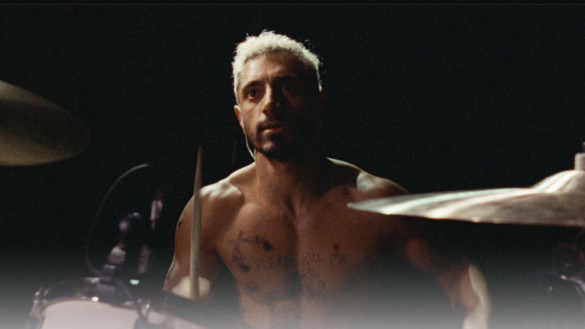 Director: Darius Marder
Writer: Darius Marder, Abraham Marder
Stars: Riz Ahmed, Olivia Cooke, Paul Raci, Lauren Ridloff, Mathieu Amalric
Synopsis: A heavy-metal drummer's life is thrown into freefall when he begins to lose his hearing.
Riz Ahmed plays Ruben Stone, a former drug addict four years sober who drums in a heavy metal power duo with his girlfriend, singer/guitarist, Lou, played by Olivia Cooke. In the opening shot, we see Ruben in form, shirtless with tats all over his body and drumming hard. In music, especially rock, loud is better and it's all about the ears. But what happens when it is suddenly without warning taken away from you? In Darius Marder's (co-writer of The Place Beyond the Pines) directorial debut, which made its initial splash at last year's Toronto International Film Festival, it is a prison that cannot be broken out of completely.
In what is now his career-defining performance, Ahmed as Ruben exhibits the pain and frustration of having been victorious against one major problem only to face another problem that interferes with his livelihood. He struggles to accept his situation as his hearing has rapidly deteriorated to the point where Ruben has to stay with a community of deaf people. No talking, no technology, just a sanctuary away from the noise where being deaf is not a handicap. With the guidance of Joe (Paul Raci), a leader of the community who still retains his speaking voice, Ruben finds his comfort in a new community while longing to regain the sound he remembers.
This isn't similar to how Children Of A Lesser God portrays deafness. We are placed in the mind and ears of Ruben in his struggles and all credit goes to the sound engineers plus director Mardor in the film for such a non-romantic view of it. It captivates us, putting us in a position not seen before in movies, and makes us feel Ruben's distorted hearing and feelings in a place that feels he's trapped in. And his pain is reflected in Lou, hurt to see her boyfriend suffering but knows that if he doesn't get help, he can easily fall off the wagon of sobriety while she could go to self-harm again.
Adding to the film's authenticity is the fact that Mardor cast deaf actors, professional or not, in the deaf roles. Lauren Ridloff (The Walking Dead) plays a teacher to deaf children who also incorporate Lou into the class. In real life, Ridloff is deaf likes the rest of the ensemble. Also, Ahmed had never touched a drumstick, let alone hit a drum, and spent six months learning to play them while also studying American Sign Language. It's these things that plays on the realism that Marder, who created the film's story with Pines director, Derek Cianfrance, captures, in essence, a community never really portrayed on screen and how silence speaks more volumes than any note or thud of the drum. If there's a reason to see Sound of Metal, it's Riz Ahmed in what should be a deserved Oscar nomination.
Grade: A+