Movie Review (TIFF 2022): 'One Fine Morning' Delicately Drifts Amidst Love and Loss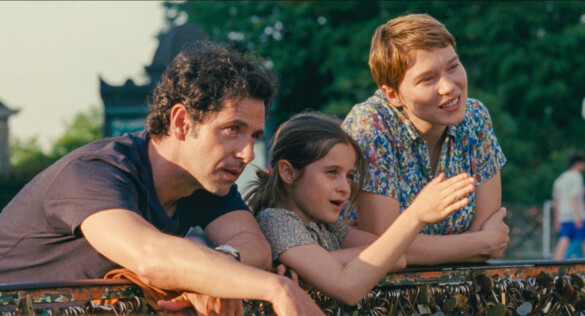 Director: Mia Hansen-Løve
Writer: Mia Hansen-Løve
Stars: Léa Seydoux, Pascal Gregory, Melvil Poupaud
Synopsis: With a father suffering from neurodegenerative disease, a young woman lives with her eight-year-old daughter. While stuggling to secure a decent nursing home, she runs into a friend who although being in a relationship, embarks an affair.
Mia Hansen-Løve's latest, the beautiful and melancholic One Fine Morning, breaks your heart, immediately picking it up and holding it together, due to its humanistic and delicate approach to the affinity and oppositeness between love and loss, with an outstanding Léa Seydoux right in the middle of it.
There are some filmmakers you tend to love more and more as you grow up because of your life experiences and understanding of the world. For me, that happened with Mia Hansen-Løve. How she delicately curates her films with personal touches and different philosophies on love, aging, and passion while not succumbing to the archetypes (no melodrama nor sappiness) most filmmakers apply to their features is unparalleled in today's age. Because it relies on a more humanistic sensibility rather than an entirely fictitious one, it creates a more profound and effective experience for the viewer. Her airy and soft, yet grounded directorial hand presents the many facets of love within the complex circumstances that life throws at us in a beautiful and melancholic way, with a dreamy atmosphere. The manner in which she translates feelings with acute precision into a cinematic format is just magnetic, as presented in her previous work, Things to Come (2016) and Goodbye, First Love (2011).
This same element is present in master Éric Rohmer's filmography, whom Hansen-Løve (among other filmmakers across the world like Joachim Trier, Ryuske Hamaguchi, and Hong Sang-soo) has been inspired by. Although her work is not to the same degree as some of Rohmer's masterpieces (The Green Ray, Claire's Knee, Pauline at the Beach), Mia is slowly making her way to be the best out of the bunch, inspired and encouraged by him. And this sentiment has increased since her latest feature and follow-up to last year's richly metatextual Bergman Island, One Fine Morning, expands her repertoire into a stronger stature. This time around, Hansen-Løve reflects on adultery, mortality, and finding happiness amidst solemn despondency in a way that is reminiscent of Things to Come, yet with a rich and multi-layered vignette-esque mechanism. One Fine Morning may be as warm as the summer sun hitting the Parisian streets, but it has a melancholic dew layered across each segment. The film is a bittersweet slice of life from a brilliant filmmaker who is at her most comforting and heartwarming when she's delivering these types of films – the ones that break your heart and later on pick it up and hold it back together again. 
Mia Hansen-Løve's latest feature centers around Sandra Kinsler (Léa Seydoux), a widowed mother of an eight-year-old daughter who's caring for her ailing and emotionally unavailable father, George (Pascal Gregory). His neurodegenerative disease is causing him to lose the capacity for his day-to-day life; hence Sandra visits him often to look after him. While looking for a safe place to look after him, Sandra runs into Clément (Melvil Poupaud), an old friend. Even though he is married and has a child of the same age as Sandra's child, the two of them become lovers, indulging in an affair. Through the adulterous flares of passion, Sandra ponders if she will ever face the same fate as her father – whether her daughter will go through the same situations she is going through – as his memory slowly fades away. Clément reminds her about enjoying the small moments she can, which tends to the director's light touch while dealing with complex emotions. It celebrates the little things that make life worth living and the unknowns of the heart and what it wants. 
One of the first scenes of the film features Sandra making her way to her father's apartment, which is accompanied by a piano score resemblant to the one used in Ingmar Bergman's feature, The Touch (1971). It is a coincidence that she uses such an instrumental motif, as her previous feature was set on the island of Fårö. With only a couple of minutes into the feature, you begin to think about what will be the tone and mood being presented throughout the rest of it. A resemblance with Hansen-Løve's 2009 feature, the under-seen Father of My Children, arises from its visuals (how cinematographer Denis Lenoir shoots the Parisian streets) and the element of fragmented father figures, as well as its family dynamics. After further research, it seems that Mia works from personal experiences, as her father suffered a similar disease. It is even more devastating because she presents her own doubts and questions about existence, aging, and the effects of dealing with such situations. 
She uses Seydoux, who delivers an outstanding performance (which stands tall even amongst her impressive work in the past years), as a vessel to portray her sadness while adding occasional jolts of happiness to curve the narrative from a dramatic state to a humanistic account. Recent films have been about the deterioration of the mind with different styles and cinematic techniques (Florian Zeller's The Father and Gaspar Noé's Vortex). Still, Hansen-Løve's composition is more vast and alluring, although slighter, than theirs because of its delicacy and warmth. In an interview with Deadline at this year's Cannes Film Festival, Mia Hansen-Løve said that she "wrote this film (One Fine Morning) out of necessity". She wanted to deal with the topics of both love and loss and the dread-inducing yet titillating connection and separation (oppositeness) between the two – figure out the meaning behind that and if there's a "secret dialogue" that is developed through life's harsh experiences. I think she presents these topics of the toll of time and how love evolves through it competently and in a humanistic fashion. 
Dismay is the leading player in all of these features that deal with dementia, and there's no escaping that feeling. Of course, it will be heartbreaking seeing a loved one not recognize you anymore, but it all depends on how the film deals with the situation. Noé may have had a more brutal approach, and Zeller focused more on capturing that illness through the disorientation of a claustrophobic apartment.  However, One Fine Morning is different, without the use of theatrical approaches, monologues, or exaggerated emotions, and promotes a grounded approach to feel the punches in our chest as we relate to the situations more here than in a feature that dwells in the aforementioned dramatic techniques. It develops these feelings with a tactile hand that caresses your soul, making sure that it is true-to-life rather than proposing fictitious behavior. There will be occasions in which life will throw you some of the worst situations imaginable. When facing these harrowing experiences (like the death or deteriorating condition of a loved one), you feel in even more need of love and affection – finding ways to escape the heartache of watching someone suffer. 
Life's opposite pulls bring a trajectory filled with ups and downs, where one might want to search for euphoria. For Sandra, it came with the reconnection with an old friend turned lover, but for others, it might be a bit harder to search for those mechanisms to grieve and lament our own or others' future. This is what Hansen-Løve wants us, the audience, to reflect on afterward, the possibilities of what life may bring and how to deal with them. Its subplots about infidelity and guilt may leave a bit more to be desired since that theme is not well developed. Nonetheless, the rest excels with ease and intricacy. One Fine Morning doesn't surpass last year's Bergman Island, which I think is her best feature (tied with Goodbye, My First Love), but it offers the viewer a glimpse of another shade of her filmmaking oeuvre and panache. Hansen-Løve's talents increase as she keeps concocting beautiful and honest tales of devotion, loss, and the turmoils behind them, becoming one of my favorite (and fascinating) filmmakers of this modern generation. 
Grade: A