Movie Review: 'My Policeman' Rehashes Well Worn British Drama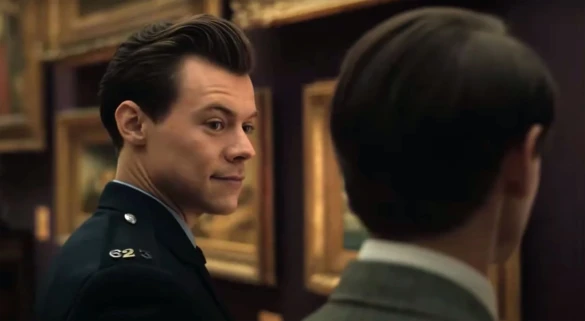 Director:  Michael Grandage
Writer: Ron Nyswaner
Stars: Harry Styles, Emma Corrin, David Dawson, Gina McKee, Linus Roache, Rupert Everett
Synopsis: The arrival of Patrick into Marion and Tom's home triggers the exploration of seismic events from 40 years previously.
There has been a rise in the numbers of queer stories being told in Hollywood, which can only be seen as a good thing in this current landscape. If anything, My Policeman has great intentions to show the changes made over the decades to show the societal shift in perspective of same-sex relationships, and that should be commended. While this film doesn't reach the overall quality of other recent queer tales such as Portrait of a Lady on Fire, there is still a compelling story within My Policeman. In particular, the scenes that focus on the developing relationship between young Patrick (David Dawson) and Tom (Harry Styles) are handled in a sensitive way that is wonderful to see on the big screen. Despite a clunky opening act trying to balance numerous timelines and filled with heavy exposition of our leading characters, it is the reveal of Patrick and Tom's secret relationship that finally makes My Policeman click into place.
The aspect of My Policeman that has drawn a younger audience for the film than most British dramas is the casting of Harry Styles in a leading role. Following his recent role in Olivia Wilde's Don't Worry Darling, a film that was very controversial for many more reasons other than his performance. Out of the two roles, Styles does give the better performance in My Policeman,  as the role of Tom suits his presence just that little bit more in comparison to the more flashy and over-the-top casting in Don't Worry Darling. There is a sense of charisma and immediate sex appeal needed from a role like Tom with this story, and considering the audience that I saw this film with, it is clear that Styles is able to bring that both on and off the big screen. In Don't Worry Darling, it was clear that co-lead Florence Pugh was the better actor of the pair and it was hard in sections to take Styles seriously when acting opposite her. However, Styles is able to keep up with his two wonderful counterparts, Emma Corrin and David Dawson, as the trio develop strong on-screen chemistry in order to push this material forward.
Of course, the trio of Styles, Corrin, and Dawson only tell half of the story in My Policeman. There are two different timelines presented in the film, both focusing on our leading three characters. While most of the film focuses on the history of our leading characters in the 1950s, there is still an emotional arc surrounding these characters in the 1990s. The emotion within this storyline comes through thanks to the strong performances from Gina McKee, Linus Roache, and Rupert Everett. These sequences primarily take place within the one location of Marion and Tom's home, making the audience focus on their dialogue and the use of flashbacks to piece together the narrative and the different relationships within this trio. The film does lose momentum at times when it cuts back to the 1990s, but that is because the film loses any form of action or spark when cutting away from the 1950s. Within the first half of the film, it felt like the scenes in the 1990s didn't add enough new information to warrant cutting away and creating a distracting and frantic editing style to tell a classic story like this. However, when the film begins to tie up some loose ends and adds social commentary on the acceptance of gay romance over forty years later, that is when the emotion hits and the narrative shifts to focus on the later timeline. The pay-off is strong, but it takes some work to get to that conclusion if you are not fully invested in the story.
It can be hard to follow a lead character such as Corrin's Marion and hear her strongly negative viewpoints regarding same-sex marriage, especially when she is a character that the audience is supposed to feel some sort of sympathy for given her situation. The screenplay does lack a bit of development of Marion's character due to such a large time jump between her past and present, but the film does present a couple of small moments that help to illustrate a change of heart. These small and fleeting moments are what helps tie the story together and make My Policeman work thematically. Yeah, the overall presentation may be uneven and it won't be a film that many people will remember or revisit in a few years time. However, I found myself captivated by the tale and that is all I ask with a story like this.
Grade: B-