Movie Review: Magic in the Moonlight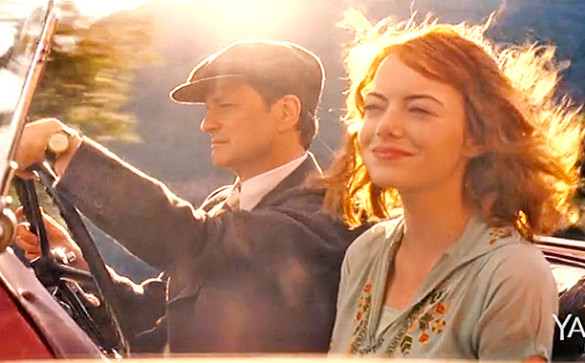 Director: Woody Allen
Writers: Woody Allen
Stars: Colin Firth, Antonia Clarke, Natasha Andrews
Synopsis: A romantic comedy about an Englishman brought in to help unmask a possible swindle. Personal and professional complications ensue.
DIRECTION
Woody Allen's Magic in the Moonlight is an interesting film surrounding magic, spiritualism and sensible logic which plays into the character's in some fun and compelling ways. Darius Khondji's cinematography is gorgeous as he captures natural European landscapes that look more like paintings than they do real life. The 1920's aesthetics is utilized well with beautiful vehicles and stylish clothing, which gave the film a fun appeal. The first half of the film is well paced and engaging, however there's a turn that happens where Allen loses us a bit, which he does too often in his other work. Despite that, from a direction standpoint, Allen captures the right tone along with great performances, but just needed some more coherency in the back half.
Grade: A-
SCRIPT
Magic in the Moonlight script can easily be sectioned into two parts. The first half is so endearing and hilarious as Stanley (Colin Firth), a famous touring magician, is provoked to check out a young woman who claims she can speak with the spirit world, which Stanley feels is big hoax. Soon, Stanley and his life long friend Howard (Simon McBurney) arrive to meet Sophie (Emma Stone), which immediately creates this awkward tension as Stanley uses sarcasm to bat down any claims made by Sophie. The interactions between the two is pretty funny at first, but soon Stanley becomes curious as he can't figure out her "trick". The two start spending more time alone and romanticism subtly starts to wrap them both although neither of them admit it. Unfortunately, there's a turn in the second half that feels rushed and manufactured, which can be distracting for some. Firth's character especially was so grounded and logical, that when the turn does happen, it's kind of hard to buy. The final twenty minutes are so does ramp back up again, although it's a bit predictable.
Grade: B-

RELATED: Boyhood Movie Review
PERFORMANCES
Colin Firth and Emma Stone carry the film extremely well. Stone's performance at first will appear kind of weak, but it's intentional when you understand the context of the situation and see where the story is going. Their chemistry together isn't on aASM2 level, but it works here. Firth is so likable in a character that is kind of despicable. You just can't help but laugh and clutch on to his performance. Simon McBurney's role is small but servicable as is Marcia Gay Harden as Sophie's mom.
Grade: A
SCORE
Like all other Woody Allen films, there's no traditional score but rather other classical compositions that play into the scenes and older pop music from the 1920's carry the musical beats of the film. It's not his best work but still pretty descent.
Grade: B+
FINAL THOUGHTS
Magic in the Moonlight had some potential but gets lost in the middle and was never able to fully recover. Despite those scripting issues, the camera work is impeccable and the performances are endearing. Those by themselves makes this film worth watching at some point, but it's not one you have to rush out to the theaters to see.
Overall Grade: B