Movie Review: 'M3GAN' is More Comedy Than Horror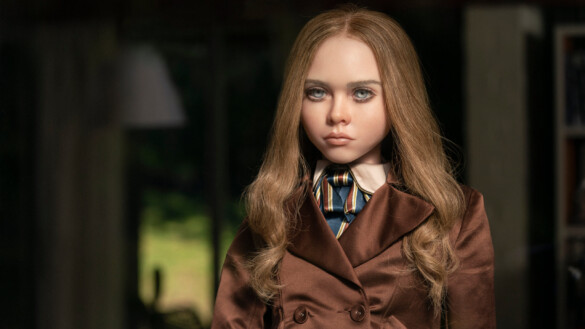 Director: Gerard Johnstone
Writers: Akela Cooper, James Wan (story)
Stars: Allison Williams, Violet McGraw, Ronny Chieng
Synopsis: A robotics engineer at a toy company builds a life-like doll that begins to take on a life of its own.
The promotion for M3GAN may have been short, with a trailer only being released less than a month before the release of the film itself, but it quickly took the internet by storm. The life-like doll for which the film is named was being hailed – especially by gay twitter – as being iconic for her high camp. She was dubbed "the yassified Chucky", and it was clear almost immediately this film was going to be a hit. Indeed, the marketing campaign quickly leaned into its inevitable cult classic status, really playing up every slay that M3GAN was going to serve when the film finally hit theaters. As a January release horror movie, it's definitely filled with all the cliches that you would expect, but the main draw to this film is just how perfectly it is able to use the horror genre to make an incredibly hilarious film.
Gemma (Allison Williams) is a toy designer at a high tech company, and decides to design a life-like doll as a passion project at work. To convince her boss of its potential success, she pairs it with her niece Cady (Violet McGraw), and continues to use the pair and relationship as demonstrations for what exactly this doll can do. However, due to her eagerness to complete the project, she overlooks putting in some severely important safety procedures, and M3GAN (Amie Donald, voiced by Jenna Davis) quickly becomes possessive of her new friend, and violent to those around her who might threaten that relationship. Information moves fast on the internet, and twitter knew that it had struck gold with this trailer. While staying true to its horror roots, there are more funny moments than there are scary ones. There's, of course, the iconic dance that's shown in the trailer, but there are so many more unexpected moments that really surprise and entertain throughout.
Allison Williams is a grounded and realistic core to this film, and I was incredibly impressed by child actor Violet McGraw's performance as well, but of course, it's the titular character who steals the film. The perfectly curled blonde hair, the oversized baby doll idea, the button nose, and of course, the snarky pout that this doll has gives it a look that drag queens and models alike only strive for, it's hard not to be drawn to her.
And at the end of the day, that's what there really is to it. It's easy to see how this film could have easily been lost in the endless shuffle of smaller horror movies that are slated for a January release – a month that is typically known for not doing very well at the box office – and instead just being forgotten to time. But M3GAN has the camp, serves, and slays (literally) that just makes gay people go wild, and maybe there's not much else. It falls back on horror tropes for the story's convenience, but M3GAN herself keeps things fresh and fun throughout. It's a fun experience, and is filled with insane moments that will have you belly laughing endlessly, while also having genuinely scary moments as well. The writing is a bit surface level and predictable, but it's so easy to overlook all of that when you're having a time that's as fun as this movie is.
Grade: B+