Movie Review: 'Juliet, Naked' reminds us all what matter most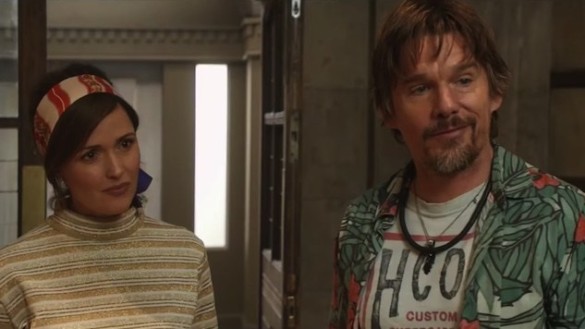 Directors: Jesse Peretz
Writer: Phil Alden Robinson, Jim Taylor, Nick Hornby (based of the novel by)
Stars: Ethan Hawke, Rose Byrne, Chris O'Dowd, Megan Dodds, Jimmy O. Yang
Synopsis: Juliet, Naked is the story of Annie (the long-suffering girlfriend of Duncan) and her unlikely transatlantic romance with once revered, now faded, singer-songwriter, Tucker Crowe, who also happens to be the subject of Duncan's musical obsession.
Jesse Peretz's Juliet, Naked is a lovely tale about waking up from a listless existence and taking control of your life. This adaptation of the Nick Hornby challenges the audience to think about their own lives. What would you do if after twenty years there was still voids in your life? Would you power through the mistakes or try and make things right?
The film centers around the cult-like following of Tucker Crowe (Ethan Hawke) fans and how every moment of their lives is dedicated to knowing about his life. Most of the time these fans chat on message boards debating where he went into hiding after walking out on a gig in Minneapolis. One such fan is a middle-aged teacher of film and television studies named Duncan (Chris O'Dowd) who teachers at a University near the British coastal town of Sandcliff. When he's not giving lectures about the brilliance of The Wire, he's at home with his long-time girlfriend Annie (Rose Byrne) working on his shrine to Crowe. When the two were much younger, this was acceptable but not as they get older their needs have changed. Annie wants to have a family, and it appears Duncan needs more Crowe in his life. One morning a package arrives from Tucker's old label addressed to Duncan. Annie opens it and a CD copy of Crowe's biggest hit "Juliet" fall out. When she starts to play it, we immediately see that this is the original demo for the song. Of course, Duncan listens to the tape and immediately thinks that it's a masterpiece while Annie thinks it is "flaccid." Duncan posts his review online, and Annie submits her's leading to a fascinating connection which could change everything.
What I found most enjoyable about the film is how the narrative isn't constructed like your typical romantic comedy. Juliet, Naked isn't really about anyone finding romance it's more about the sense of loss each of these three has felt. Tucker is living in the garage of one his ex-lovers trying to finally be the father he hasn't been for the last twenty years. Hawke has these moments on camera where the audience can see the anguish in his eyes over all those moments he just let slip away. Annie in the first quarter of the film seems to go along with whatever Duncan wants, and there comes the point early when she realizes this but doesn't know how to handle it. Speaking of Duncan, Crowe's biggest fan does get an opportunity in the film to share with Hawke's character what his music has meant to him. However, the reaction he received from Hawke's character was nothing short of heartbreaking.
The performances in Juliet, Naked were undoubtedly solid. The pacing of the film was effective as well (there was no need for the film to be much more than 93 minutes). Cinematography and musically is where Juliet, Naked seem to lag a little. Overall, the film is fine and indeed a safe date night film and one which will leave most audience members pleased.
Overall Grade: B-