Movie Review: 'Eighth Grade' Beautifully Explores How We All Validate Ourselves Through The Eyes of a Teenage Girl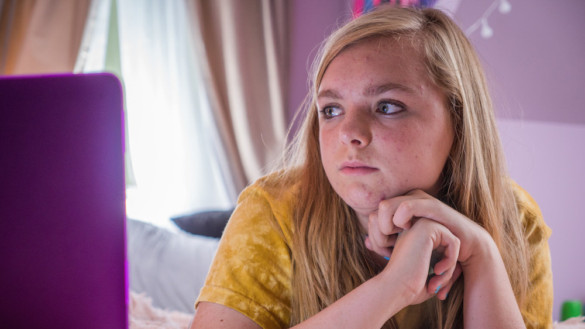 Director: Bo Burnham
Writers: Bo Burnham
Stars: Elsie Fisher, Josh Hamilton, Emily Robinson
Synopsis: An introverted teenage girl tries to survive the last week of her disastrous eighth grade year before leaving to start high school.
By the end of his most recent (and brilliant) comedy special, 2016's Make Happy, it is clear that Bo Burnham has grown tired of his stage persona. While the "Bo Burnham" character is boisterous, confident, and relatively worry-free, the real Bo has been overcome by anxiety and self-doubt. He questions whether what he is doing is fulfilling and enriching the lives of his audience. As the show ends, Burnham proclaims, "I hope you're happy," drops the microphone, and walks into the darkness. That was the last time we saw Burnham's talents at the forefront of any project. He had a small part as a comedian in The Big Sick and directed Jarrod Carmichael's standup special, 8, but he had basically retreated from the limelight.
Watching his debut scripted film, it is clear that Burnham's mindset has changed drastically since his beginnings as a vulgar, post-modern musical comedian. His comedy became increasingly personal and he became very focused on disingenuousness in marketing and media. As far as he is concerned, there is basically no difference. His reaction to this? One of the most sincere, heartfelt films I have ever seen. Eighth Grade is a film that made me feel like crying for pretty much its entire 94-minute running time. That's not because it is always sad (it can be) or because it is always touching (it often is) but because it is at once so personal and so universal. The depiction of middle school transported me back to memories I wasn't sure I had anymore.
The character's main character, Makayla, is one week away from graduating the eighth grade and moving on to high school. She is extremely quiet at school and doesn't really have a reliable group of friends. The only thing that makes her feel connected to the world is social media and her YouTube channel. She posts awkward, meandering motivational videos that have no chance of garnering any attention in the saturated genre of teenagers sitting in front of their computers and talking about their lives. Sadly, it is the only way she feels her voice can be heard, even if she is actually speaking into a void.
Burnham could have easily turned the film into a bitter putdown of young people's increasing reliance on technology and obsession with social media but his viewpoint is far too empathetic for that. Instagram is not a complete tool of evil in Makayla's life. Without it, she may feel even more anxious and alone than she already does. If it weren't for the catharsis of letting her soul bleed out through her YouTube videos, she might feel unbearably repressed. Technology has made relationships unlike those at any other point in history. We should absolutely pushback against the distance thats brings to many of us, but we should not dismiss the self-medication that people like Makayla are able to get from it.
Eighth Grade is a film about a young, lonely girl. As such, she spends the large majority of the film by herself. Casting a real-life eighth grader as a lead in a movie is a dangerous task. Fortunately, Burnham found the perfect actress for the role. I cannot overstate how remarkable Elsie Fisher is in the role. In Eighth Grade, Makayala is all of us. We feel her awkward, terrifying highs and the infinite joy she gets from feeling like she has just one friend in the world. I can't imagine there are many young people as willing as Fisher to be filmed at the most awkward biological period of her life in the often unflattering way she is shot in Eighth Grade.
Actors and actresses often get credit for doing things like not wearing makeup or "ugly-ing themselves up". Fisher's performance in Eighth Grade is one of the only times where a glamour-free performance actually deserves celebration. Her acne is omni-present, her makeup looks it was done by a young girl raised almost exclusively by her father (which she was), and her ability to show deeply rooted insecurity in a scene where she is in a bathing suit is enough to make your heart ache. Her "ums" and "likes" are perfectly timed and are used just enough to make you feel her difficulty communicating but also feel like she is in a world you are familiar with. Without Fisher's spectacular performance, this film does not run at nearly the same efficiency and with the same power that it does with her at the forefront. Combine her performance with an equally charming and compelling performance from Hollywood "that guy" Josh Hamilton (whose final speech in this film rivals that of Michael Stuhlbarg in last year's Call Me By Your Name) and the character dynamics in Eighth Grade absolutely dynamite.
The script and performances are phenomenal but the most impressive part of Eighth Grade, perhaps, is Bo Burnham's direction. The technical aspects of this film are truly a step above nearly every freshman filmmaker you will find. Based on what I have seen in his interviews, Burnham is a self-taught student of cinema. The filmmakers he cites as influences are not ones that the average moviegoer would even recognize. Maybe that is why much of this film feels so unique. It is not just intense sincerity that sets Eighth Grade apart. The film's score is unlike any you will find in a movie of this ilk. Composer Anne Meredith put together a score whose combination of heavy synth and drum machine makes it feel incredibly modern. A culture obsessed with technology should be surrounded by magic just as artificial as many of the relationships in Eighth Grade. But just like how Burnham treats Makayala's relationship with a degree of understanding, the score using the electro score in a snappy way that gives great momentum to the film.
Burnham uses a large variety of shot types in the film to add to the dynamism of Eighth Grade. There are steady tracking shots that make Makayla's anxiety and desire for acceptance come to the forefront of the film. Makayla's happiest moment in the film is portrayed with a handheld closeup of her pacing back and forth in her bedroom that perfectly portrays the chaotic unfamiliarity with the feeling. It all sounds very serious, but Burnham's comedic tendencies shine throughout the film. His ability to cover the gamut of human emotion without resorting to melodrama separates Eighth Grade from the pack. The imagery is striking and his world is vibrant. Bo Burnham is absolutely a young filmmaker to be reckoned with.
Eighth Grade is one of the best films of the year and it is almost certainly the best at relating to a mass audience on an intense emotional level. I was enraptured by the film. I felt like I was a part of the film because I used to be part of that world. Every child wonders what their value is and how that value comes to fruition. Heck, we all still wonder that today. It is much harder to deal with that question, though, when your face is covered in whiteheads and a guy is asking you to send him naked pictures on Snapchat. Bo Burnham somehow manages to make us all contemplate what it means to happy and how we validate ourselves through an eighth grade girl. It is an achievement and I thank him for it. I am better off because of it.
Overall Grade: A
Check out our podcast review on Episode 285, coming soon!