Movie Review: 'Black Panther: Wakanda Forever' Honors A Memory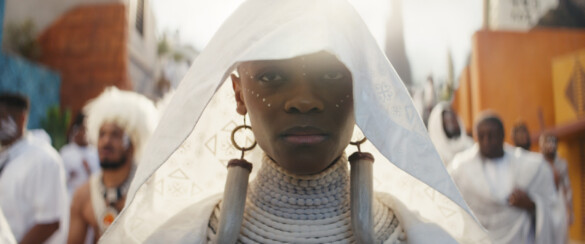 Director: Ryan Coogler
Writers: Ryan Coogler and Joe Robert Cole
Stars: Letitia Wright, Angela Bassett, and Tenoch Huerta
Synopsis: The people of Wakanda fight to protect their home from intervening world powers as they mourn the death of King T'Challa.
I will be the first to admit this. I was worried that we would not see the final cut of Black Panther: Wakanda Forever. It's been four years since director Ryan Coogler made his mark on the first  Black Panther film. Within that time, Marvel has been producing new films and TV series like clockwork, and the world said goodbye to the late Chadwick Boseman far too soon. After Chadwick's passing, It was clear that Ryan Coogler, the cast, and crew were not ready to say their final goodbyes. The staff took the time they needed to mourn and found a way to honor Chadwick Boseman's memory with Black Panther: Wakanda Forever. 
This was my most anticipated film of the year, and I'm happy to say it blew me away. This film feels like a natural progression from the first Black Panther film. Wakanda is in a vulnerable state while mourning the death of King T'Challa. Throughout this film, you'll see how Queen Ramonda (Angela Bassett) and Shuri (Letitia Wright) react to the actions taken against their country. The first 20 minutes of this film set the tone for the rest of the story. Not only is this a moving tribute to  Chadwick Boseman's memory, but this film also tackles the cycle of grief shown by the characters closest to T'Challa; but mainly from the perspective of his sister Shuri . She stands out, even among the likes of Angela Bassett, Danai Gurira, and Lupita Nyong'o. This movie is about Shuri's grieving period, and we are given a glimpse of what she is capable of in a vulnerable state. 
The two songs that are marketed in this film are perfect analogies of Wakanda's mourning period. Bob Marley's No Woman No Cry and Rhianna's original song she wrote for the film Lift Me Up. Both these pieces of music reflect what Shuri , Queen Ramonda , Nakia ( Nyong'o), and the rest of the characters are going through. This film has a heavily female lead cast, so using one of Bob Marley's most popular songs centered around the female gaze was a genius touch. No Woman No Cry has to do with keeping your head up during trying times; the same goes for Rhianna's Lift Me Up. As we have seen with the first Black Panther film, music plays a significant part in these movies, and I am glad to know that this film fills that aspect perfectly. 
With a runtime of 2 hours and 41 minutes, Coogler and co-writer Joe Robert Cole waste no time flushing out each character, building new villains, and tackling complex themes. This film introduces Namor (Tenoch Huerta), an indigenous sea king thirsty for vengeance against those threatening his homeland, who serves as the story's main antagonist. When we are first introduced to Namor, he seems innocent enough. His underwater nation is being mined for materials that are detrimental to his tribe's survival. However, as the film progresses, we learn there is a more sinister motive afoot.
It's fun to see how his character starts to unravel into something more bloodthirsty like Killmonger (Micheal B. Jordan) in the first Black Panther film; Namor is ruthless but sometimes can be understanding. He is not a villain you would root for but he is an antagonist you can sympathize with. In a way, he is more dangerous than Killmonger. He has an army at his command, and he is an outside force trying to bring Wakanda to its knees instead of trying to take control of it from within. 
Another character I fell in love with was Riri Williams, played by Dominique Thorne. She makes her first appearance in this film and fits into the story perfectly. For those unfamiliar with her character, she is a genius college student who eventually becomes the hero of Iron Heart in Marvel Comics. I adored her interactions with Shuri, Queen Ramonda, and Okoye ( Gurira). Her introduction felt natural as she is an outsider to Wakanda that forms an alliance with Shuri and the rest of the royal family. Her relationship with Wakanda is one I hope they continue with future films. But as much as I adored the introduction of Riri and Namor, I felt like the story was sometimes confusing. There are a lot of plot points that circle around Riri Williams, and it feels like the story should, instead, be focusing on the real antagonist, Namor. Not to get into spoilers, but one thing that left me scratching my head was that the main plot hinges on Namor seeking revenge on Iron Heart, and yet they never share a moment of screen time together.
Black Panther Wakanda Forever is the epitome of art imitating life. The film strikes the perfect balance between addressing the grief cycle and lovingly honoring Chadwick Boseman's memory. I appreciate how Ryan Coogler made this a self-contained story. I've had many people ask me what shows or films they should watch to prepare for this movie, and I'm happy to say that none are required. However, to enhance your experience, I would strongly advise you to watch the first Black Panther film. This film was an excellent way to conclude Phase 4 of the MCU, and don't forget to stay for the mid-credit scene!
Score: A-