Movie Review (Berlinale 2023): 'Bad Living' is a Splendid Ghostly Portrayal of Family Dysfunction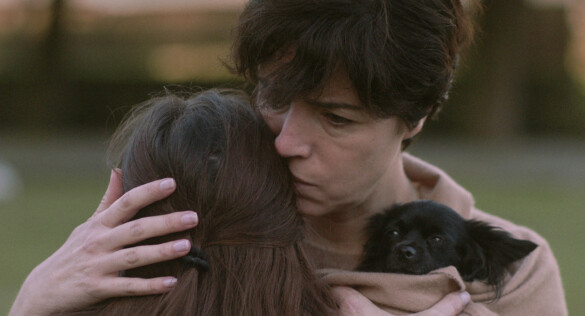 Director: João Canijo 
Writer: João Canijo 
Stars: Anabela Moreira, Rita Blanco, Madalena Almeida
Synopsis: Follows five women who fight for the stability of an hotel they inherited, living an "old and irresolvable conflict", with many conversations that have been postponed and much that remains to be said within a family.
The first of two intertwining Bergman-like films by Portuguese filmmaker João Canijo playing at this year's Berlin Film Festival, Bad Living (Mal Viver), is a magnificent ghostly depiction of family dysfunction and depression, as the women at the center of this story grapple with secrets and sins induced by grief.
One director I wish people recognized more is João Canijo, the Portuguese filmmaker who began his career by working as an assistant director to Manoel de Oliveira (Francisca, 1981), Alain Tanner (In the White City, 1983), Werner Schroeter (The Rose King, 1986), and Wim Wenders (The State of Things, 1982). I think he is one of the most exciting filmmakers coming from Portugal. With each feature, he demonstrates the various forms of dysfunction within different relationships and bonds. Not all of his films are excellent, but, for the most part, they are interesting and rich in thematic layers that talk about the respective films' settings. His most renowned work is Blood of My Blood, which explores the recently disrupted lives of a family living on the outskirts of Lisbon. Initially, that film was supposed to consist of two films, both focusing on the family members' different points of view. But, he never managed to get his entire vision to fruition. 
This aforementioned concept of the original Blood of My Blood idea serves as the genesis for Canijo's latest pieces of work. He goes back to his most engrossing ideas with his ambitious pair of connected films, both of which are playing at this year's Berlin Film Festival in different sections: Bad Living (Mal Viver) and Living Bad (Viver Mal). These two films are set in an old Portuguese hotel; the former focuses on the women working in the hotel, the latter centers around the guests. This fascinating and ambitious dual project works in its favor. Canijo explores complex relationships amidst secrets, sins, and loss, all within a setting that works as a haunted house – slowly turning into a sun-lit and beautifully shot ghost story. Both workers and guests begin to feel how this place, which is meant to be a vacation location, shifts into a lodging of no return, at least mentally. 
The first one out of the two is the Competition selection Bad Living. The film follows five women from various generations trying to save an old hotel from inevitable decay. However, as they are trying to figure out their next plans to keep the hotel afloat, their conflicts with one another weighs them down. A mother, Sara (Rita Blanco), is unable to love their daughters, Piedade (Anabela Moreira) and Raquel (Cleia Almeida). And, in turn, they cannot be great mothers to their daughters because of that lack of attachment from their childhood to the present day. However, when the young Salomé (Madalena Almeida), Piedade's daughter, arrives at the hotel after her father's passing, old wounds are reopened– their emotional stability is on tenterhooks. A melancholic atmosphere immediately possesses the sun-bathed and brightly-lit hotel, which, through the course of the film's runtime, creates a haunting presence amidst its melodramatic affairs fed by tragedy. 
Bad Living explores what happens when the past looms and the present doesn'toffer answers to your previous and newly formed struggles. It is the term "sinking into the abyss" in a humanistic cinematic format. Salomé notices the detachment her mother has from the loss of her father. And as she tries to figure out the reason why, Piedade sinks into a mental state of misery and torment, one that operates like a plague, drowning the souls of everyone in the decaying hotel. There are less than a handful of moments that contain bliss; the majority of the film is full of woe that explores how these women handle their respective fights caused by their broken relationships. He takes inspiration from filmmakers like Ingmar Bergman and Jacques Rivette, particularly the former in its realistic illusions of light and darkness, particularly in his films Autumn Sonata and Cries and Whispers. 
In addition, Canijo uses some of the techniques from playwright August Strindberg, his expressionism and departure from conventional dramatic sensibilities. João Canijo plays with the setting to conquer the characters' states of mind, curating dark images with twilight colorings that intertwine with the complex nature of their relationships, demonstrating sheer beauty amidst despair and impending cataclysm – the hotel becoming a character of its own. There are echoes of the various conversations the guests are having, which creates a weird yet hypnotizing sensation. You can't hear them quite clearly because those puzzle pieces aren't meant to be put into place yet; we will have to wait until Living Bad to clear those things up. Canijo himself described that aspect of the film as "being in a coffee shop and choosing the conversations you want to listen to from table to table". And that feeling can disorient some viewers, but I found it completely mesmerizing. 
Bad Living (Mal Viver) might be the first half of João Canijo's complete vision inside the "ghostly" hotel-set melodrama. Still, it offers an engrossing and haunting look at female cruelty and family dysfunction. It comprises framed static shots and a lingering camera that gives space for the characters to conceive their emotions unhurriedly, beautifully shot by cinematographer Leonor Teles and sharply edited by frequent Canijo collaborator João Braz. So let's see what the second half of this story has in store for us after this mesmerizingly gloomy and depressive (in a good way) delight. 
Grade: A