Movie Review: 'Alice, Darling' Examines Abuse Without Exploitation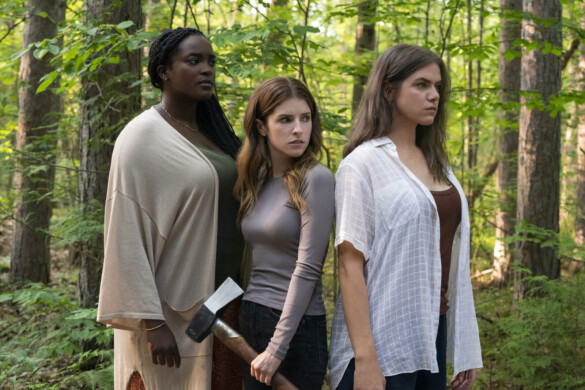 Director: Mary Nighy
Writer: Alanna Francis
Stars: Anna Kendrick, Charlie Carrick, Kaniehtiio Horn, Wunmi Mosaku
Synopsis: A young woman trapped in an abusive relationship becomes the unwitting participant in an intervention staged by her two closest friends.
Hollywood often tries to deal with very sensitive topics in an exploitative manner, even if sometimes the filmmaker's intention couldn't be further from that. From highly divisive recent films like Blonde and The Son, without forgetting how even Joker was received by some viewers, every theme connected to real traumas, tragedies, or health conditions should be addressed respectfully and with a clear, insightful, meaningful message behind it. Directed by Mary Nighy in her feature directorial debut and written by Alanna Francis, Alice, Darling is the latest movie to tackle abusive love relationships.
I tend to slowly ease the reader into my thoughts about each film, but this time, I feel the urge to share why Francis' screenplay is so brilliant right off the bat, despite not being able to avoid the typical subgenre formulas. It won't surprise anyone who's used to this type of storytelling, but Alice, Darling distinguishes itself due to its beautiful treatment of every character usually involved in situations like Alice's (Anna Kendrick), i.e., someone caught in a claustrophobic, suffocating relationship with a toxic partner who removes all will, freedom of choice, and joy from their counterpart.
Let me start with the boyfriend, Simon, portrayed by Charlie Carrick. Many movies choose to focus their story on the physical violence within the love affair, hence the comments regarding how serious real-life issues are frequently over dramatized, exploiting the victims' pain for the sake of entertainment. Alice, Darling doesn't do that. Not only does it rarely depict what causes Alice so much distress – short, quick-edited flashbacks are the only information source for practically the entire film – but it highlights how equally damaging and traumatic the emotional, psychological violence is compared to an actual beating.
There are several memorable, vitally important lines of dialogue spread throughout Alice, Darling. One of them is the protagonist's "but he doesn't hurt me". Alice doesn't truly believe this, nor does she think violence can only be achieved by physical means. However, her whole being is already so affected by unbelievable levels of manipulation and control that it's complicated to think rationally. The "why doesn't he/she just leave the relationship then?" is one of the most incomprehensible, hypocritical reactions one can encounter about this topic since it's relatively simple to understand that this isn't something straightforward.
Space and time away from the toxic source might be a "solution", but solid support is always necessary, especially from friends and family. Here comes a lovely demonstration of female friendship featuring two fantastic performances from the supporting cast. Kaniehtiio Horn and Wunmi Mosaku join forces in interpreting two different kinds of a true friend. While the former always speaks up, shares her honest opinion, and doesn't ignore the elephant in the room; the latter plays a moderator-like role, trying to understand and respect every perspective but also stomping her feet when things get way beyond a reasonable point.
Both characters are crucial for Alice's predictable yet compelling arc of rediscovering herself. Alice, Darling is quite detailed in exploring the distinct ways the protagonist is psychologically disturbed. Pulling her own hair, constantly checking her phone, putting makeup on as soon as she gets up, taking sexual pictures of herself to send to Simon, isolating herself from any joint activity with her friends, losing her mind for dropping an earring in the lake… everything Alice says or does is somehow manipulated by how Simon treats her.
Mike McLaughlin's cinematography is filled with close-ups of Alice's reaction to every tiny little detail that might not be to Simon's liking, even if he's miles away, creating a nerve-wracking, tense atmosphere. Owen Pallett's score also increases the anxiety levels. Still, this is Anna Kendrick's show. Everyone is used to seeing the actress in lighter, more comedic roles, but she displays tremendous dramatic potential. Undoubtedly, a career-best performance that highly elevates Alice, Darling. One can only wish she continues down this path.
Personally, my only major issue is connected to a subplot of a missing girl. In addition to occupying way too much screentime, this storyline doesn't add anything to the main plot, holding a thematic connection to Alice's arc that only slightly reinforces a clear message viewers had already picked up on. Fortunately, Alice, Darling ends with a not-that-subtle, yet sweet, gorgeous final shot, closing out the protagonist's arc with a cathartic, noteworthy moment that I will leave unspoiled for the audience to see for themselves.
Alice, Darling brilliantly tackles the sensitive topic of abusive relationships. Alanna Francis' script stands out with a profound, respectful look into an emotionally disturbed with a career-best performance from Anna Kendrick, but also into the genuine best of female friendship. A non-exploitative look into how psychological violence can be as traumatic as any other kind of physical abuse, as well as how insanely difficult it is to leave such a toxic relationship. Mary Nighy cannot escape the subgenre's formulaic boundaries, but she should be proud of such an enlightening, impactful feature directorial debut.
Grade –
B+