Movie Review: A24's 'A Prayer Before Dawn' is a brutal vision of isolation, addiction and salvation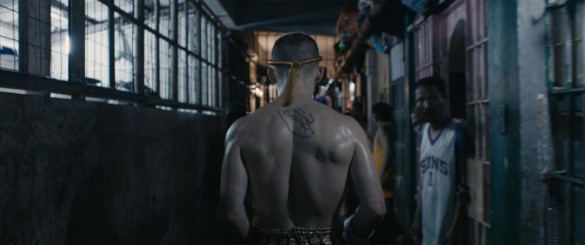 Directors: Jean-Stéphane Sauvaire
Writer: Jonathan Hirschbein, Nick Saltrese
Stars: Joe Cole, Pornchanok Mabklang, Vithaya Pansringarm
Synopsis: The true story of an English boxer incarcerated in one of Thailand's most notorious prisons as he fights in Muay Thai tournaments to earn his freedom.
When you're watching Jean-Stéphane Sauvaire's A Prayer Before Dawn don't blink, though you may feel the urge to. Otherwise you may miss one of the most unflinching and visceral visual experiences offered up this year. Based off a book written by Billy Moore surrounding the time he spent incarcerated in a Thai prison A Prayer Before Dawn brutally captures Moore's time there and the toll it took on him mentally and physically. Joe Cole's performance as Moore, an apathetic British boxer turned addict and thrown into a prison in a foreign land is phenomenal and one that deserves our attention.
A Prayer Before Dawn is gritty, violent and extremely emotional. Most of the film Moore prowls the screen with a silent expressionless gaze, the camera inches from his face, but there are moments when he is bursting with anger or/and despair. A potent energy saturates almost every moment and Sauvaire's decision to film with a handheld magnifies the intensity and quite honestly is one of the most brilliant utilization of this technique I have ever seen. The cinematography is claustrophobic with tight shots, dark settings and discomforting angles. Throughout I couldn't take my eyes of the screen and felt deeply disappointed that this film didn't have a wider theatrical release as seeing it theaters would have made for an extraordinary experience.
The film has very little dialogue especially from Moore. Often times alongside the chaos on-screen the audio is filled with incoherent shouting or grunting and the sound of flesh on flesh pounding. Even the score compliments this at times as only an electric hum hanging over the inaudible dialogue or a tense rhythmic ticking. The film is brutal on every one of your senses. The dialogue that is spoken is primarily in Thai with no subtitles provided allowing the audience a conduit for the alienation and confusion felt by Moore. He easily stands out on-screen against the darker skinned Thai inmates many of whom are tattooed head-to-toe. This distinction, along with the constant language barrier, further accentuates his isolation not just conceptually but visually, like a pale dot against a black canvas. Although surrounded by others in a similar plight as himself, he is very much alone.
The supporting cast is magnificent although not much significant screen time is spent with them, the story and camera swing primarily around Moore. Still though even the small amount time they are given is eye-opening and provides a deeper sense of them as human beings. Pornchanok Mabklang as Fame is a love interest for Moore and short conversations with her not only give her character some depth but also allow us some insight into Moore's life outside prison. There is also a short scene where Moore listens on as some of the other kick-boxers relate to him how they ended up there and one particular inmates story (an un-cast actor) is rather tragic. It provides an opportunity for him to connect with the other inmates and for us to see them as more than just enraged and weary souls. The scene is poignant and brief moment where the film allows itself to slow down.
The films primary weakness is the uncertainty around Moore's background prior to his imprisonment. Prayer kicks off before Moore's arrest giving us flashes of him boxing as well as his drug use but nothing more is provided. I was never certain what he was doing in Thailand, how long he had there, how long he had been boxing or taking drugs, whether the boxing was simply a means to expense his drug habit or something he considered professionally. None of this information is presented to the audience. Some of the gaps can be filled from subtle details or common sense deduction while some requires imagination and assumptions on the part of the viewer. This shouldn't take away from the viewing experience but will leave those with curious minds wondering.
Not many films have the ability to touch you while at the same time showing you such horrible human brutality. A Prayer Before Dawn succeeds in this by allowing it to be more than just a prison film or a boxing film. It is a film about coping and finding your own form of salvation regardless of the severity of your circumstance. Sometimes that salvation will come in the form of violence or forgiveness and sometimes in a surprising companionship.  Whatever the course part of the process is learning to live with decisions you have made.  Accepting those decisions and putting them behind you is the first step in moving past the person you were and accepting the person you would like to become. The film captures this process as we witness Moore learning to accept his situation and make attempts to regain control his life and transform into a better form of himself physically and spiritually. If you haven't had the pleasure of seeing A Prayer Before Dawn yet do your inner cinephile a favor and make this the next film you watch.
Overall Grade: A-