Podcast: Cats / The Two Popes – Extra Film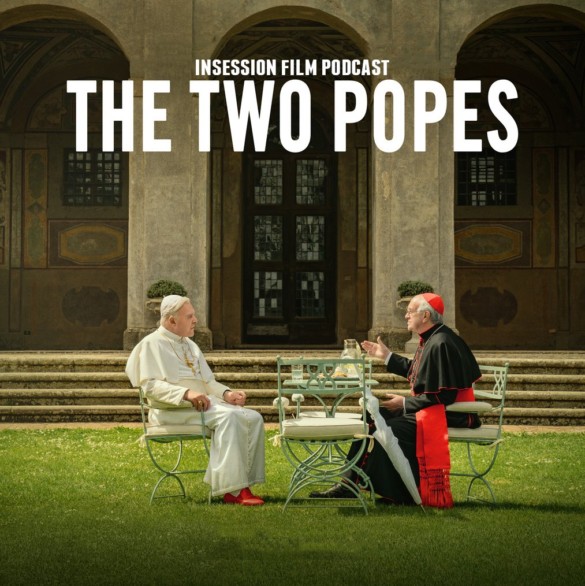 This week on the InSession Film Podcast: Extra Film segment, Ryan and Karen Peterson of AwardsCircuit discuss Cats and The Two Popes.
As we enter the new year, the last episode of Extra Film for 2019 is down a co-host, as Jay is out due to illness. But it doesn't stop Ryan from inviting previous Extra Film and Chasing the Gold guest Karen Peterson to join him to discuss to polar opposite pieces of cinema. With Cats, we all get to finally hear if they hype was worth all the noise. Considered by some to be one of the worst films of the year, as well as one of the craziest things to ever be filmed, Ryan and Karen try to talk about this movie without busting up laughing.
Then, in the back half of the episode, the duo discuss the latest offering from Netflix in The Two Popes. Considered another awards contender from the top streaming service and one of the best films of 2019, the conversation led to a thoughtful points on the faith, politics and struggles within the film. It was such a good discussion, it lead Ryan to change some of his own opinions on The Two Popes.
On that note, have fun with this week's Extra Film segment and let us know what you think in the comment section below. Thanks for listening!
– Movie Review: Cats (3:26)
Director: Tom Hooper
Screenplay: Lee Hall, Tom Hooper
Stars: Judi Dench, Idris Elba, Jennifer Hudson, Ian McKellen, Francesca Hayward
– Movie Review: The Two Popes (40:59)
Directors: Fernando Meirelles
Screenplay: Anthony McCarten
Stars: Anthony Hopkins, Jonathan Pryce, Juan Minujín
– Music
Skimbleshanks: The Railway Cat – Steven McRae, Robbie Fairchild
Dancing Queen – ABBA
The Return of the Eagle – Atli Örvarsson
We try to make this the best movie podcast we possibly can and we hope you enjoy them. Subscribe today on iTunes, Spotify or Stitcher, and please leave us a review on iTunes. You can also find us on Soundcloud, PlayerFM and TuneIn Radio as well. We really appreciate all your support of the InSession Film Podcast.
Subscribe to our Podcasts RSS
Subscribe to our Podcasts on iTunes
Listen on Spotify
Listen on Stitcher
Cats / The Two Popes – Extra Film
Mobile App
To hear this Extra Film episode and everything else we do, download our apps on the Amazon Market for Android and the Podcast Box app on IOS devices. The mobile app covers all of our main shows, bonus podcast's and everything else relating to the InSession Film Podcast. Thanks for your wonderful support and for listening to our show. It means the world to us!