Podcast: At Eternity's Gate / Happy as Lazzaro – Extra Film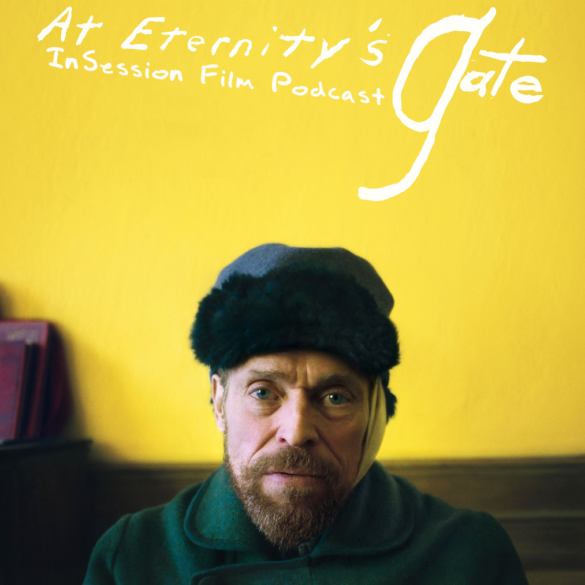 After a pair of foreign films last week on Extra Film, Jay is joined on the InSession Film Podcast: Extra Film by Brendan to discuss two more films with foreign language elements this week: At Eternity's Gate and Happy as Lazzaro.
At Eternity's Gate has received a tremendous amount of buzz for Willem Dafoe's performance as Vincent van Gogh, but there are a lot of things to talk about when it comes to the film-making decisions, as well. Director Julian Schnabel uses a variety of unorthodox tactics to bring van Gogh's artistic genius and mental anguish to life on the screen. There is a difference of opinion between the hosts on this one, which made for a great conversation.
The second film covered is Happy as Lazzaro, an Italian film now available on Netflix. It is one of the most original films of the year, blending realistic portrayals of life in rural Italy with elements of heightened magical realism. In a year full of great foreign films, where does this one fall on the totem pole?
Listen to the show and let us know what you think about both films in the comment section below. Thanks for listening!
– Movie Review: At Eternity's Gate (5:46)
Director: Julian Schnabel
Writers: Jean-Claude Carrière, Julian Schnabel, Louise Kugelberg
Stars: Willem Dafoe, Oscar Isaac, Rupert Friend, Mads Mikkelsen
– Movie Review: Happy as Lazzaro (28:42)
Director: Alice Rohrwacher
Writer: Alice Rohrwacher
Stars: Adriano Tardiolo, Nicoletta Braschi, Alba Rohrwacher
– Music 
Van Gogh Theme I – Tatiana Lisovskaya
Dreams (Will Come Alive) – Alice Rohrwacher
The Return of the Eagle – Atli Örvarsson
We try to make this the best movie podcast we possibly can and we hope you enjoy them. Subscribe today on iTunes, Spotfiy or Stitcher, and please leave us a review on iTunes. You can also find us on Soundcloud, PlayerFM and TuneIn Radio as well. We really appreciate all your support of the InSession Film Podcast.
Subscribe to our Podcasts RSS
Subscribe to our Podcasts on iTunes
Listen on Spotify
Listen on Stitcher
At Eternity's Gate / Happy as Lazzaro – Extra Film
Mobile App
To hear this Extra Film episode and everything else we do, download our apps on the Amazon Market for Android and the Podcast Box app on IOS devices. The mobile app covers all of our main shows, bonus podcast's and everything else relating to the InSession Film Podcast. Thanks for your wonderful support and listening to our show. It means the world to us!