List: Top 3 Moments of Catharsis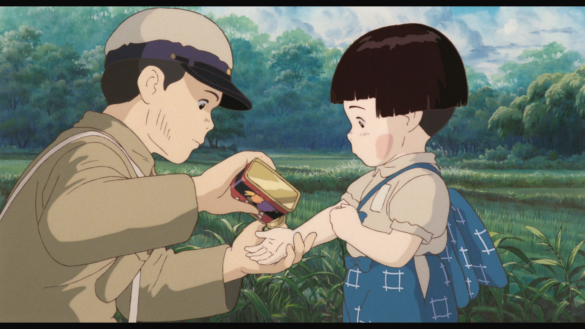 This week on Episode 211 of the InSession Film Podcast, inspired by our review of Logan and our interview with the guys at Self Narrate, it just made sense to talk about our favorite moments of catharsis as it relates to film. There are a lot of films and moments that have impacted us over the years, so this one was personal to us.
On that note, which moments of catharsis would make your list? Here are the one's that made ours:
*Keep in mind we have different criteria for our lists as well*
JD
1) Setsuko and Seita's tragic story / ending – Grave of the Fireflies
2) Han Solo's complete arc / crystallization – Star Wars Saga
3) Xavier Scene – X-Men: Days of Future Past
Brendan
1) Seeing the Mothership – Close Encounters of the Third Kind
2) Mother and Max reunite – Where the Wild Things Are
3) Apu / Durga's rain scene – Pather Panchali
Jason
1) Lester's realization – American Beauty
2) Dodd sings song to Quell – The Master
3) Joel / Clementine want to try again – Eternal Sunshine of the Spotless Mind
Honorable Mentions (Combined)
Play Catch – Field of Dreams
Funeral Scene – My Girl
Ending Sequence – The 400 Blows
Joy's Revelation – Inside Out
Roy Calls Out for Alton – Midnight Special
Rosebud – Citizen Kane
All of The Tree of Life
Ending sequences – The Orphanage
Escape – Shawshank Redemption
Destroying Pizza Shop – Do the Right Thing
My Captain, My Captain – Dead Poets Society
T.J. Crying / Yelling at his Father – Magnolia
Simba sees Mufasa in Sky – The Lion King
Luke Saving Darth Vader – Star Wars Saga
I Can't Beat It – Manchester By the Sea
Erasing Him – Rabbit Hole
Last Words to Marley – Marley & Me
Ending Scene – Captain Phillips
Whip Admits Guilt – Flight
Rodrigues Denounces Faith – Silence
Anton Ego's Monologue – Ratatouille
Opening Prologue – Up
Final Hug – Before Sunset
Flying Sequence – Tale of the Princess Kuyago
Final Sequences – Goodbye Children
Hey Boo – To Kill a Mockingbird
Ending – A.I. Artificial Intelligence
Wise Up Musical Number – Magnolia
Hopefully you guys enjoyed our lists and if you agree or disagree with us, let us know in the comment section below. There are a ton of other great cathardic moments that we could have mentioned here. This list is obviously very subjective, meaning your list could be very different than what we discussed here. That being said, what would be your Top 3? Leave a comment in the comment section or email us at insessionfilm@gmail.com.
For the entire podcast, click here or listen below.
For more lists done by the InSession Film crew and other guests, be sure see our Top 3 Movie Lists page.