Hitchcock in the 1930s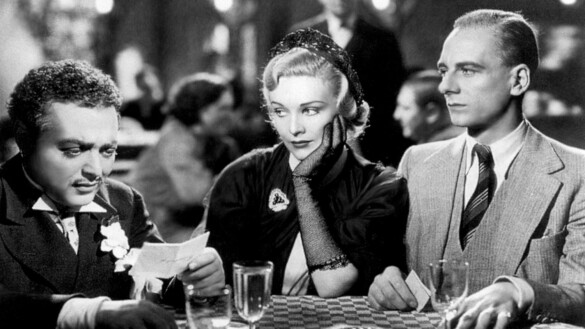 Though often under-produced with innate poor quality, these early Alfred Hitchcock British films from the thirties are peppered with familiar Hitchockian nuggets and all the expected suspense.
Murder!
Screams, Beethoven overtures, and Wagner on the radio accent the hysterical finger pointing and polluted crime scene of this 1930 whodunit. Messy households high and low gossip about rival actresses and the facts are secondhand – a fireplace poker, bloody dresses, a brandy flask. Wry British humor and pre-Code wit wink at the regular people in extreme circumstances and scandals behind closed doors. The back and forth domestic settings, prop doors, backstage interrogations, pantomime, and cross dressing innuendo create a stage-like design to match the caper within a caper, pomp and circumstance trials, wigs, and robes. The pipe smoking alpha male, old ladies in pearls, the cowering man, a sophisticated psychology woman, and the dirty old man who thinks a good looking actress should get a free pass divide the jury as they deliberate on our lady killer's well bred family and a possible fugue state. There are obvious twists and clues the police miss. Women at home serving the man attitudes are dated and onscreen cursive notes feel like silent film holdovers amid roundabout exposition scenes and lagging transitions. However devil or angel on the shoulder camera cuts, voiceovers, and intense zooms set off the well edited jury interplay and doubts in the mirror. Public opinion and armchair investigators linger over what should be an open and shut case before the surprisingly modern meta and fitting circus topper.
The 39 Steps
This landmark 1935 Hannay adaptation from the novel by John Buchan features Robert Donat (Goodbye, Mr. Chips) and all the mistaken man, foreign intrigue, and Hitchcockian macguffins to come. Cheeky dance halls and marriage jokes contrast chases, gunshots, and shadow men amid mysterious maps of Scotland, missing fingers, and knives in the back. Fedoras, trench coats, newspapers, and ticking clocks accent the mercenary espionage and air defense hush hush as danger tops each scene with suspicious phone booths and perilous bridges. Police are knocking at the door and women are both helpful or harmful depending on the alias or location. Whom do you trust when no one is who they seem? A spy must always be on the lookout even in the perceived rural calm as handcuffs, hymnal twists, romance, and false arrests escalate. News travels fast thanks to trains, airplanes, and rapid waters while superb cabin car photography and railroad scenery set off the ironic parades, impromptu speeches, cheering crowds, and charismatic escapes. Filming through doors, Art Deco lines, and silhouetted figures add style to the somewhat rough around the edges production and now recognizable cliches as the winks come full circle for a great undercover adventure.
Secret Agent
General Peter Lorre (M) and Captain John Gielgud (Arthur) star in this 1936 adaptation of W. Somerset Maugham's tales alongside Great War funerals, one armed soldiers, and empty coffins. The German Expressionism is Bond before North by Northwest was Bond thanks to false passports, fake headlines, a man named "R," and double agents. Despite distant bombs, nearing explosions, and wartime scale; the hotel meetings, secret messages in the chocolate wrapper, and candlelight signals make for an intimate one man mission. Intense factories, train confrontations, and telegram intertitles with translated codes send Gielgud's charming novelist cum spy to exotic continental casinos with button clues and more flirtatious farce with Madeleine Carroll (also of The 39 Steps). Some over the top humor, however, is unnecessary – Lorre's exasperated quips and subtle sardonic are much better with the menage mood. Despite his bickering couple and sidekick banter, his killer hand should not be underestimated. Telescope shots, howling dogs, glum church organs, and mountain photography add suspense as do Hitchcockian staircases and on the run, reluctant heroes. Who is the rival agent we're seeking? Have we met him already? In spite of some obvious formulaic and an abrupt end, this potboiler doesn't talk down to the viewer as suspicions and languages build to a tense finale.
Sabotage
Not to be confused with Hitchcock's Secret Agent or later Saboteur, this 1936 thriller based on The Secret Agent by Joseph Conrad opens with blackouts, flashlights, dark skylines, and patrons wanting their money back from the down picture show. Shadow schemes and askew camera angles add to the power tampering suspicion while tense notes follow a mysterious man in black as he returns home, washes his hands, and claims innocence. Professional, public, and domestic differences are intertwined with families living above the bustling marketplace and grocers who aren't what they seem. Scotland Yard whispers of trouble abroad, and shadowed men with their backs to the camera converse over promised payments. Creepy packages, trick bird cages, and threatening "sleeping with the fishes" messages are a tongue in cheek nod to the nature of cinema as covers are blown and men scatter. Clueless wives are oblivious to being used for information in dynamic handsome detective versus cruel husband sequences. The innocuous cinema, aquarium, and pet shop each have seemingly innocent ingredients used for making bombs, and onscreen days of the week countdown for the preoccupied public hoodwinked by what's in plain sight. Though busy early and somewhat meandering with convenient plot points unanswered, the questions on who is behind these plans and why become eerily provocative when a child delivers a fatal ticking package in the crowded market. Delays, detours, puppies, stoplights, traffic jams, and parades culminate in a nail biting finish as the threats hit home.