Chasing the Gold: Best Supporting Actress Nominees Analysis (2021 Oscars)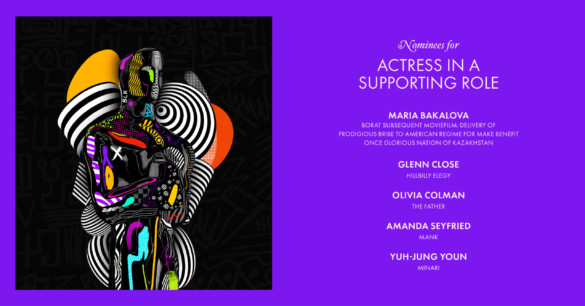 When Mo'Nique accepted what is hands down arguably the most worthy Supporting Actress win ever in the history of the category, she said something that has always stuck with me- "Thank you to the Academy, for showing that it can be about the performance and not the politics." If you don't understand what exactly that means, I'm gonna make it super simple to understand. The Oscars are the politics of Hollywood, winning a little golden man can increase box office revenue by millions, while only getting a nomination may only get the film a "few extra hundreds of thousand" a gold statue has been shown to almost double profits if not triple. With that said, when an actor gets a nomination, they are expected to go on a campaign tour to talk about their performance, shake hands, snap a few photos, and "play the game".
Mo is famous for many reasons, but she's a legend in the Oscar world for pundits and critics alike for refusing to play the game and campaign. So when she won her Oscar, it was solely on merit (which it should be ALWAYS). But we know, unfortunately, it's rarely ever won on merit, and yet here we are looking at a lineup 11 years removed from Mo'Nique's Oscar win and we're looking at a winner this year based on MERIT, which is so refreshing. Lemme break each down for you-
Maria Bakalova literally became the breakout star and Cinderella story of the Oscars. Every season has one from Gabourey Sidibe, Marisa Tomei, Quvenzhane Wallis, Rooney Mara, to even last year with Cynthia Erivo. There's an amazing trend that happens and it's always a delight to see this person's career blossom. This year it came from Maria in a sequel no one saw coming, Borat 2. The film premiered during one of the boiling points of American politics and it played perfectly into the narrative of the time. What stood out was the comedic perfection of Maria, who was plucked from obscurity to an Oscar nomination. Many doubted that she could even pull off a nomination due to the Academy's awful bias towards comedies but she ended up being (on paper) the front runner by hitting every single televised award for a nomination. She's won: CRITICS CHOICE
Glenn Close is now on her 8th nomination and is the proof of the truth pudding that even if you're in a crap film and your performance is good, you can still get recognized for your work (also see Brenda Vaccaro, Sylvia Miles in '75, or Diana Scarwid for a few examples in this category). If there is a certain branch of fandom that can drive one crazy & yet are the most endearing weirdos in the world that you look at with a heavy heart, it is the stans of Glenn Close. If you want to see her win, you truly want it to be THE performance of her career. On paper, she has the narrative of an overdue factor. If you look at the performance, you can see she's the best thing about the movie she's in and that alone as a voter could garner her votes, however, this nomination and campaign is using its overdue narrative instead of truly focusing on the performance. There's a big "it's time" factor but at the same time is almost confusing because the campaign itself doesn't know if it should move on solely that or her performance. And despite this being on her 8th, I think it'll hurt her chances of winning, and honestly this year I think Glenn is just having the time of her life, still being recognized by the industry she's called home for 40+ years. 
Olivia Colman is on her 2nd nomination in two years and finds herself up against Glenn Close again with what many thought was going to be a rematch again for the little gold man. Many doubted the actual chances of what The Father could be as it was mentioned that Sony Pictures Classics had messed up the campaign for the film but as it has shown at Globes and now Oscars, don't ever doubt the strength of a good film and a studio behind it that knows how to get its baity films it's Oscar nominations (Melissa Leo in Frozen River says hello). Colman is in an atypical Oscar supporting role and still has afterglow as a previous winner under the five-year range. Will it be enough to pull through for a win? 
Amanda Seyfried in Mank has gone from (like everyone else in this category) the "lock" win to "can she pull it off" and while many (yes myself included) has doubted if she can actually win it, now I think that if this year has taught us that anything it's that anything is possible and Amanda knows this as she's kicked her campaign into high gear with the help of Cher & Vanessa Redgrave as of late as they've openly video campaigning for her. She benefits from being the major sentiment from the majority of people as being the best thing about her movie and could actually pull off what would actually be considered an "upset" for this specific category. 
Youn Yuh-jung in Minari is proof that success can happen at any age and after last night's SAG Award win is also showing that on paper like Bakalova has a really good chance to win this based on stats of years past. She also benefits like Seyfried, Bakalova, and Close as being the best part of her movie from the majority of others who have seen the film and carries the narrative of only becoming the SECOND (Miyoshi Umeki is the only woman of Asian descent to win an Oscar) Asian woman to win the award. She's won: SAG, BAFTA
This is a year where both Actress race's are open to any one of the five and it's refreshing. Any pundit will tell you in order to become a "front runner" you have to hit every single televised precursor, which are – Golden Globes, BAFTA, SAG, and Critics Choice. If you can't do that then you must win a major INDUSTRY award, which are gonna be SAG and BAFTA as they are the only two awards that have some type of direct interaction with Academy voters. Winning awards like Golden Globes and Critics Choice look great for that FYC Campaign but in the end, don't end up securing a win. However, I would like to note that if one actually carries any weight into actually helping gain votes from Academy voters its the Golden Globe as it is a Hollywood staple, however it is extremely important to note that a win doesn't mean a lock and Jodie Foster winning this year is testament to that as she won for The Mauritanian yet didn't get an Oscar nomination. 
This is a year where anyone can win for any reason. Remember that!
Who SHOULD Win and Who WILL Win?: Any one of them.