Movie Series: Cronos (Guillermo del Toro)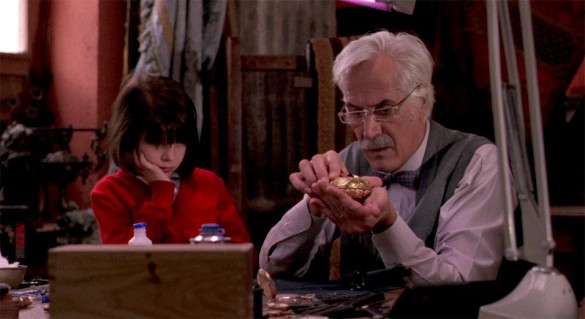 Director: Guillermo Del Toro
Writers: Guillermo Del Toro
Stars: Federico Luppi, Ron Perlman, Claudio Brook
Synopsis: A mysterious device designed to provide its owner with eternal life resurfaces after four hundred years, leaving a trail of destruction in its path.
DIRECTION
Guillermo Del Toro's first feature length film, Cronos, is a great representation for the direction that Del Toro would take as a director. It's grim and dark, yet focused and has a central story that comes together well while being in a fantasy world. The movie is realistically shot and the central themes of the movie can be translated as the same, even though our main protagonist is a vampire. There are some great transition shots and Del Toro uses his camera purposely to showcase the vampire themes used here. He gets pretty good performances and the balance of English and Spanish adds to the films uniqueness.
Grade: B+
SCRIPT
The story here is pretty engagement and unique for a vampire genre film. It centers around Federico Luppi's character, who finds this device that was designed by an alchemist several hundred years in the past and has the ability to give "eternal life". And by eternal life, it turns you into a vampire. What makes this story so engaging though, is the singular focus it has on Luppi's character and how this device changes his life and the devastating consequences that follow. The story comes together pretty quickly but you see enough character development that the pace doesn't hurt the story at all. Luppi's granddaughter is written pretty strangely and seems off the beaten path on the surface but when you examine it further you understand that family ties are close, making it more realistic than you'd think. It lacks closure and the story isn't epic on any scale but shows the morality issues of having to deal with eternal life as a vampire.
Grade: B+
PERFORMANCES
Luppi, as the central character, gives a pretty good performance and really is convincing as a vampire who doesn't really want to be one. The effects to him are devastating to him and his family. He's not interesting in eternal life and his performance comes across as exactly that. Ron Perlman, who's been in almost every Del Toro film, is a bad guy who says he's from the early 90's. The role and performance comes across as such and is delivered well for the day it was shot in. The other casts are just supporting roles that do enough for the film to not be distracting. This is Luppi's movie though and he does a great job.
Grade: B+
SCORE
Javier Álvarez gets the nod to score here and his score is nothing that stands out. It's kind of boring at time but it does add some nice touches to the story, especially toward the beginning and the set up of the movie. Outside of that, it's mostly forgettable.
Grade: C+
Overall Grade: B+